New power generation
As last month's Formoz festival shows, Web 2.0 is helping Taiwanese fans bypass major labels and radio stations to connect with the bands they want to hear
John Lynch was in Spain tour-managing a singer when someone played a song by Yndi Halda, a post-rock band he'd never heard of before. The music blew him away, and he imagined the group must have been from somewhere really obscure in America. No, the man said, the band was from Canterbury.
"I thought: 'I'm in Spain and I'm hearing a British band that are amazing.' It was shocking to me that I hadn't heard about them or they weren't in the press or anything," said Lynch, now Yndi Halda's manager. "I found it very frustrating that there was a group that was so talented [but] that didn't have a big presence yet."
Yndi Halda - pronounced YIN-dee hal-DAR - needed no such introduction when they played at the recent Formoz Festival 2007 (野台開唱). Band members, all university students aged 21 to 22, estimated they had performed in front of 1,200 people at the concert. A spokeswoman for event organizer TRA Records said as many as 10,000 people saw them play, a rough figure she calculated by dividing the number of entrances to the festival by the number of stages. Local indie music trendsetter Loou Wang (王聖懷) has sold 1,000 copies of their EP Enjoy Eternal Bliss through his Avante Garden Records, compared with the band's US sales of 5,000 units and around 1,500 in Japan.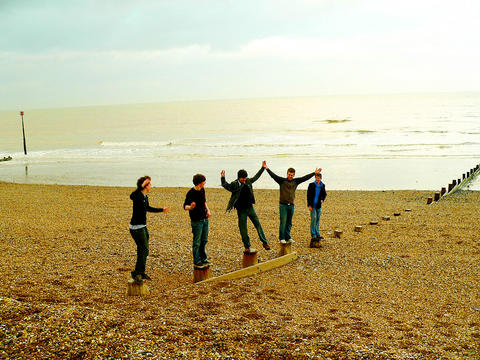 From left: University students James Vella, Jack Lambert, Daniel Neal, Brendan Grieve and Oliver Newton are rising stars as post-rock band Yndi Halda.
PHOTO: COURTESY OF LEANNE POWELL
Sonic boom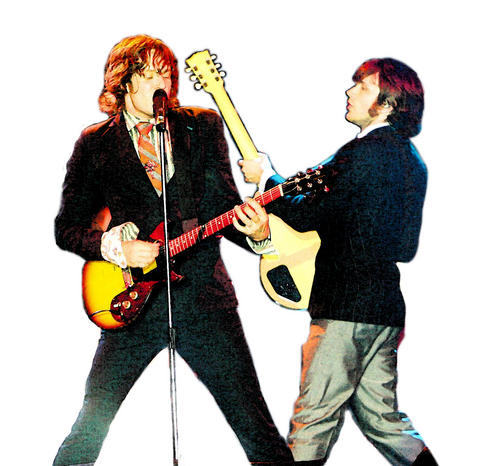 Andy Ross, right, and Damian Kulash play Formoz with OK Go.
PHOTO: HU SHUN-HSIANG, TAIPEI TIMES
The reception bands like Yndi Halda received at this year's Formoz would have been impossible even a few years ago - before Youtube, blogs and social networking sites like Myspace and Facebook helped put fans in direct contact with musicians - because these are bands that would never get air time on stations like Hito Radio or ICRT, much less shelf space at major music-sellers like Rose Records.
"I think that so much of the success that we're starting to get is because of the Internet," said drummer Oliver Newton. He noted his band, a rising star in the post-rock scene, still gets little press in print journalism and no radio coverage. "Previously we would not have made it out here, and I doubt we would have toured Europe because everything depended on the radio." But now, he said, "You get people in [the] deepest rain forest in South America adding us on Myspace."
Yndi Halda is accustomed to playing for crowds of a few dozen, sometimes a few hundred people. Before Formoz their largest audience numbered 600; the smallest was two homeless Frenchmen and a dog in a La Rochelle bar. Nothing could have prepared them for the panorama that greeted them when they took the stage at Formoz: thousands of screaming, sardine-packed Taiwanese fans, many of whom were intimately familiar with their music.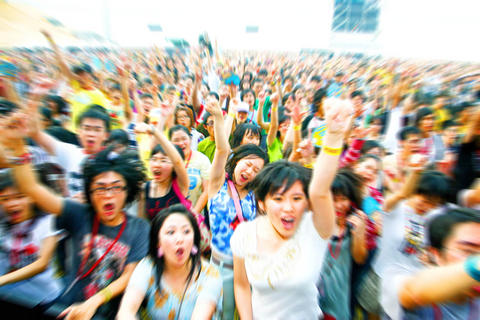 This year's Formoz rock festival drew tens of thousands of fans.
PHOTO: HU SHUN-HSIANG, TAIPEI TIMES
"You had goose bumps," said Yndi Halda guitarist James Vella. "It was the best feeling in the world. You walk out on stage and it's so surreal," said band-mate Brendan Grieve. "I mean, when I walk out on stage, I don't really look. When I tuned my bass up, by the time I look up, I'm like, 'What?' I'm just, 'Whoa!'"
Formoz only pays its headliners, so Avante Garden's Wang told Yndi Halda not to go. "It was going to cost them US$4,000. It's a bad business decision," he said. "But they're young. They didn't listen." Defying Wang's expectations, Yndi Halda turned a profit from their Taiwan trip, selling every single T-shirt, CD and LP they brought with them. "As we finished playing … there was this queue for the [autograph] signing that went all the way down the hill," said Vella. "It was completely mind-blowing. … I had no idea that that would be the reaction."
If Yndi Halda has benefited from the emergence of Web 2.0 - a term used to herald the second wave of the World Wide Web - US alt-rock band OK Go has mastered it. The Formoz headliners are signed to a major label (EMI) and have been well-received for their music; their single Get Over It debuted at No. 21 in the UK charts three years ago. But they've received significantly more recognition for a few low-budget music videos, especially Here It Goes Again, in which they perform a choreographed dance on eight treadmills.
The video was filmed for under US$10 with a borrowed camera. By August of last year, it had been downloaded 9 million times, according to published reports, making it the world's most downloaded music video.
"As weird as it is to be known for something like the treadmill video, it's nice to have people like something that we actually made, as opposed to feeling like they're some puppets of some big marketing plan," said OK Go singer Damian Kulash.
Unmediated experience
Yo La Tengo, who this year returned to play Formoz for the second time, formed in the 1980s and achieved fame the old-fashioned way: through concerts and coverage by the mainstream media, where critics have anointed them one of indie rock's most influential bands. But in an interview at their Taipei hotel, Yo La Tengo said they think consumers should bypass media gatekeepers and just listen to the music.
"My feeling about interviews [with reporters] is there's almost nothing that I want to talk about. I would honestly rather not do interviews. It's more interesting to listen to music and just kind of imagine what's going on," said Yo La Tengo guitarist and songwriter Ira Kaplan. "That encourages the listener to really get involved in participating and experiencing."
"I think nowadays things are way over-explained, and so to me the process of doing interviews is almost counter to what I think is good about listening to music. On the other hand, if people have questions, if people want to ask me stuff, I try to answer them. It's more about what other people want to know than what I think they should know - because I think they should know nothing."
He then corrected himself somewhat: "I didn't [mean to] say I don't like being interviewed. I don't mind being interviewed. I said that, I sort of said it, but it's nice when people want to talk to you."
Perhaps because they hail from an older generation, Yo La Tengo uses the Internet in a different way.
"We've got a Web site. But we don't keep a daily blog on it and tell people how our songs are coming on. Instead, every once in a while we write comedy," said bassist James McNew. "We don't really put that much band stuff on there. I think that tells you a lot about what kind of people we are, and what makes our songs go, and what makes us make the music we do. I think if you read between the lines you get a lot of answers, but we're not going to give them to you."
Comments will be moderated. Keep comments relevant to the article. Remarks containing abusive and obscene language, personal attacks of any kind or promotion will be removed and the user banned. Final decision will be at the discretion of the Taipei Times.