Supersize us
While McDonald's has responded to obesity concerns in the US, public health bodies in Taiwan do not believe it is doing enough for the problem in Asia
It seemed like such a straightforward question: "Do you want to supersize it?"
A customer ordering a Big Mac meal at the McDonald's at the corner of Townsend and Third streets in San Francisco, California, has the option of "upsizing" her French fries or getting a 32-ounce (.94 liter) soft drink instead of the usual 22 ounces (.65 liters). So does a customer at the McDonald's on Xingsheng South Road Section 3 in Taipei. But there's a crucial difference. In San Francisco, the person working the McJob behind the counter doesn't ask the customer if he or she wants to increase the size of his or her drink or fries. The customer has to ask.
In Taipei, though, the customer who orders an extra value meal is always asked if he or she would like to jia da (加大), "upsize," or supersize. And according to a number of local studies, the jia da of McDonald's and other fast-food meals is a contributing to Asia's obesity problem.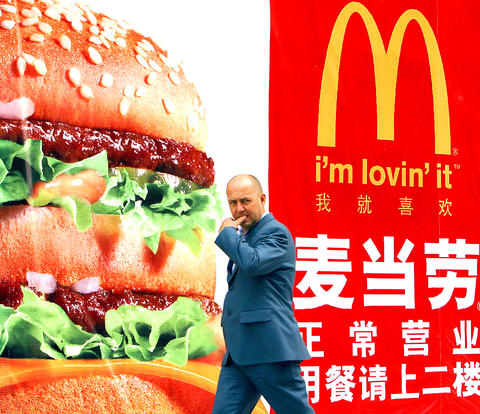 Taiwan's obesity problem is getting worse and fast-food restaurants such as McDonald's are contributing to a rise in overweight children.
PHOTOS: TAIPEI TIMES AND AFP
Chu Nain-feng (祝年豐), a physician at the Tri-Service General Hospital in Neihu, Taipei, and Director General of Taichung County's Public Health Bureau, will release a study next month which says over 30 percent of Taiwanese boys aged six to 12 are overweight or obese. Increased portion sizes and "upsizing" at fast food restaurants, he told the Taipei Times on Thursday, are part of the problem.
Also next month, the Consumer's Foundation (消基會) plans to raise the issue of rising obesity rates among Taiwanese children. In an interview on Tuesday, Chairman Cheng Jen-hung (程仁宏) said his group also has a new study and that fast food restaurants are partly to blame. He reserved his harshest words for McDonald's because it continues to ask customers if they want to jia da every time they purchase an extra value meal.
"In America they [McDonald's] seem to really care about obesity, because of the bad publicity and lawsuits related to supersized meals. But in Taiwan and other Asian countries McDonald's doesn't have the same modus operandi," he said. "They can increase their profits by inducing customers to overeat. They can still get away with this here because Taiwan has fewer advocacy groups than the US and a less litigious culture."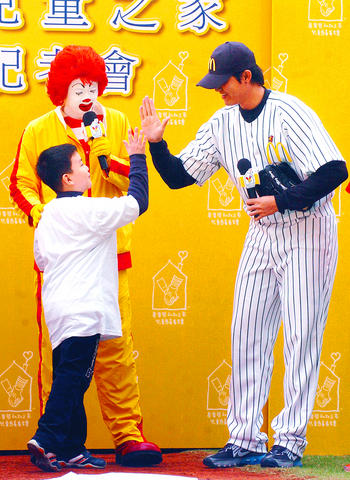 IN DENIAL
According to Lisa Howard, the hamburger giant's Director of Corporate and Media Relations, "We do not supersize."
In an e-mail exchange Wednesday, Howard wrote, "we ended supersizes in 2004, that's true systemwide (sic) … . In the US, we eliminated super sizes of drinks and fries in 2004 as part of an overall menu simplification effort."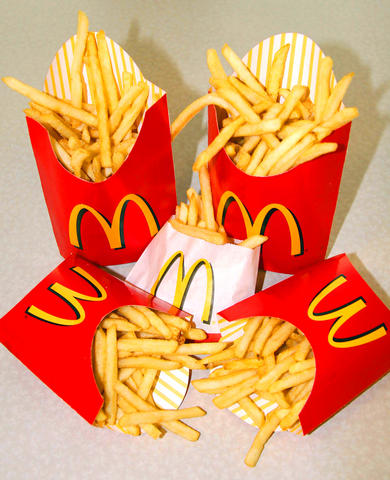 After four days of telephone and e-mail exchanges with McDonald's world headquarters at One McDonald's Plaza in Oak Brook, Illinois, the corporation seemed intent on reducing the whole debate to a matter of semantics.
"We do not offer supersize in Asia. We offer customers a range of options, just as we do in other markets, three sizes, small, medium and large. The large drink in Taiwan is 32 ounces. In the United States, our large drink is also 32 ounces. So there is no comparison to be made between Asia and America," Howard wrote.
Technically speaking, and according to McDonald's definition of supersize, Howard's right. What the burger company called a supersized soft drink - the kind that is no longer served - was 42 ounces.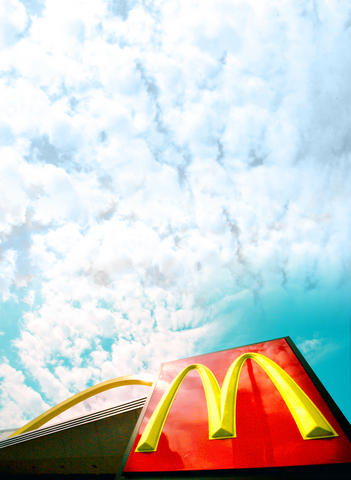 When asked why McDonald's in Taiwan asks customers to jia da, Jessica Pan (潘瑞蓮), supervisor of McDonald's Taiwan's public relations department, said the franchise offers a variety of choices for customers because "some people may need larger portions of food. It's all about choice," she said.
"You can not only supersize your order," she said, using the English word "supersize," "you can also get a salad instead of French fries."
HOW IT ALL BEGAN
Why do fast food companies, in the absence of bad publicity or legal pressure, induce customers to order larger portions? While many may see McDonald's as the major culprit in the global obesity crisis, it did not begin this practice.
As explained in Fat Land: How Americans Became the Fattest People in the World by Greg Critser, it started with Taco Bell, which in the 1980s realized 70 percent of its sales came from a core of repeat customers, mostly young bachelors who couldn't be bothered to cook for themselves and didn't care about nutrition or even taste. They just wanted cheap food. Taco Bell reduced its prices. The result: a huge increase in customers who on average spent the same amount of money on food - only they were ordering four tacos instead of three.
Competitors, including McDonald's, had to follow suit. They offered larger and larger portions for only slight price increases. The next innovation was the trade up, the "upsize," the supersize, the jia da. You're paying NT$105 for a meal. Why not add NT$5 more and get a bigger drink? It seems like a bargain.
But most people don't need the extra calories. "If the regular meal is like 700 or 800 calories, that's enough for most of the kids," said Chu. "But if you supersize them then maybe [it's] 1,000 calories." This makes the child's stomach grow larger, he said, thus creating an appetite for bigger meals in the future. And with declining rates of exercise, more time spent watching TV, and all that time spent sitting in the classroom, these extra calories aren't getting burned off, he said. They turn into fat."
GROWTH INDUSTRY
Taiwanese researchers have yet to find a direct link between increased fast-food consumption and obesity. Such a study would take years of follow-ups with hundreds of subjects. Instead, Chu and other doctors here are careful to stress that fast food consumption can be one of many factors that leads to obesity.
In the US, though, the first long-term study has a found a link between obesity and fast food consumption. Conducted by Mark Pereira, a professor at the University of Minnesota School of Public Health, and David Ludwig, director of the Obesity Program at Children's Hospital Boston, the study monitored subjects over 15 years. Those who ate fast food two or more times a week gained about 5kg more and doubled their insulin resistance compared with those who ate fast food less than once a week. The results were published in Lancet. "While there have been many discussions about fast-food's effects on obesity, this appears to be the first scientific, comprehensive long-term study to show a strong connection between fast-food consumption, obesity, and risk for type 2 diabetes," Pereira said in remarks quoted on www.obesityweek.org. Other studies in the US have shown that eating more fast food was associated with eating significantly fewer vegetables and fruits.
Obesity among Taiwanese males aged over 19 has been growing in recent years, and the number of women here with a waist size bigger than 80cm has reached 40 percent of the female population, according to Chu's research. But he and other health care professionals are most worried about the nation's children. "Many patients who are fat eat too much fast food, especially adolescents and teenagers," said Hsiao Tun-jen (蕭敦仁), a gastroenterologist and hematologist who runs a weight-loss clinic in Chungli, Taoyuan County. "They like to go McDonald's and Burger King because of American culture. The advertisements make McDonald's look like a happy place, so children pester their parents to take them there. Then get used to the food. Then they want to eat more."
Cheng at the Consumer's Foundation points out that, in the long run, this will increase the burden on Taiwan's public health-insurance system. Today's generation of fat and obese children will suffer the related health problems - diabetes, strokes and heart attacks - more frequently and much earlier than their parents' generation.
Not all the blame can be laid at McDonald's door. Obesity has many contributing factors that range from the obvious - eating too much, not getting enough sleep and decreased physical activity - to viruses, air-conditioning and industrial chemicals. McDonald's also offers low-calorie options, like salads. It is also not the only purveyor of fast-food in Taiwan. Burger King, Moss Burger and KFC all offer similarly calorie-laden, high in fat and corn syrup meals. KFC also asks its customers in Taipei if they want to jia da. Burger King asks Singaporeans if they want to "upsize."
But McDonald's is the industry leader, and it appears to have been more aggressive recently in pushing increased portion sizes. In Taipei from June until early this week, it sold the Mega Mac, a Big Mac with four meat patties. It also sold the Mega Mac for a limited time in Japan, and later released a pork and teriyaki Mega Mac there. In Hong Kong it sold a Double Fillet-o-Fish. In Singapore, McDonald's also asks customers if they want to "upsize" when they buy an extra value meal.
In a conference call with investors last year recorded by Thomson StreetEvents and obtained from the Wall Street Journal's Web site, CEO Jeff Skinner said McDonald's development strategy in China encapsulated the McDonald's strategy as designed "to deliver value to customers while encouraging trade up [italics not in the original], margins are beginning to benefit from extra value meals becoming a larger portion of our sales mix in China." A practice that McDonald's disowns in the US is clearly alive and well in Asia.
"I think that in general the convenience food industry, which has contributed almost certainly to the rising problem of obesity worldwide, has in developed economies heard the message from health policymakers and the community that its products must no longer continue to contribute to the growing problem of obesity and related health issues like diabetes," Mark Wahlqvist, editor of the Asia Pacific Journal of Clinical Nutrition and former president of the International Union of Nutritional Sciences said. "[McDonald's is] one of the internationally recognized businesses that is now seen to be responsive to these issues, and that's including [the] recognition of the problem of portion size for which there's a lot of evidence that it contributes to obesity."
He added: "Food manufacturers and purveyors, I think, need a legislative framework, they need consumer organizations and they need commercial pressures to behave responsibly and ethically in relation to people's health and well-being. By and large these forces do not operate in Asia."
Cheng Jen-hung at the Consumer Foundation says that after next month, this situation will change.
Comments will be moderated. Keep comments relevant to the article. Remarks containing abusive and obscene language, personal attacks of any kind or promotion will be removed and the user banned. Final decision will be at the discretion of the Taipei Times.