Michael's learned to rock
The Danish trio has been together 20 years and their popularity in Asia is undiminished as they produce catchy tunes and easy-to-learn lyrics
Easy listening could be taken as a disparaging term but with Michael Learns to Rock it's a compliment. The ballad band avoids messy beats or loops that get in the way of a memorable melody and an emotionally effective verse-chorus-verse song structure.
As a result MLTR is massive in Asia, but struggles to be heard in Europe and the US. The three-piece from Denmark is preparing to celebrate two decades in the music business and sales of over 9 million records.
At the beginning of this year it released a live set recorded in India, and here in Taiwan there's a greatest hits collection called All the Best, timed to coincide with a three-country tour of the region.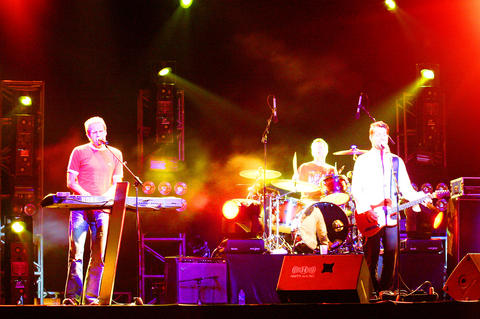 Pianist/singer Jascha Richter, drummer Kare Wanscher and guitarist Mikkel Lentz, of Michael Learns to Rock, revel in their wholesome images.
PHOTOS: COURTESY OF EMI
The group will play two gigs from tonight at the Taipei International Convention Center (台北國際會議中心), before jetting off to Thailand and then Malaysia, where it's acclaimed as the biggest-selling international band of all time and will receive an award for selling 1 million albums.
"I don't mind being called easy listening," said Jascha Richter, the songwriter, pianist and lead vocalist of MLTR, at a group interview in Taipei earlier this week. "I'm from a family with a background in classical music and to me that was too boring. Rock was too hard so I took the middle route."
"But I wouldn't describe ourselves as 'Scandinavian glow meets the international pop song,' which is what we've been called. Listening to us you wouldn't know where we come from," Richter said.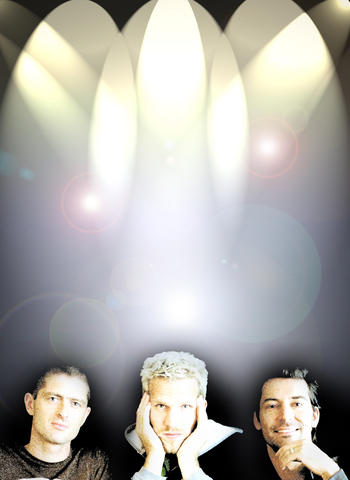 MLTR formed 20 years ago in Aarhus, the oldest and second-biggest city in Denmark. High school friends Richter and drummer Wanscher asked the guitarist Mikkel Lentz to join forces after seeing his band the Rocking Studs. Later, Soren Madsen (who left in 2000) was picked to play bass.
Pianist and lead vocalist Richter wrote some songs that were made into a demo and in 1988 they entered a local talent show, which they won. This was when they needed to come up with a name.
"I think [Richter] was thinking of Michael Jackson, because he was called 'the king of pop' and it was kind of funny, because it was like, what would he sound like if he learned to rock? It was wordplay," Lentz said in a telephone interview from his home in Denmark a couple of weeks ago.
"Yeah, it was like Johnny Hates Jazz and Frankie Goes to Hollywood. Sure, I've regretted calling ourselves this many times since, but we were successful so quickly we had to stick with it and over time I got used to it," Richter said.
It took three years to release their eponymous first album but it gave them time to find the classic rock groove they would plough in the future.
"I played reggae and country, pop just wasn't hip at the time," Wanscher said. "So it was a bit of fun and a challenge to do it. In the back of our minds I think we knew that we were a commercial band so that is what we did."
"From the start the focus was on writing and to be true to [Richter's] songs. We did a lot of experimenting, but when we recorded the ballads they were the best songs and became hits," Lentz said.
Unlike many bands they've stayed true to their influences, such as Supertramp, the Eagles, Bill Joel, Abba and The Beatles. At times they sound like The Carpenters without Karen (That's Why (You Go Away)), or Genesis when Peter Gabriel was at the helm (Strange Foreign Beauty).
"Ok, it's 30 to 40 years ago but that's classic. The goal is not to be absorbed by new trends, be up-to-date, experimental or new wave. No, the idea is to create the perfect love song."
The debut album spawned a hit song, The Actor, that mysteriously made it big not just in Scandinavia but in Asia too.
"The funny thing is success in Asia came all by itself, we didn't tour or promote. A guy from EMI in Indonesia took the song to the radio station in Bali, I think, and six months later we discovered we were big in Asia," Lentz said.
"Then Sleeping Child from Colors (1993) was a huge hit and that's when we became very famous. We didn't go to Asia until '93. We didn't try to crack the market, Asia related to us. Since then I've listened to Asian radio and it has a lot of ballads. We fit into that sound, instead of beats and loops."
"We have two set lists at concerts, one here (Denmark), one for Asia. In Europe it's more up tempo, they want to freak out, jump and dance. In Asia you can really sense the karaoke tradition of being into the music. We play, they sing.
"In Asia it's more of a musical thing, about feelings, fantasy worlds, where you dive into the music. With Prodigy you don't go for music or romance you go for a physical experience, but with [Bryan] Ferry and MLTR you go for the music," Lentz explained.
As a number of Web sites indicate, many of MLTR's fans are students of English and their songs are sold as mp3 downloads, with lyric sheets. At concerts, fans don't just sing the chorus lines, they chant the verses too.
Sleeping Child is, perhaps, typical: "The Milky Way upon the heavens is twinkling just for you/And Mr Moon he came by to say goodnight to you/I'll sing for you I'll sing for mother/We're praying for the world."
"We're popular because we do ballads and our songs have good melodies, but we're also from a non-English speaking country and therefore our lyrics are quite easy for non-native speakers to understand," Richter said.
"Parlophone released our records in England but they said the lyrics were too naive for over there. It's possible that simplicity is one of the secrets to our success," Lentz added.
Image-wise too, MLTR is more like an Asian group than the deliberately engineered bad boy personas adopted by bands from the Rolling Stones to artists like 50 Cent.
MLTR's Web site claims that "as opposed to so many other international names, the road to MLTR's success has never been paved with scandals, divorces, drugs, or even extreme images of life on the edge - it's strictly about music."
Is that true? Sort of. The lads claim to be settled and all have kids, but only Lentz is currently married. They were polite, drank bottled water at the hotel interview and didn't look ravaged by drugs and all-night parties.
Lentz admitted to being attracted by the idea of a rock 'n' roll lifestyle to begin with but said it was a job, with most of the time on the road spent waiting, being transported and hanging around in hotel rooms.
"Yes, I wanted to be Elvis and have the screaming girls. I never doubted that music would be my destiny ... but it's a lot more down-to-earth than you might think. I don't live in a castle and I buy my own groceries."
Richter theorized that Asia was keen on MLTR partly because the band had a healthy image and said this may have helped it crack the China market early. It was the headline band for a gig celebrating the handover of Hong Kong in 1997.
"The first time we played in Beijing I remember some of our fans were arrested for dancing, but that doesn't happen anymore," Wanscher said.
It used to be that MLTR was one of the most pirated bands in Asia, according to its members. Richter claims the band has sold up to 15 million records, but many of these were bootlegs.
"We've got a big following in Vietnam and Cambodia even though we haven't released any records there. In China 95 percent of our stuff is pirated. We are huge in piracy," Wanscher said.
Like other bands, however, MLTR is coming to terms with the shift in sales technology and is learning to make money out of mobile phone downloads, ring tones and touring.
As for becoming rock dinosaurs, they were never fashionable to begin with so extinction any time soon isn't likely. Lentz said rock 'n' roll isn't necessarily a young man's game.
"For Justin Timberlake it is, for Mick Jagger it ain't. In the 1960s it was a youth thing but now it's like the [Rolling] Stones, a circus. Actually you can see better acts in hotel lobbies but people are still paying to see them."
"There's an element for us of being in a gang with buddies, doing what we do best," said Lentz, who writes film scores and ambient music in his own time.
The band members all have other projects and collaborate with other musicians. MLTR pays the bills, it seems, and has a life of its own.
We don't have to explain after 20 years, we've grown up together. It's doing what we were educated to do. It's like a machine and when we're with our fans it's like being home," Lentz concludes.
Publication Notes
Performance notes
What: Michael Learns to Rock
Where: Taipei International Convention Center (台北國際會議中心), 1 Xinyi Rd Sec 5, Taipei (台北市信義路5段1號)
When: Tonight and tomorrow, starting at 7:45pm
Tickets: Priced from NT$1,000 to NT$4,200. Visit Era Ticket at www.ticket.com.tw, or call (02) 2341-9898
Further information: www.dadaarts.net/michael/rock.html and www.mltr.dk
Comments will be moderated. Keep comments relevant to the article. Remarks containing abusive and obscene language, personal attacks of any kind or promotion will be removed and the user banned. Final decision will be at the discretion of the Taipei Times.