Steve McQueen gives Taiwan's artists a nod of approval
A live video conference call that TFAM held with the Venice Biennale brought the world's most prestigious art fest to Taipei
Steve McQueen praised Taiwan at the Venice Biennale for its development of a contemporary aesthetic, said curator Hongjohn Lin (林宏璋) at a press conference yesterday beamed from Italy to Taipei.
Lin said the Turner Prize-winning artist was impressed with works in the Taiwan Pavilion, at the Palazzo delle Prigioni, because of their up-to-date techniques and ideas.
Speaking on a Skype conference call, Hong said yesterday was the first press preview of the show Atopia and the public opening would be Sunday.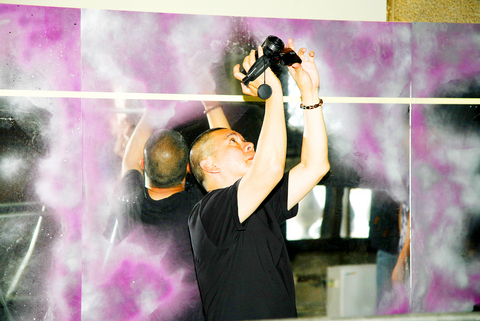 Tsai Ming-liang videos his work at the Venice Biennale.
PHOTOS: COURTESY OF TFAM
"Since the exhibition has not officially opened I cannot say much more about the reaction to it," Lin replied to a question from the Taipei Times in Taiwan. "But the feeling is good, it's very special."
Atopia, features work from the auteur Tsai Ming-liang (蔡明亮), photographer Lee Kuo-min (李國民), video director Tang Huang-chen (湯皇珍), bricoleur Huang Shih-chieh (黃世傑) and comic-book artist VIVA.
Taking turns to speak at the world's most high-profile contemporary art exhibition, which runs every two years, the artists commented on the installation of their works and impressions so far of the festival.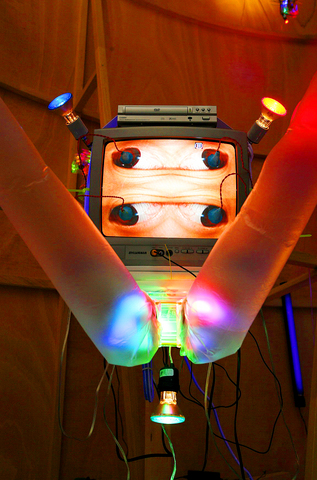 Huang Shih-chieh's exhibit at the Venice Biennale.
In a virtual guided tour of the Taiwan Pavilion, Lin said getting everything ready in time and overcoming technical problems had been challenging.
He said it had been a learning process for himself and the five-featured artists, none of whom have previously exhibited at Venice.
Tsai concurred, adding it was a novel experience for him to enter a movie at an art exhibition rather than a competition, such as the Cannes Film Festival.
"This is a different kind of filmmaking to the Hollywood style," he said of It's a Dream, which has been transferred to DVD from 35mm. "You have to be more patient to appreciate it and this suits the character of my work."
Speaking of the other artists, Tsai said all the works were different and had a unique style. "Even so I think that together they are harmonious and the atmosphere is great."
Lee echoed this view and spoke of his series of intensely localized photos, You Only Die Twice, that were presented as transparencies.
Lee said what they represented (people's lives as shown by their rooms) was not as important as the feelings they projected or evoked.
In contrast, Tang's videos I Go Traveling V/A Postcard with Scenery are more personal to the artist. Initially the videos appear to be holiday snaps or videos but the way they are presented makes the viewer reflect on 21st century communication and nostalgia.
Possibly the most arresting work is Huang's EVX-07, which features large-scale, cannibalized objects that light up, blow up and are also interactive.
From the virtual video tour of the exhibition Huang's neon-lit creations seemed to create a weird world of common objects seen in an unusual light.
Finally, the comic book artist VIVA's look at the life of Taiwanese otaku, or computer/technology nerds, was imaginatively presented. The audience can view the works, but also pull them down, roll them up and take a four-panel manga cartoon home.
This was the first live video conference call that Taipei Fine Arts Museum has held and it seemed to complement the modern aesthetic that Steve McQueen recognized as being a strength in Taiwan's entry.
There were glitches, slow-motion digitized images and the occasional absence of clarity, but overall it worked and virtually brought the Venice Biennale home.
Comments will be moderated. Keep comments relevant to the article. Remarks containing abusive and obscene language, personal attacks of any kind or promotion will be removed and the user banned. Final decision will be at the discretion of the Taipei Times.