Reinventing the past
The glass bead market in Taiwan is booming, boosted by consumers who are interested in Aboriginal culture and indigenous people who are confident in the value of their handicrafts
In times gone by, when a Paiwan (排灣) tribal chief died, his family would give messengers, who spread the news of the death to other villages, a pair of swallowtail wings to help them on their journey through the rough jungle and mountainous terrain.
Today, of course, telecommunications technology has made the journey unnecessary and the tribe no longer follows the tradition. The swallowtail, however, remains an important symbol for the Paiwan people and has come to signify diligence; its significance lives on in the production of glass bead, which the Paiwan tribe revere.
Along with bronze knives and clay pots, glass beads are the most valued objects that an elite family can possess and are a sign of wealth and power.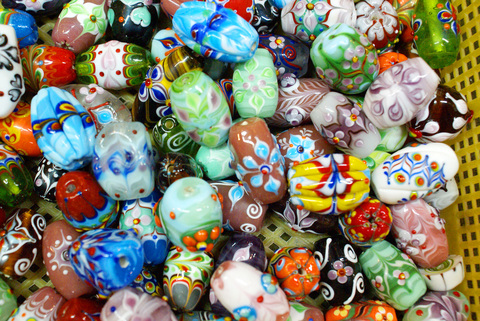 Opaque beads are increasingly popular because of their bright colors and intricate designs.
PHOTOS: NOAH BUCHAN, TAIPEI TIMES
"We grew up eating glass beads," says Liao Yi-hsin (廖怡馨), repeating a saying common among the tribe's nobles. The daughter of a noble, Liao operates Shatao (沙滔), a glass bead studio that designs and makes swallowtail beads.
Formerly the sacred property of wealthy families, over the past three decades a cottage industry has sprung up in and around Sandimen (三地門), Pingtung County, producing Aboriginal glass beads.
The glass bead industry in Taiwan is booming. Shatao's studio has 14 full-time employees — all women working from morning to night — producing about 500 beads a day. Taiwan's largest glass bead studio, Dragonfly Studios -— also located in Sandimen — has over two-dozen artisans working to fill orders for customers as far a field as Japan and Europe.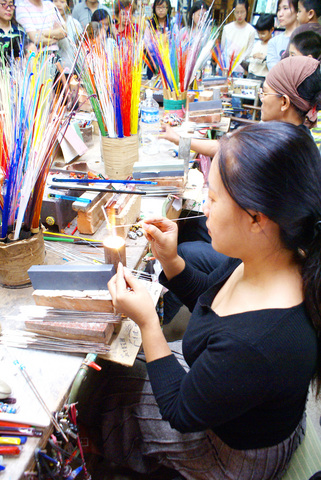 A Paiwan artisan makes glass beads at Shatao studio.
As nine employees sit at a long wooden workbench turning canes of colorful glass into beads, tourists from southern Taiwan wander through Shatao's studio taking pictures and buying jewelry made from the beads. Prices range from as low as NT$200 for a bracelet to NT$30,000 for a large ceremonial necklace.
Liao attributes the growing popularity of glass beads to consumers' increased interest in Aboriginal culture and indigenous people's growing confidence in their own traditional crafts.
Beads steeped in myth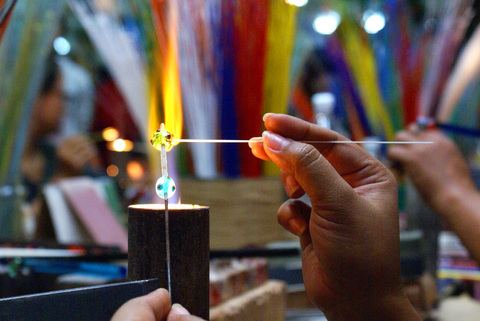 Umass is credited as the person who rediscovered the art of Paiwan glass bead manufacturing.
For the Paiwan people, the origin of glass beads is steeped in myth. Legend has it that a woman one day built a fire upon which she set a pot of water to boil some millet. As the pot began to steam and bubble, the heat pushed the sun away from the earth. The sun, forced to part with the world of mortals, burst into tears and its teardrops fell to earth and crystallized into glass beads.
Because no written documents or evidence of materials, workshops or kilns for bead production have ever been found in Taiwan, researchers believe that the antique beads were a trade item produced by artisans from other cultures and brought to Taiwan.
Regardless of their origins, the renewed interest in the beads began in 1972 when Umass (巫瑪斯), a commoner in the Paiwan tribe, started researching how to reproduce the beads his ancestors owned. After spending five years experimenting with various materials, he produced his first line in 1976, which met with immediate success and spurred Umass to pass on his skills to others. Liao's uncle, the original owner of Shatao, was Umass' student.
After a 20-year hiatus, Umass returned to making glass beads in the 1990s. He found the industry had changed significantly, with studios and workshops emphasizing transparent glass beads over the opaque variety common to antique glass beads in the possession of noble families.
"When I came back to making glass beads the elders in the Paiwan tribe felt the beads made from transparent glass were not authentic. So I invented a substance called shuiyu (水玉) that bears a greater resemblance to the antique beads," he said.
The elders preferred more traditional beads whereas tourists preferred the transparent beads, which were produced in large numbers.
"Until five years ago, people preferred glass beads with a shiny surface. But as people have become more interested in Aboriginal culture, the traditional beads have become more popular," Liao said.
Umass refuses to divulge the raw materials used to make shuiyu, but says that it bears such a great resemblance to the antique beads that few elders can tell the difference.
"I only sell the glass beads made of shuiyu to Paiwan families," he said. The necklaces and other items made with this material are used for gifts at wedding or betrothals and can cost more than NT$70,000. To cater to the popular market, Umass also created a material called jingtu (晶土), a substance similar to ceramics but with the characteristics of glass.
That Umass has been able to create glass beads that bridge the gap between what nobles and elders expect and the demands of the marketplace shows that traditional and contemporary aesthetic preferences can exist side by side.
"The glass bead industry is a successful example of the industrialization of traditional artifacts. It has three basic functions: first, it plays a role to spread and pass down aboriginal culture; second, it provides us with an economy; and third, its diverse color and pattern will stimulate the next generation of artists," he said.
Copying a reinvention
Meanwhile, Liao has discovered pirated copies of Shatao's inventions.
"Some people came to our workshop and took photos of our products and then put them on a Web site that was used to sell glass beads bearing the same shape and decorations as our product."
After investigating, Liao discovered that the beads were being manufactured in China and then shipped over to Taiwan and sold at lower prices.
Liao believes that the designs of her artisans are the intellectual property of Shatao and hopes a way can be found to protect her company's creations.
But Umass scoffs at the idea of a copyright. He believes that a company — Paiwan or otherwise — having control over designs steeped in the stories of the Paiwan tribe is tantamount to having control over his ancestral past. He says it's the consumer's decision whether they want to purchase authentic beads or cheap imitations.
"I welcome people to copy my glass beads. But I know how to protect myself. The raw materials I use to make the beads and my personal signature distinguish my products from others," Liao said.
Every item purchased at Shatao comes with a certificate authenticating the products are produced by indigenous people.
Comments will be moderated. Keep comments relevant to the article. Remarks containing abusive and obscene language, personal attacks of any kind or promotion will be removed and the user banned. Final decision will be at the discretion of the Taipei Times.