Paris' popular Pompidou Center prepares to spread the love in China
Paris' Pompidou Center, the mammoth glass and steel arthouse wrapped in colored pipes, turns 30 this month looking to take its contemporary vision beyond France's borders — and as far as China.
Opened in central Paris on Jan.y 31, 1977, amid a public furore over its eye-catching futuristic design, the Georges Pompidou Center — its full name — has since become one of the city's most popular museums, with 5.1 million visitors last year, a million fewer than the Louvre.
Because architects Renzo Piano and Richard Rogers opted to place its insides — pipes and escalators — outside, many Parisians decried it as an eyesore, disdainfully dubbing it "the gasworks" or "refinery".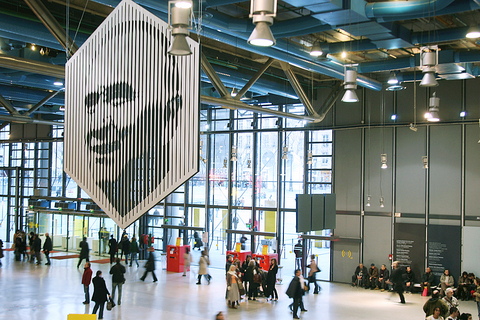 The lobby of the Georges Pompidou Center in Paris. The mammoth glass and steel art house wrapped in colored pipes, which turns 30 this month, is looking to take its contemporary vision beyond France's borders and as far as China.
PHOTOS: AFP
"Today it's as emblematic of the Paris skyline as the Eiffel Tower," director Bruno Racine said.
Breaking with tradition, the Pompidou Center, currently Europe's biggest contemporary art museum, was designed to be an arthouse and a center of creativity under a single roof, combining a library, exhibition space, cinemas, workshops and theatres.
"We've proven this utopia was feasible, that a whole range of activities can coexist in one place, reading, contemplating works, shows, and can reach a wide public," Racine said.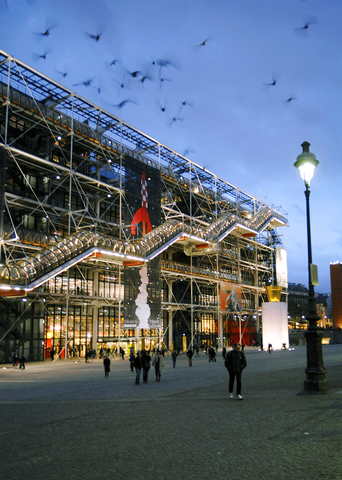 The facade of the Georges Pompidou Center in Paris.
"The Center has played a vital role in opening the eyes of visitors to 20th century art and to the international artistic and cultural scene.
"But 30 years on there are new challenges and projects. The public is more educated today, there are new forms of access to culture via new technologies. The cultural scene, once centered on Europe and America, is now global and planetary.
"We need to go global," he said.
Reaching out to Europe in the first instance, the center has begun work to build a clone in the eastern town of Metz near the borders of Belgium, Germany and Luxembourg. That museum is to open in 2008.
More significantly, Pompidou has set its sights on China, Racine said, with a satellite center due to open in Shanghai in the next couple of years. The center, to be owned by China with Pompidou acting as operator and programmer, will feature exhibitions brought from Paris as well as shows specifically tailored for the local public of both Chinese and Western artists.
"The plan to open a center in Shanghai is because we believe China will occupy a place on the world artistic scene in the coming years," Racine said.
"We need to be competent on these new scenes, on the one hand bringing Western art from the 20th and 21st centuries to China, and on the other deepening our knowledge of Chinese and Asian art."
The move east comes as the French art world rows over plans by the Louvre to create a satellite in the United Arab Emirates capital Abu Dhabi that will mean loaning out some of its prized works.
"You cannot control everything from Paris," Racine said, adding that Pompidou would not empty its reserves. The center currently has 58,000 works, with a mere 2,000 on show in Paris and 3,000 loaned out to other museums each year.
While the center continues to acquire new works, a fifth of its annual budget — or 20 million euros (US$26 million) — has to be set aside each year just for maintenance. "Making a prototype last costs a lot more than maintaining a standard product," Racine said.
To begin with, there are 9,800m2 of glass to be cleaned and pots of paint required for the insides featured on the outside — water pipes are green, air pipes are blue, while equipment used for circulating such as lifts and escalators are all painted red.
Pompidou, which remains open from 11am to 10pm six days a week, was built before the rise in petrol prices and ahead of theories about sustainable development.
As a result, said Stephane Viale, the museum's building and security director, "The building is one huge draught, it isn't airtight and it consumes enormous amounts of energy."
While management has been attempting to cut costs, it is about to replace 13 air-treatment pipes that had to be initially helicoptered onto the roof, as well as replacing four escalators.
"It's the ransom of success," Racine said. "The building's suffers from wear and tear because it's popular."
Comments will be moderated. Keep comments relevant to the article. Remarks containing abusive and obscene language, personal attacks of any kind or promotion will be removed and the user banned. Final decision will be at the discretion of the Taipei Times.