Beware of Beijing cocktails
For a movie premised on unrelenting action, Crank proves fatally turgid. The premise takes high concept to a new low. Chev Chelios (Jason Stratham), hit man extraordinaire, wakes up to learn he's been dosed with "the Beijing cocktail," a poison whose lethal effects can be fended off only by a constant surge of adrenaline. Thus, with utmost speed, in this retread of Speed, Chev rampages through Los Angeles seeking Verona (Jose Pablo Cantillo), the rival who poisoned him, and the means of sustaining his neck-bulging buzz.
He chugs Red Bull, gobbles energy supplements, injects ephedrine, fondles a defibrillator, licks cocaine off a bathroom floor, snorts nasal decongestant by the bottle and rapes his girlfriend (Amy Smart, playing dumb) in the middle of Chinatown. Mostly, however, he's powered by rage, which he vents through explosions of violence and misanthropy.
The writing and directing team of Mark Neveldine and Brian Taylor jack up the action with all manner of gore, gimmickry and hysterical camerawork, none of which is as vigorous as the equal-opportunity hatred they exhibit toward the denizens of Los Angeles, be they black, Latino, Asian, Muslim, gay, female or theater customers paying to see a decent action flick.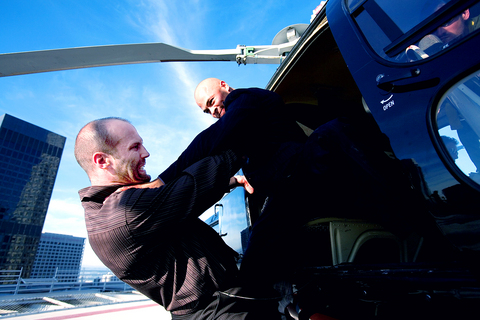 Jason Statham fails to crank up the suspense in this turgid film that falls down on an illogical plot badly executed.
PHOTO COURTESY OF PANDASIA
That last demographic may feel most insulted of all when, in the climactic showdown, Verona holsters his gun to plunge another syringe of poison into Chev's neck — you know, the one that doesn't work — then turns his back to make a getaway. He may be one of the dumbest villains in movie history, but you've got to root for him. Dead, Chev puts everyone out of his misery.
Publication Notes
Film Notes:
CrankDirected by: Mark Neveldine and Brian TaylorStarring: Jason Statham (Chev Chelios), Amy Smart (Eve), Jose Pablo Cantillo (Verona), Efren Ramirez (Kaylo), Dwight Yoakam (Doc Miles), Carlos Sanz (Carlito), Jay Xcala (Alex), Keone Young (Don Kim)Running time: 83 minutesTaiwan release: Today
Comments will be moderated. Keep comments relevant to the article. Remarks containing abusive and obscene language, personal attacks of any kind or promotion will be removed and the user banned. Final decision will be at the discretion of the Taipei Times.