Planet Pop
Officially, they got married in Los Angeles, but the spectacle of the wedding between Tom Cruise and Katie Holmes was here, in a 15th-century castle that evoked fairy tales and lit up with red, white and green fireworks for a cheering, celebrity-laden crowd.
There were fireworks inside, too, a "never-ending kiss" between the betrothed after they exchanged vows Saturday. The kiss lasted so long it caused guests to shout "stop, stop!" said Italian designer Giorgio Armani, who attended the wedding and designed the outfits of the bride, the groom and their baby, Suri.
The ceremony was a lavish apex to perhaps the celebrity world's most closely watched relationship, proclaimed with Cruise's leap on Oprah Winfrey's couch, bestowed with the nickname "TomKat" and raised to a new level seven months ago when Holmes gave birth to their daughter.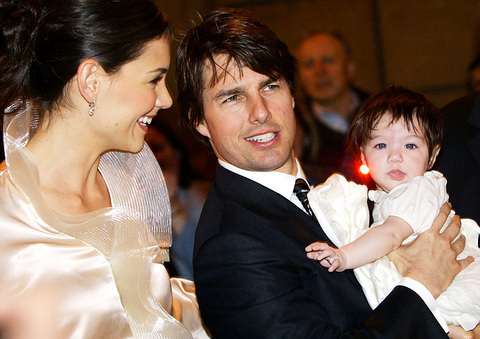 Even TomKat's friends were grossed out by the couple's excessively long display of nuptial affection.
PHOTO: AP
The evening wedding was performed by a Scientology minister in front of more than 150 relatives and friends. Cruise, then Holmes, walked down a stone ramp lined with flag bearers in medieval costumes and to the roll of drums. They exchanged vows in a former stable decorated simply with white flowers.
"For the Americans this was very special, because Americans do not have this kind of thing back home, and they dream of such things in our beautiful country, and you can see the surprise and the awe on their faces," said Armani, who also designed the clothes of the rest of the wedding party and the couple's immediate family.
Other famous guests included Brooke Shields, Richard Gere, Jennifer Lopez, Jim Carrey and Victoria Beckham, wife of soccer star David Beckham and former Posh Spice of the Spice Girls.
Much of the attention given to Cruise since their relationship began has focused on his increasingly odd antics. He was mocked for the couch-jumping episode, criticized for his comments about Shields' use of prescription drugs to treat postpartum depression and questioned about his embrace of Scientology, the religion founded by science-fiction writer L. Ron Hubbard that holds an opposition to psychiatry and related medication among its tenets.
Of course, not all fairy-tale weddings have fairy-tale endings. Just ask Heather Mills McCartney, who has been dogged by accusations that she was a "gold digger" after her marriage to Paul McCartney fell apart.
In an interview with TV show Extra to be aired today and Tuesday, the former model denied that she has a romantic relationship with her personal trainer and insisted she'll never remarry after her four-year union with the ex-Beatle fell apart.
Mills McCartney, 38, and McCartney, 64, announced their separation in May and began divorce proceedings in July. They have a 3-year-old daughter, Beatrice.
"I haven't got a lover," Mills McCartney said. "At the moment, I'm focusing on my daughter. It's totally made up."
Mills McCartney didn't comment on her divorce. But she said public perceptions that she married McCartney for the money were misguided. She said 85 percent of her income went to her charity. "I feel in love for the right reason. I fell in love unconditionally," she said. Will she marry again? "Never," she said.
Also celebrating in Italy was Peter Gabriel, who received the annual Man of Peace award Friday from a foundation headed by former Soviet leader Mikhail Gorbachev.
The founder of the rock group Genesis was recognized for his work promoting human rights and world peace. He received the award in a ceremony on Rome's Capitoline Hill that marks the opening of a meeting of Nobel Peace Prize laureates organized every year in Rome by the Gorbachev Foundation and city hall.
Nobel Peace Prize winners Lech Walesa and Mairead Corrigan Maguire attended the ceremony, along with Rome Mayor Walter Veltroni. Gorbachev was absent for health reasons.
Other recipients of the award have included Live 8 organizer Bob Geldof, the singer once known as Cat Stevens, and Italian actor-director Roberto Benigni.
Comments will be moderated. Keep comments relevant to the article. Remarks containing abusive and obscene language, personal attacks of any kind or promotion will be removed and the user banned. Final decision will be at the discretion of the Taipei Times.