Nothing but the real thing
With a swanky new store, and last weekend's opening show followed by a star-studded after party, Louis Vuitton is certainly making its presence felt in Taiwan. Just don't ask how much it all costs
In a plaza near the brand-new Louis Vuitton store on Zhongshan North Road, couples gather to take pictures of themselves and a super-sized piece of LV luggage. There are even two security guards to stop them clambering over the giant trunk, with it's distinctive LV monogram pattern and brass locks.
Opposite stands a white Italian marble monument to taste, the latest LV flagship store. The stones have been laser monogrammed with square holes and are backlit by an ethereal orange glow at night. A smartly suited gentleman opens the door and you are swept into another world.
Designed by the office of Japanese architect Inui Kumiko, the overall impression is of opaque surfaces bearing the fashion company's signature "damier" pattern; teak and stainless steel. The carpets are deep and lush. There are large mirrors that show looped videos of LV collections.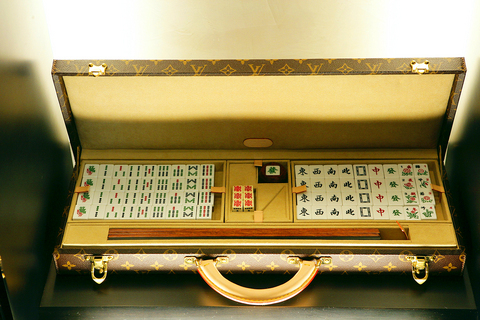 A boxed mahjong set from LV.
PHOTOS COURTESY OF LOUIS VUITOON
A mixture of the well-heeled and the curious peruse the store, as if they were in an art gallery. They stop, they ooh and they aah. There are four floors and a red embroidered leather elevator to take you up and down. But most people take the tour up the stairs, all the way to the bookshop at the top.
It's only the second LV bookstore in the world, with glossy tomes like African Wisdom 365 Days by Danielle and Olivier Follmi, which features the apposite advice from Birago Diop, "Listen more often/To things than to beings."
And some of the items on display do have a lot to say for themselves. Seventy percent of LV sales are bags and these range in price from NT$20,000 to NT$40,000. Diamond encrusted gold pendants are big sellers; and the 12 Skyline 101 watches going for NT$2 million have all been snapped up. There's also menswear, glasses, women's fashion and accessories.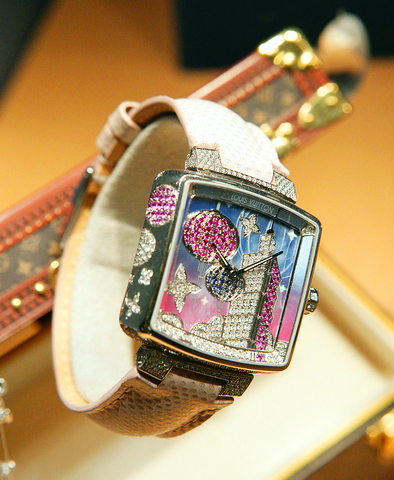 The Skylight 101, which comes in a limited edition of 15 and costs NT$2 million each, has sold out.
There are no price tags for the items in the store. As the saying goes, "If you have to ask, then you probably can't afford it." Many of LV's customers are asking for made-to-order or special order goods which cost even more, says LV communications manager Ben Huang (黃建雄).
The luxury goods market is paradoxical. Buying into a lifestyle means paying a premium so that other people know you've got money. The nouveau riche are most likely to announce their rise by appropriating symbols of wealth.
Yet, money seems to be a dirty word. Curiously for a company that reportedly opened 23 stores and increased net profits by 50 percent last year, discussion of money seems to be taboo.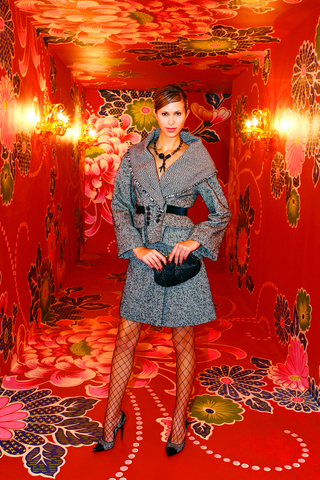 A model poses at Louis Vuitton Maison.
"We don't talk about money because that's not what a luxury goods manufacturer does," says Huang, who brushes aside questions about how much the store cost.
He then squashes reports that last week's fabulous opening ceremony featuring the South Korean star Rain and the after party at Chiang Kai-shek Memorial Hall cost US$1.5 million. He does admit, however, the cast of A-list celebrities and their acolytes quaffed 2,700 bottles of champagne.
You can tell that Huang is a practiced hand at fending off questions about fake LV items as he is adept at reiterating the company line that it cooperates with the police and government to reduce piracy.
"It's not the company's responsibility to tell people whether or not an item is fake. A lot of people ask, `How you can tell?' We say, come to the store, then it can be guaranteed."
As for the argument that fake goods fuel a "need" for the real thing, he says that since counterfeiters operate illegally, the market does not officially exist so he cannot comment on it. "I can only talk about LV in Taiwan."
"We did not build this maison just for profit. This is more about art and lifestyle and providing something special here," Huang said. "It's about inspiration and the lessons learned from 150 years of experience [since the founding of Louis Vuitton]. Our products are in museums. ... Maybe we are not the first in the market with some goods, but we do want to be the best."
Looking around the store he has a point.
Louis Vuitton Maison is at 47, Zhongshan N Rd Sec 2, Taipei (台北市中山北路二段47號).
Comments will be moderated. Keep comments relevant to the article. Remarks containing abusive and obscene language, personal attacks of any kind or promotion will be removed and the user banned. Final decision will be at the discretion of the Taipei Times.