Our artist to the world
Young Taiwanese artist Wu Chi-Tsung has been nominated for the Artes Mundi Prize, one of the world's top art awards
Taiwan's contemporary art scene is active and international with many opportunities for local artists to participate in exhibitions abroad while holding dialogues with foreign artists at local exhibitions.
Young Taiwanese artist Wu Chi-Tsung (吳季璁) is one of eight short-listed artists for the Artes Mundi Prize (Arts of the World) awarded by the National Museum, Cardiff, UK, the largest international prize awarded to an individual artist. This is the second year for the prestigious award and the first time for a Taiwanese artist to be nominated.
Wu, whose work is noteworthy for its exploration of imagery via video, photography and mechanical instal-lation, is currently exhibiting his art for the first time in the UK at the Artes Mundi exhibition that ends on May 7.
Juergen Heiter's The Place in the Woods.
PHOTOS COURTESY OF THE ARTIST
The eight selected artists -- from India, Finland, South America, Europe and Taiwan -- are regarded as having made significant contributions to the world's understanding about the human condition. The prize will be awarded to one of the selected artists on March 31.
In 2004, New York-based Chinese artist Xu Bing received the first award for his work Where Does The Dust Collect Itself, made from dust collected from the streets in Manhattan after Sept. 11.
Besides the US$40,000 prize money, the winning artist's work will be exhibited at a major show and purchased for national collections.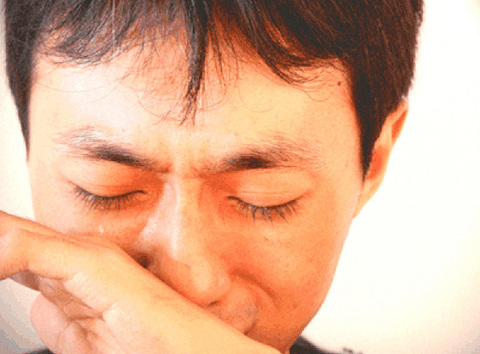 Chen Ting-yu's He Cried.
Currently on view at the German Cultural Center in Taipei is a modest, yet poignant exhibition of German and Taiwanese artists titled Intimate Relations. Curator/artist Andreas Walther is no stranger to Taiwan as he has been living, exhibiting and cura-ting here for several years and is therefore familiar with lifestyles both in Cologne and Taipei.
The videos, photographs and drawings explore the theme of closeness between people and provocatively ask if there are cultural differences between Western and Eastern personal relationships.
Some of the art on view seems to act like a sociology experiment. This is most notable in Andreas Walther's riveting video Family Portraits, in which a video camera runs for 10 minutes, while the invited family members (who were instructed not to speak to each other while seated in the studio facing a large mirror) fidget, giggle, and non-verbally interact with each other.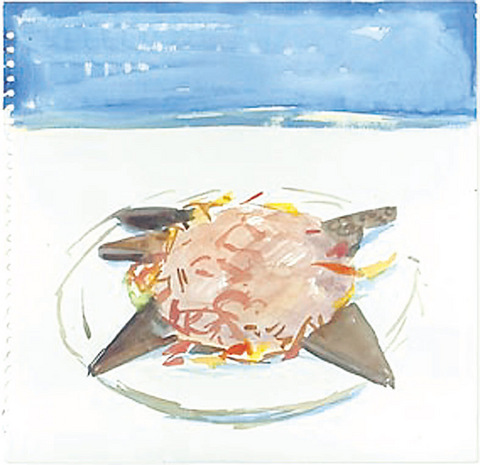 A picture by Cony Theis, untitled.
PHOTO COURTESY OF THE ARTIST
Sometimes with conceptual art, a background explanation is required in order to comprehend the art. To fully understand Chen Ting-yu's He Cried it is necessary to read about his concept beforehand. There are two see-mingly identical photos of a close-up of a man's face wiping away tears from his eyes. Chen photographed himself crying, as this was part of his experience of being involved in an intimate love relationship. Then he photographed his boyfriend mimicking his action.
However, his boyfriend couldn't fake the tears.
Chen's two portraits show that even with an intimate partner we can achieve simulations of closeness but achieving actual oneness is nearly impossible.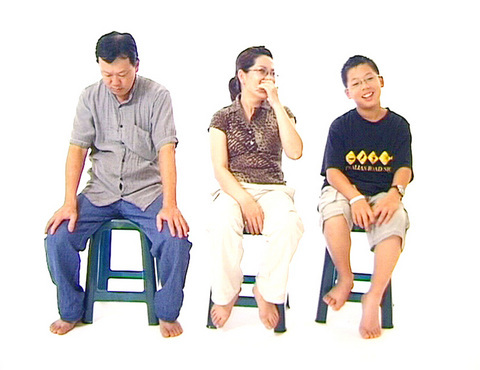 Andreas Walther's Family Portrait.
Another conceptual work is Cologne-based artist Cony Theis' Familienportrait. With her mother, sister and two nieces, the five female family members painted a series of watercolors together.
Chen Shun-chu's (陳順築) Journeys in Time is a photographic series where he uses the family snapshot in a similar way to the Proustian madeleine to recapture the idyllic past of his childhood.
Juergen Heiter's film The Place in the Woods is interesting, but due to its German soundtrack there are limits for the audience. The architecture of Rome and Paris serves as a backdrop to tell a story about modernity, while in the foreground couples try to make relationships work even though intimacy is glaringly absent.
Art Notes:

What: Intimate Relations

Where: German Cultural Center, 12F, 20 Heping W Rd, Sec 1, Taipei (台北市和平西路一段20號12樓)

When: To April 20

Tel: (02) 2365 7294
Comments will be moderated. Keep comments relevant to the article. Remarks containing abusive and obscene language, personal attacks of any kind or promotion will be removed and the user banned. Final decision will be at the discretion of the Taipei Times.