Bolton back in business
He's rich, tall and can sing a mean love song. Why wouldn't you swoon over Michael Bolton?
Female fans have been known to swoon at the mere mention of his name. Michael Bolton, US singer-songwriter and activist, touched down in Taipei yesterday and is due to give a solo concert at the Sun Yat-sen Memorial Hall tonight as part of his world tour.
Tickets for the "Hope is Here" concert "are 90 percent sold out," said Elaine Wang of Yu Kuang Music magazine, the organizer of the event.
Bolton earlier this week sent a statement to local media expressing his excitement at again performing in Taiwan, which he last visited 10 years ago. He is, however, declining to give press interviews and has told the organizers he did not plan to hold a press conference on his arrival.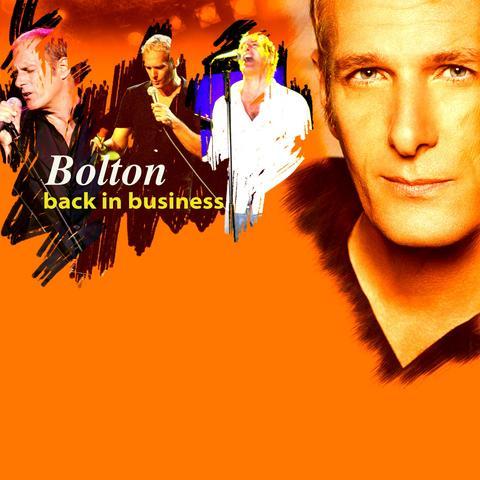 PHOTO: AGENCIES
The balladeer postponed the South Korean leg of his tour that was set for last week for unspecified personal reasons, and the Michael Bolton online fan forums have been abuzz with rumor and concern ever since.
The two-time Grammy winner -- both awards were for best male pop vocal -- was born Michael Bolotin in New Haven, Connecticut, in 1954. Under his birth name he embarked on a career in the music industry in the 1970s as lead singer of heavy metal outfit Blackjack -- which flopped.
He changed his name and his image, grew a mullet, signed with Columbia and began recording soft rock ballads under the name Michael Bolton in 1983 before hitting the billboard charts.
Despite a commercial setback with his second album Everybody's Crazy in 1985, the following decades have seen him notch up success after success, selling over 50 million albums and singles and earning himself a star on Hollywood's Walk of Fame.
His writing credentials include collaborations with Bob Dylan, Barbra Streisand, KISS, Kenny Rogers, Cher and Patti Labelle. He has performed with the likes of Luciano Pavarotti (who performed in Taichung on Wednesday evening), Placido Domingo and Ray Charles.
Press reviews of the previous legs of the tour have largely been favorable and fans have given the gigs rapturous praise.
An unscientific survey of Bolton's fan base, conducted through hours of painstaking surfing, reveals that the majority of Bolton's fans are women.
"Michael gives us such power and passion to live ... He's so gentle and [is] a genius. He makes us believe that dreams come true, just like his own story," wrote one admirer from Shanghai.
Musical prowess, sex appeal and a caring image is a powerful combination.
"The word sexy was invented just for Michael. I just can't pin point if it's his looks, his kind heart or his voice. But all of the combined just makes me melt," says a posting on Bolton's fan forum.
Florin Tanase, a 30-year-old economist from Beius, Romania won a competition for a place on Bolton's road crew at the Bucharest gig in November by writing down all he knew about the singer, which amounted to 11 pages.
The audience was "mainly women but 25 percent men," Tanase said. Bolton has "a very powerful but warm voice and the greatest lyrics in this world -- they are poems! You can learn a lot from his lyrics, they are from his personal experience."
At Bolton's concert in Bristol, UK, in October he sang Love is a Wonderful Thing, which was the subject of a protracted copyright infringement case begun in 1994 when Ronald and Marvin Issey sued the Connecticut-born singer for plagiarizing their song of the same name.
US courts ruled against Bolton and awarded the Issey brothers US$5.4 million, then reported to be the largest-ever settlement for copyright infringement of a song.
After establishing a successful career in the music industry the rugged singer turned his attention to social activism, founding Michael Bolton Charities (MBC) in 1993 with the aim of bringing "attention to issues which adversely affect children and women at risk-issues which include domestic and street violence, poverty, abuse, neglect, AIDS and homelessness," according to Bolton's mission statement.
For the Taipei concert, holders of a China Trust credit card can enjoy a 10 percent discount on the ticket price, or choose to donate the money to local charity.
Bolton has campaigned on other social issues, raised money for various causes and is the recipient of a raft of accolades for his philanthropic endeavors, such as the prestigious Lewis Hine Award from the National Child Labor Committee.
The US press revealed in 1998 that MBC's financial report for 1995 showed it had collected some US$2.6 million for that year, of which 15 percent went to good causes and the remainder was swallowed up in administration expenses.
Eight years later the charity had improved operations.
Charity Navigator, a nonprofit independent organi-zation that assesses the performance of US philanthropic groups, evaluated MBC in 2003 and found it, "exceeds or meets industry standards and performs as well as, or better than, most charities in its cause" with 72.5 percent of the year's revenue spent on the programs and services it aims to deliver.
Performance notes:

What: Michael Bolton "Hope is Here" concert

Where: Sun Yat-sen Memorial Hall (國父紀念館)

Tickets: NT$1,500 to NT$4,800 available through ERA
ticketing. (Tickets may be available at the door)

For more information call 02 2741 5988
Comments will be moderated. Keep comments relevant to the article. Remarks containing abusive and obscene language, personal attacks of any kind or promotion will be removed and the user banned. Final decision will be at the discretion of the Taipei Times.