'I will protest till the day I die'
Ko Szu-hai held his first stray-dog protest 10 years ago and has gained a measure of fame since then as an urban hero-though there are some who dispprove of his style
You may have seen him on the news holding up one of his signs and grinning behind some slightly peeved reporter or you may have run into him out on the streets of Tianmu taking his pig and cow for a walk. Even if you've just spotted his bizarre "propaganda-mobile" parked by the side of the road, if you live in Taipei, chances are you've encountered the "king of protesting" Ko Szu-hai (柯賜海) in some form or other.
Since his first stray-dog protest 10 years ago, Ko has gained fame as an urban quixotic hero, yet despite Ko's dedication to getting himself noticed, he has always been surrounded by an air of mystery. Some think he's crazy, some think he's a criminal -- others just think he's a joke. But underneath it all, Ko is really just a friendly, eccentric man with the heart of a child.
Born and raised in the countryside near Tainan, Ko was orphaned at the age of 9, and he learned to take comfort in the companionship of animals. To this day he remains very attached to his pets, of which there are many, and it was his quest to protect the poor abandoned stray dogs of Taiwan that first caught the public's eye.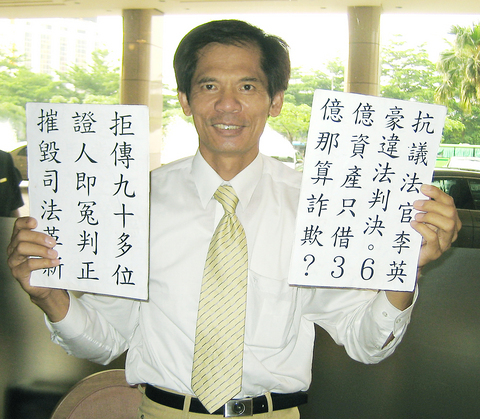 PHOTO: TAIPEI TIMES
Ko broke onto the protest scene a decade ago with his now-familiar act of bringing along a pack of dogs to the presidential office. He protested the euthanasia of strays and demanded better protection for the animals.
Nowadays, when he takes along the animals to his protests, it is usually for the sake of some attention-grabbing gimmick rather than the sake of defending their rights. On a recent trip to the KMT headquarters, Ko brought a horse, an eagle and a dog in tow. The idea was that the Taiwanese words for horse, eagle and dog together sounded like the name of mayor Ma Ying-jeou (馬英九), whom Ko is angry at for confiscating one of his cows.
"My poor cow is locked up in a cell less than 1 ping (3.3m2) in size, while it's used to roaming free in the fields," Ko said. (The bovine was confiscated for roaming free in the city, where cows are not allowed). While no one can question his dedication to his cow, the numerous stray dogs Ko has taken off the street may not be receiving the kind of care they should. In 1999, Miaoli County officials entered Ko's stray-dog center on complaints that the animals were being neglected. The officials rounded up over 30 dogs in what they described as "canine purgatory," where many were dying or already dead. They then pro-ceeded to euthanize the dogs.
Ko's activism strikes many as protesting for the sake of protesting rather than a deep dedication to some cause. The broad range of issues and politicians Ko regularly protests against -- from environmental pollution to arms deals, from Ma Ying-jeou to president Chen Shui-bian (陳水扁) -- arouses curiosity as to what, or whom exactly he supports.
"I focus on issues not on people," Ko said. It's useless to ask if he's green or blue, and when he runs for office, it's naturally on the independent ticket. He ran (unsuccessfully) last year for a position in the legislature and is currently a candidate in Hualien County's December commissioner election. Ko chose Hualien, he said, because nobody's taking care of the county and it's underdeveloped. But his main goal in both his activism and in running for office is to get "crooked politicians" out of power.
"Their words and their actions are fake. Everything they do is completely unfair," Ko said.
Recently, the "crooked legal system" has become Ko's No. 1 enemy since a Taipei court handed him a seven-year sentence on June 30 for accounting fraud. He allegedly bought up companies on the brink of bankruptcy and fudged the books to make it seem as though they were profitable, thus cheating banks and investors out of up to NT$300 million. Ko plans to appeal and is convinced of success with the help of Hualien prosecutor and "legal hero" Lee Tsu-chun (李子春).
"If what I did was a crime, then banks are committing crimes all the time. I'm just a regular businessman," he said.
His long-time outrage towards injustice in the legal system has been a major influence in Ko's activism. Ko said he "encountered the oppression of the law" when a construction company he was working with was dealt a blow by a court ruling against it in a land dispute. "I felt it was unfair," he said, "so you see I have over 20 years of experience with the legal system." Ko begrudgingly admits that the system is slowly changing for the better.
In general, Ko feels as though his persistent protests are affecting change in the government, albeit too little and too slow for his taste. He has never considered changing his approach to activism and as for any criticism of his methods, he merely laughs it off. "If other people are allowed to grab the spotlight, why shouldn't I?" he said of a recent spat with Hollywood actress Bai Ling (白靈), when he approached her at Shilin Night Market and tried to steal the media attention away from her.
Ko said he is encouraged by young people's reaction to his antics, which include bringing along bikini-clad babes to his protests and rapping. "You can ask students on the street about me," he said. "They all know me and support me -- they like the way I do things, because of my courage and determination."
Perhaps Ko isn't the best role model for the kids, but surely the older generation could learn a lesson or two from him about being obnoxious for the sake of what one believes in. And there's some comfort to be taken in the thought that no matter how much Taipei changes, Ko will always keep on doing what he does. "I will protest till the day I die," he said.
Comments will be moderated. Keep comments relevant to the article. Remarks containing abusive and obscene language, personal attacks of any kind or promotion will be removed and the user banned. Final decision will be at the discretion of the Taipei Times.