Restaurant: Yong-Kang Beef Noodle 永康牛肉麵
Address: 17, Ln 31, Jinshan S Rd, Sec 2, Taipei (台北市金山南路2段31巷17號)
Telephone: (02) 2351 1051
Open: 11:30am-2pm, 5:30pm-8pm
Average meal: NT$200
Details: No English menu. Credit cards not accepted
When the mercury dips to the lows we've seen in the past few weeks, maybe the best ways to beat back the blues and warm up the soul is to tuck into a massive bowl of beef-noodle soup.
There's any number of beef-noodle joints around town to satisfy a quick hankering for beef-noodle soup, but only a few have made this northern Chinese specialty an art form. One of these is Yong-Kang Beef Noodle off Yongkang Street.
Now into its third generation, this noodle shop is almost as much of a neighborhood landmark as Ting-Tai-Feng (鼎泰豐) only a couple blocks away, but doesn't suffer the crush of tourists, nor the hefty wait for a table.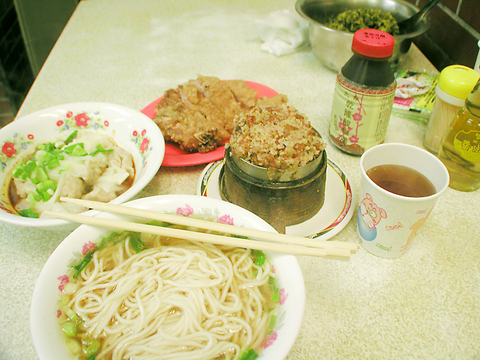 Yong-Kang Beef Noodle hits the spot.
PHOTO: MAX WOODWORTH, TAIPEI TIMES
As might be expected, Yong-Kang Beef Noodle is famed for its namesake, which it serves in an extra-spicy, scallion filled stock with fatty chunks of beef that are several mouthfuls each. The meat is perfectly tender and could practically serve as a meal on its own. But the noodles are also wonderfully tasty, as they're cooked to that perfect texture that makes them not too soft and not too chewy.
This seems like a simple point, but the number of noodle joints that skimp on their noodle selection, or simply don't cook them right makes it worth mentioning.
Yong-Kang Beef Noodle fills out its menu with other noodle staples, such as cow-tendon noodles and pork-chop noodles. The former is served in the store's beloved beef broth, while the pork offering comes in a clear but hearty pork stock that, relative to the more popular beef soup, is a tad light.
For this review, my two companions and I also ordered the chao-shou (抄手), which is one of those dishes that every restaurant makes differently and for which personal tastes vary wildly. Being partial to spicy red oil sauce, these chao-shou, in my opinion, were overpowered by the peanut flavor of the house sauce.
More on the mark was the pork rib steamed in rice on a bed of sweet potato. Served in a tiny steamer, the spices blended into the rice complement the meat beautifully, while the sweet potato brings balance to the flavors with its mild hint of sweetness.
After all the spices and heavy flavors, to restore calm to buzzing taste buds try the Qianlong (乾隆) brand sour plum juice. It's not freshly made, but it beats the piping hot tea that we noticed no one was drinking.
Comments will be moderated. Keep comments relevant to the article. Remarks containing abusive and obscene language, personal attacks of any kind or promotion will be removed and the user banned. Final decision will be at the discretion of the Taipei Times.