Environmental index puts Taiwan at bottom of the heap
Despite imperfect data used in the analysis, experts agree that Taiwan ranks embarrassingly low
The price of Taiwan's economic juggernaut over the past 30 years was brought into stark focus last month at the Davos World Economic Forum when a highly regarded report on environmental sustainability placed the country at the very bottom of 146 surveyed nations, only slightly ahead of North Korea, but behind such countries as Iraq and Turkmenistan. \nNews of Taiwan's dismal ranking in the Environmental Sustainability Index (ESI) was largely drowned out by the lead-in to the Lunar New Year, but came as a bombshell to officials and experts in the field here, producing a mixture of consternation and navel-gazing at the highest levels of government. \nThe Council for Economic Planning and Development responded to the report in the days immediately following its release with a statement that dismissed the survey's findings as "unfair and biased" against Taiwan because of the country's non-participation in a number of international organizations. \nBut experts and officials more closely familiar with the report and one of the survey's authors at the Yale University Center for Environmental Law and Policy warned that while Taiwan's score is problematic due to imperfect data employed in the index, credible evidence nonetheless indicates that Taiwan faces major challenges in overcoming its myriad environmental problems, most of them attributable to the country's rapid industrialization. \n"After reviewing the survey's methodology, it is clear that the index has definite credibility. This is a serious group and their findings should be heeded with the proper humility," said Winston Dang (陳重信), a former US Environmental Protection Agency official and a current first-term legislator in Taiwan serving on the Legislative Yuan's environmental sustainability caucus. \nNumbers don't lie \nCarried out by researchers at Yale and Columbia Universities, the ESI attempts to generate a comprehensive, quantitative overview of countries' environmental stewardship, past and present, as well as forecast the likelihood that the country will preserve its environmental resources into the coming decades. \nThe index integrates 76 data sets that fall into five general component categories: environmental systems, reducing environmental stresses, reducing human vulnerability to environmental stresses, societal and institutional capacity to respond to environmental challenges and global stewardship. \nIndividual countries often showed drastically divergent scores from category to category, with the result that countries possessing radically different environmental profiles end up with similar rankings. The report cites the cases of Indonesia and Spain, ranked 75 and 76 respectively. Abundant natural resources in the Southeast Asian country tip the scales against its significant dearth in institutional capacity to handle environmental problems, whereas a relative paucity of resources in Spain is compensated in part by strong governance. \nThe report underlines the possibility that the score does not necessarily reflect the population's experience of its immediate environment. For this reason, the authors recommend that the research be considered at a deeper level than the score alone. \n"We think it's critical for each country to drill into [the survey] and look at it at a deeper level, issue by issue, to find out where they are down," director of the Yale Center for Environmental Law and Policy, Daniel Esty, told the Taipei Times. \nDoing so for Taiwan can provide a slight measure of succor. \nThe country scores extremely low in management of land and water resources, reduction of air pollution and stress on water resources, as well as in reduction of human vulnerability to natural disasters. \nWhile more optimistically, Taiwan's scores are comparable with countries containing similar population densities for its environmental governance, reduction of population stress, and in science and technology capacity. \nThese are all indicators that the country is on the right footing to move up in the rankings, according to Esty. \n"With a concerted effort and investment of resources, Taiwan can improve," he said, citing the example of South Korea, which in the first ESI released in 2002, was prompted into urgent action to improve on its 8th-from-the-bottom ranking. South Korea is ranked 122 in the current ESI. \nOther analyses, however, show a sobering account of Taiwan's performance in environmental protection. When graphed to show its effectiveness in environmental sustainability relative to GDP per capita, Taiwan stands isolated in a very unfavorable zone on the chart, indicating that while national wealth can be a boost to environmental sustainability, Taiwan proves that it does not guarantee it. Taiwan's position is even lower when charted relative to its economic growth competitiveness, which the World Economic Forum last year placed at fourth globally. \nOnly one way to go \nStanding at the bottom of the rankings and 12 spots behind China, at 133, upward is the only way to move for Taiwan. Yet doubts persist that the country's position in the current ESI is at all representative of the country's actual status. \nThe ESI research team collects data from a wide variety of sources, including local governments, the World Bank, the World Monetary Fund and the United Nations Environment Programme. The report additionally says it attempts to fill data gaps from whatever sources are available. \nTaiwan's non-participation in a number of international bodies left the research team without data for Taiwan in nine of the survey's 76 variables and imputed values for seven more. \nProfessor Yeh Shin-cheng (葉欣誠) of Kaohsiung Normal University, who led Taiwan's ESI contact group, said the imputations made by the research team were highly subjective and that the research group did not always take into account information that he provided. He pointed to his provision of data on Taiwan's nutritional health standards, which are very high, but which were not used in the final calculation. The ESI will reject data that it is not able to readily confirm. \nThe exclusion of certain variables, he said, also weighted the index heavily against Taiwan. \n"All indexes are inherently subjective, so it's wise to look at who is collating the data. Based on the data used, the ESI's credibility with regard to Taiwan is questionable," Yeh said. \nEsty agreed that the data for Taiwan would need to undergo a "thorough scrub" for the next survey and offered that more perfect data would likely have ranked the country at about 120, in other words alongside South Korea. But he refuted the notion that the imputations or missing variables slanted Taiwan's score in any significant manner. \nFurthermore, only countries for which less than 46 reported variables were provided were dropped from the survey. Taiwan was well within the range for which the available data could produce a reliable result. \nA detailed review of the index's sensitivity analysis, which might affect the volatility of a country's ranking, convinced legislator Dang that the results were, in fact, reliable, though he also expressed reservations about the quality of the data used in the report. \nImperfect but still alarming \nYet regardless of whether Taiwan's 2005 ESI ranking is fair or not, there was unanimous agreement among those interviewed that the report highlighted Taiwan's urgent need to engage the research team more proactively to provide more thorough and updated data and also to assist in fine-tuning the report. \n"We should not reject the ESI simply because we don't like the result," Yeh said. "We need to become more involved in the survey so that it can become a useful tool to guage our performance." \nThe result of the current ESI -- and even Esty's more generous ranking near 120 -- was also viewed as a signal that there was little time to waste in improving Taiwan's environmental protection. \n"Improving our performance will hinge upon compliance and enforcement of existing laws, which have long been weak points in Taiwan. This will require concerted efforts from the government, but also from social groups keeping pressure on government to maintain momentum in fixing environmental damage and choosing the correct course for sustainability," Dang said. \n"Unfortunately, momentum from social groups appears to have waned in recent years. People seem bored. Reversing that trend will require more education," he said. \nThough there is little likelihood that the ESI report will affect policy in the way that it did in South Korea, according to Tsao Shih-cheng, a consultant at the National Council for Sustainable Development, there are plans to invite representatives of the research team to Taiwan to exchange views on the index and to establish more channels of communication between the two sides. \n"We need to recognize our limits and begin to work within them. In this respect, the ESI is helpful in considering how to improve," Yeh said.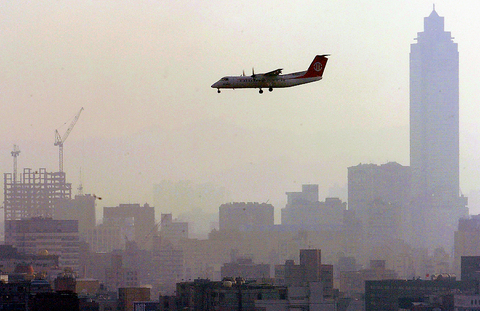 Taipei, viewed from Songshan Domestic Airport, sits in a blanket of smog in this file photo. The Environmental Sustainability Index, produced by Yale and Columbia Universities, recently ranked Taiwan second from the bottom, ahead only of North Korea.
PHOTO: TAIPEI TIMES
Comments will be moderated. Keep comments relevant to the article. Remarks containing abusive and obscene language, personal attacks of any kind or promotion will be removed and the user banned. Final decision will be at the discretion of the Taipei Times.