Tree climbers rope in a lot of enthusiasts
For most retirees, earthbound leisurely pastimes such as golf or hiking are great ways to unwind. Retired photojournalist Elliot Su (蘇俊郎) has taken his pastime to higher levels, however, and for him there's nothing more relaxing than a day spent sitting in a treetop contemplating the wonders of nature. \nDangling from a thick rope 60m above the ground with no safety net may not be everyone's idea of fun, but for Su and other members of the Tree Climbing Taiwan Association the view is always greener from the top of a towering Taiwan redwood or Japanese cedar. \nSu said that from the top of a tree you're able to get a different view of the world. "There's nothing quite like being able to see birds and insects close-up and in their natural environments," he said. \nSu first became interested in the pastime after he picked up a tree-climbing magazine while holidaying in the British seaside resort Eastbourne. \nHe contacted the US-based association Tree Climbing International and within a few months was in Atlanta, Georgia, studying under the guidance of tree-climbing guru, Peter "Treeman" \nJenkins. \nAfter three months extensive training, Su became a certified member of Tree Climbing International and Taiwan's first tree-climbing instructor. \nSince founding the Taiwan chapter of Tree Climbing International just over a year ago, Su has taught over 1,000 recreational climbers and worked in close conjunction with universities, environmental groups and government bodies as well as charity organizations. \nIn order to qualify as an expert tree climber, students have to undertake a three-day extensive course focusing on the intricacies and techniques need to master tree climbing, and then must climb 25 trees of 10 different species. The course has not been adapted in any way and complies to the guidelines laid down by Tree Climbing International. \nTree climbing is not cheap and while the association loans equipment to its students, graduates wanting to go it alone have to purchase equipment specially imported from the US. Even with this equipment, which costs upwards of NT$20,000, climbers' safety is not guaranteed. Neither Su nor any of his students have fallen from a tree, but tree-dwelling creatures have attacked the tree-loving, tree-climbing retiree. \n"I was trying to remove a bee's nest from a tree so that we could take a class of children up. The entomology students told me that bees don't attack after dark, but this proved incorrect," Su said. "I'd climbed into the tree and was about to remove the nest when I was stung by a single killer bee." \nWithin minutes of the accident Su's hand had, according to the tree-climbing expert, "turned into bread" and swollen to twice its normal size. As a result of the bee sting, Su was kept in hospital for three days, pumped with drugs and kept under close observation. \nWhile Su and his fellow climbers ask permission before climbing any tree, be it in Wulai, Nantou or Hualien and currently only undertake inner-city climbs in a couple of Taipei parks, he does have his eyes set on a nice tree-lined stretch of downtown Taipei. \n"I'd love to climb the trees along Dunhwa North and South roads. I think it would be great fun and because of the public nature of such a climb, it would be great way to introduce tree climbing and encourage people to take more notice of Taiwan's natural environment," he said. \nFor further information about the Tree Climbing Taiwan Association, log on to its Chinese-language website at www.treeclimbingtaiwan.org. Those interested in taking to the canopies can contact the association directly by calling (0936) 888 997 or by fax at (02) 2391 8145. Class times and other information can also be obtained via e-mail at boysu@yam.com.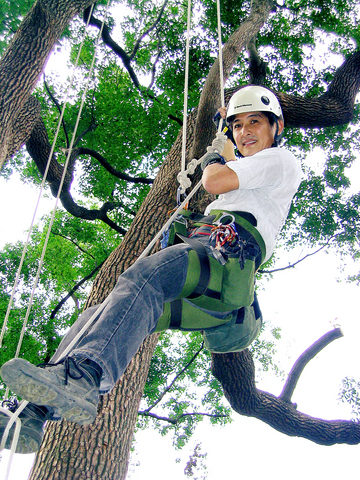 Certified tree-climbing instructor Elliot Su goes aloft in Taipei earlier this week. Since founding the Taiwan chapter of Tree Climbing International a year ago, Su has taught over 1,000 people how to climb trees.
PHOTO: GAVIN PHIPPS, TAIPEI TIMES
Comments will be moderated. Keep comments relevant to the article. Remarks containing abusive and obscene language, personal attacks of any kind or promotion will be removed and the user banned. Final decision will be at the discretion of the Taipei Times.