Restaurant: Out of India (印度風情)
Address: 26, Lane 13, Pucheng St, Taipei (台北市浦城街13巷26號)
Telephone: (02) 2363 3054
Open: Lunch 11am to 3pm, dinner 5:30pmto 11pm
Average meal: NT$400
Details: Menu in English and Chinese
A few of Taipei's locally run restaurants can produce a reasonable curry without using ingredients from India, however, the better curries will always be those prepared by a native chef. \nOut of India is the latest Indian fare to hit the Taipei market. With less than two months on the scene, people are already queuing up for its homemade curries and tandoori meats. Compared with the other six authentic Indian restaurants in the city, however, there is some question as to how long Out of India will still be in Taipei. \nHe has studied Chinese at Shida for the past five years, but the restaurant's owner and chef, Andy, worked in a kitchen in northern India before bringing his Punjabi cuisine to Taiwan. The New Delhi native said he wanted to target the student market by offering reasonably priced Indian meals. His prices are slightly cheaper than those at other eateries and include a lunch time set meal with veggie curry, rice, salad and a drink for NT$150. A large set meal with soup, chicken tikka, curry, rice, butter nan and masala milk tea is also available at lunch and dinner for NT$350. \nThe most popular items, he said, are those from the clay oven. There is a mixed grill combination of tandoori chicken, mutton, fish and prawns (NT$450). In addition to the usual selection of chicken, mutton and fish curries, masalas and vindaloos are a few specialty dishes such as mutton kadaise (cooked with onion, tomatoes and herbs in a kadai Indian wok) and a Goa style fish curry. \nWhen asked, the waitress said all ingredients were from India, except a local brand of butter used to make the daal. It had such a poignant taste that after eating only a few spoon fulls it was difficult to tell whether or not the others dishes had also used it. \nThe nan was good, as was the basmati rice, which is used to make the biryani and pulao. Dessert is inexpensive at NT$50 and includes a choice between gulab jamun and Indian sweet yogurt. \nThere is seating for 24 on the main floor and a basement party room that holds 20 and can be rented out for private functions. Given how fast the restaurant filled up last Sunday (30 minutes after opening and every one arriving around the same time) the service was fast and friendly. \nOut of India might not have the best tasting vegetarian curries in Taipei but it definitely has the best decor. The red painted trim and tasteful collection of tapestries on the wall give it a warm ethnic look, but don't quite make up for the substandard daal.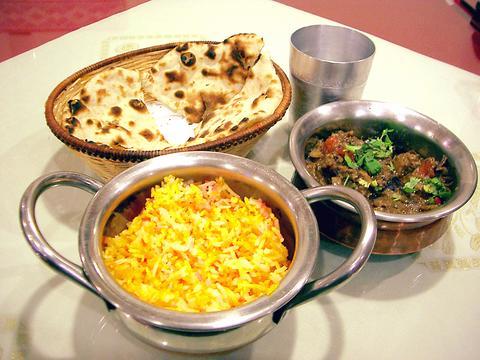 The decor is inviting, the menu options plentiful and the cooking authentic.
PHOTO: DIANA FREUNDL, TAIPEI TIMES
Comments will be moderated. Keep comments relevant to the article. Remarks containing abusive and obscene language, personal attacks of any kind or promotion will be removed and the user banned. Final decision will be at the discretion of the Taipei Times.