The knives are out in Kinmen
Wu Tseng-dong, as the third- generation owner of the Chin Ho Li Steel Knife Factory, has spent a lifetime making specialist knives for sale around the world
In the 823 Artillery Bombardment (八二三炮戰) of 1958, China dropped as many as 500,000 bombs on Kinmen over a period of 44 days. Subsequently, thousands more bombs carrying propaganda leaflets were dropped, a bombardment that did not end until1978. \nWhat this has given Kinmen, in addition to many semi-collapsed buildings, is a huge cache of high-quality steel. In the hands of knife-maker Wu Tseng-dong (吳增棟), it has also provided the basis of one of Kinmen's most notable industries. \nThe Chin Ho Li Steel Knife Factory (金合利), which currently markets its knives under the label of "Maestro Wu," goes back much further than 1958. A Wu ancestor, Wu Tsong-shan (吳宗山), studied iron casting and tool-making techniques in Xiamen in the late 19th century. \nWu Tsong-shan, a quietly spoken bespectacled man, has spent over 30 years making knives and is the third generation of his family in the business. Wu recalled a childhood in which he would work the bellows of the forge when he got back from school, and serve as an assistant to his father and brothers around the smithy. \n"In those days, production was very limited," he said. "But the knives we made were highly regarded, and would often be bought by soldiers stationed on the island and taken back to Taiwan. That's how our reputation grew." \nIn the early days, Wu's family made agricultural implements. Bombing of the island provided quality steel that literally dropped from the sky, and the Wu family shifted to making knives. \n"Mostly we made butcher's knives. In the beginning, we would only take money after a person had used the knife and found it satisfactory. If it was unsatisfactory, we would replace it with another." \nThis input by Kinmen's butchers has been put to good use and now Wu's knives are definitely at the top end of the market. Sadly, perhaps, they are no longer used by local butchers, but have instead found their way into the kitchens of chefs working for major hotels in Taiwan and overseas. "Some have even provided specific designs for us," Wu said, "and we are gaining experience of their habits and needs." \nWhile Wu does not claim any analytical knowledge of the materials he uses, his long familiarity with his materials has made him an expert in the subtle art of forging steel. "We must judge the heat of the steel very accurately. The color [of the red hot] steel tells us what we need to know ... this is part of the secret knowledge of our business," he said, with a mixture of pride and self-deprecation. "It all has to be judged very accurately." \nCertainly, part of the appeal of Kinmen knives is in their association with history, but they would certainly not be so popular if they were not also of outstanding quality. The secret is in the fact that these knives are still forged and shaped by hand. "There is no comparison with mass-produced knives that are simply cut and ground from a metal board," he said. "It is the forging process that gives these knives their hardness and their ability to hold an edge." \nThe government has played a part in raising the profile of Kinmen knives. Since 1998 it has provided guidance about designing Western style knives and in 2000 assisted with a total revamp of labeling and packaging. \nThese days, "Maestro Wu" knives come in elegant display boxes and Wu says that they are increasingly developing extra-high-end knives for collectors. \n"After all, one kitchen only needs a few knives, and our knives last a long time, so we have to expand the market in new directions."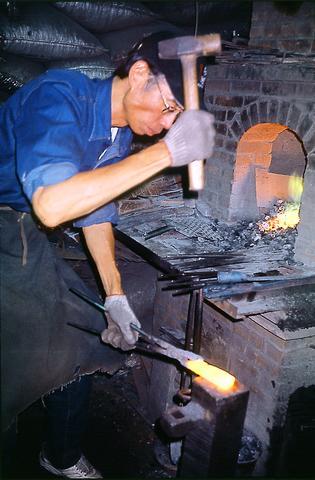 Wu grinds a blade and beats a knife into shape.
PHOTOS: IAN BARTHOLOMEW, TAIPEI TIMES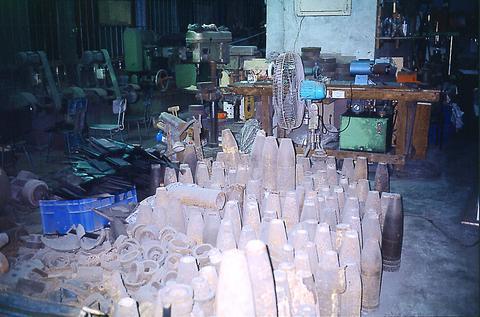 Wu Tseng-dong has a huge supply of shell casings for making knives.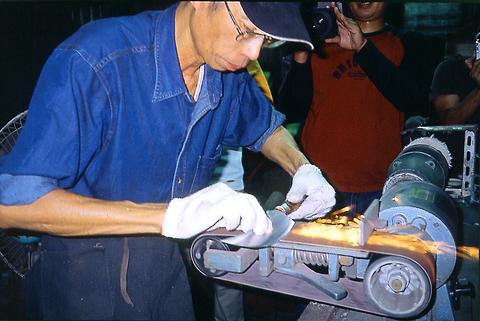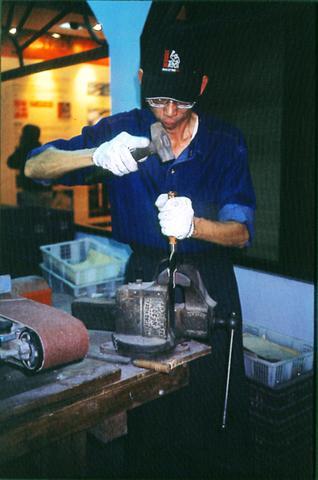 Wu hammers a handle into place on one of his knives.
Comments will be moderated. Keep comments relevant to the article. Remarks containing abusive and obscene language, personal attacks of any kind or promotion will be removed and the user banned. Final decision will be at the discretion of the Taipei Times.