Getting away with murder
The number of guns in Taiwan is increasing and, as you might expect, the amount of gun-related crime is showing a similar rise
When police decided to raid the Kaohsiung-based hideout of Chang Hsi-ming (張錫銘) and his associates, they prepared for the worst. Authorities were tipped off one early morning in July that one of the nation's foremost kidnap-for-ransom gangs was holed up in Daliao Township in Kaohsiung. They descended quickly to make arrests. \nChang and his crew were wanted for the recent kidnapping of Yang Shang-shu (楊尚書), the 30-year-old son of a wealthy businessman and owner of Hohshin Bus Co three weeks earlier. Yang was later released after his father, Yang Chin-yuan (楊錦元), paid the NT$36 million (US$1.06 million) ransom. \nArmed with assault rifles and pistols and clad in bulletproof vests, Chang and his gang weren't going to go quietly. And they didn't. \nWhat followed was one of the most dramatic gun battles between police and criminals in Taiwan's history. With heavy fire from automatic weapons, the four-member crew were able to hold off as many as 1,000 police officers who had closed in on their position. The shooting was so intense that police had to fashion a rudimentary "armored vehicle" from a tractor and sandbags. Later reports indicated that the military had refused a police request for a proper armored vehicle, but military officials denied this. \nThe gang members eventually broke through the police ranks and fled the area. Exchanges of gunfire continued for several hours while the gang was on the run, later taking cover in a nearby shack. Chang and one of his accomplices -- Chen Jin-hsiung (陳進雄) -- managed to flee the gun battle after carjacking a vehicle and taking its driver hostage. \nThe remainder of his crew were eventually apprehended. Four police officers sustained gunshot wounds. One member of the gang was shot in the chest, but suffered only minor injuries because of his bulletproof vest. Miraculously no one was killed in the shootout. Chang and his partner Chen fled to the mountainous region of Tungshan, Taichung County, and remain at large to this day. \nThird-time unlucky \nThe incident marked the third time police had to engage heavily-armed criminals in the past two months. A fierce shootout with kidnappers in Taichung City on June 16 left two police officers and one hostage-taker dead. Just under two weeks later, a drug gang in Chiayi County opened fire on police in a gun battle which left a gang member dead and a police officer injured. \nTaiwan has some of the toughest gun laws in the world, but in response to the spat of high-profile gun battles over the summer, legislators plan to tighten these laws further. A draft amendment to the Statute Regulating Firearms, Ammunition, Knives and Other Deadly Weapons, would increase penalties for offenders. Those possessing illegal weapons, including homemade or remodeled firearms would increase. And those found guilty of trafficking guns would face a minimum of five years in prison with a fine of up to NT$10 million. Ratification of the draft amendment is pending. That existing gun laws have failed to deter the nation's organized crime rings underscores the fact that new legislation is not enough. It also calls into question whether Taiwan's police are adequately trained and equipped to deal with heavily-armed criminals. Aware that more needed to be done to reduce the number of firearms among the population, the National Police Agency (NPA) on July 1 launched a nation-wide three-month amnesty period encouraging people with illegal firearms to hand in their weapons without being charged. During this period, the NPA and other government agencies also planned to crack down on criminals known to be in possession of illegal weapons. The initiative came just two days after the shootout in Chiayi County, and ironically, Chang and his crew used their arsenal of guns to kidnap Yang just a day after the amnesty period began. \nThe voluntary weapons turn-in drive \nconcluded with police collecting 428 firearms and over 9,000 rounds of ammunition. \n"After we collected these guns, the first thing we did was submit them to forensic scientists for analysis to see if they had been involved in a crime," said one high-ranking NPA officer who asked not to be named. \nBut, of all the guns turned in, only one pistol was determined to have been used in a crime. Prosecutors are investigating the matter, the officer said. \nPolice and officials were satisfied with results of the amnesty period. "According to the statistics we have here, I would call it a successful wrap-up of the program," the officer said. \nOthers were not so impressed. Chin Ko-lin (陳國霖), a Rutgers University professor and Fulbright scholar who has done extensive research on Taiwan's criminal underworld, characterized the amnesty drive as a desperate attempt by police to do something to reduce the number of guns in the country. \n"There's no reason to believe that gangsters, the ones who are committing the crimes, would turn in their weapons. It's what they need for their power," he said. \nChin also said that police crackdown campaigns, amnesty periods and tougher laws have done little to cut down the number of guns in Taiwan, not to mention the variety of firepower readily available to most gangsters here. \nSmuggled guns \nSo what accounts for the vast number of guns in the country? According to Chin, most weapons are smuggled into Taiwan via China or the Philippines. Under martial law, the Taiwan Strait was tightly controlled by the navy and smuggling was difficult. But Taiwan's transition to democracy and an opening up of the country has meant that guns, drugs and immigrants can be brought in -- mainly by fishing boats or vessels posing as fishing boats. \n"Nowadays you can pretty much smuggle anything you want into Taiwan. It's very hard to police the Taiwan Strait," Chin said. \nExacerbating the problem, the nation is home to innumerable iron mills and homemade gun shops, where, with the right tools, toy or replica guns can be easily remade into the real thing. They are not without their successes, but, by and large, police and the coast guard simply don't have the manpower or the resources to curb the number of weapons in the country. \nAnd as the number of guns increases, so do gun-related crimes. On average, 1,000 people in Taiwan are killed by guns annually. Statistics also indicate that kidnappings (crimes that almost always involve a gun) have steadily increased. In 2001, there were a total of 13 kidnappings. That number jumped to 86 in 2002 and again to 98 last year. \nGangsters not involved in kidnap-for-ransom schemes usually run the more "traditional" underworld operations of drug smuggling, prostitution, gambling, extortion and protection. But criminal syndicates linked to these fields are just as likely to be well-armed, according to Chin. \n"There are two elements needed to be a big-time gangster. You got to have money and you got to have firepower -- its 50-50. You can't have one without the other," he said. \nAnd, as is the case throughout the world, with money comes influence. Chin says there is a well-documented history in Taiwan of gangsters penetrating the political arena. As a gang's influence in a certain area grows, so do its connections. Dozens of gangsters have managed to be elected into city, county and even national politics. Chin said this is a not-uncommon occurrence in numerous cities and counties throughout the southern half of Taiwan. \nGangsters in office \n"Starting from Taichung all the way down to Taitung, Chiayi, Yulin and Kaohsiung. There have so many gangsters elected into office in these places," Chin said. \nThe most recent example of this to come to light is gangster-turned-politician Chang Jung-wei (張榮味). Backed by his underworld friends and local Chinese Nationalist Party (KMT) politicians, Chang was elected Yulin county commissioner in 1999 in an election said to be tainted by massive vote rigging. After being suspected of embezzling nearly NT$90 million from a land purchase deal, Chang fled on Aug. 14 and is now a fugitive. In an interview he gave with a Chinese-language newspaper while on the run, Chang said the charges brought against him were trumped-up by the Democratic Progressive Party. \nPerhaps gangsters holding office don't need weapons, but for kidnappers like Chang Hsi-ming, it is the foundation of their power. But as it stands now, police do not seem to have a long-term solution for Taiwan's gun-wielding gangster problem -- maybe there isn't one. \nAsked what the nation should do to reduce guns and gun-related crime, Chin didn't mince his words: "Short of going back to the martial law era, I think what needs to be done is to better train and equip police officers and provide them with the kinds of weapons that are being used against them."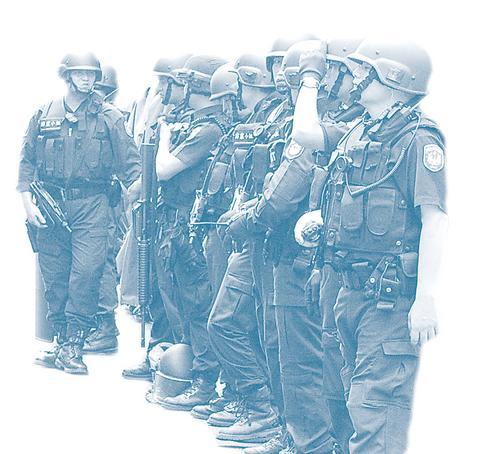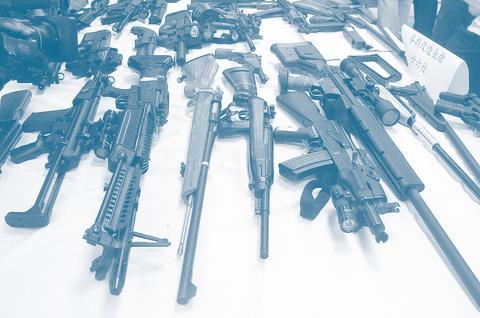 Guns are confiscated by the police in raids. Despite some of the toughest gun laws on the planet, gun-related crime is increasing in Taiwan.
PHOTOS: TAIPEI TIMES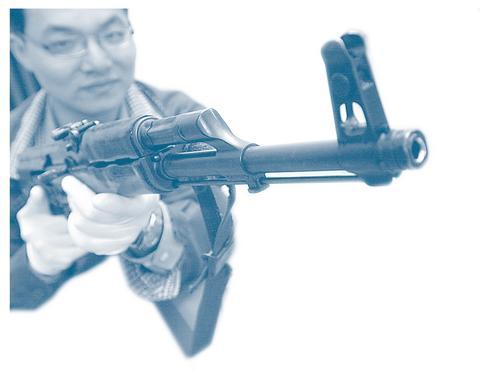 Comments will be moderated. Keep comments relevant to the article. Remarks containing abusive and obscene language, personal attacks of any kind or promotion will be removed and the user banned. Final decision will be at the discretion of the Taipei Times.