Sorry, no delivery service here
In remote Alaska, making fine cuisine requires the combined skills of a hunter, carpenter, fisherman, mountaineer and of course a chef
Kirsten Richardson, a cook who lives here, wanted to make some gnocchi to go with salmon a friend had pulled from the nearby Copper River. But a quick check of the pantry told her she needed Parmesan cheese and eggs, among other staples. So Richardson left her cabin in this tiny village deep inside Wrangell-St. Elias National Park, and made the 960km round trip to Anchorage. \nAfter stocking up, she drove eight hours east from Anchorage, crossed two torrents of cold water and gray silt passable only by footbridge, strapped her 27kg cooler of food onto her all-terrain vehicle and drove a couple of miles up a steep dirt road, then finally carried it all up the driveway, under the electric fence (necessary to keep bears out) and into her cabin. \nFinally, she was ready to cook. \n"Actually, it used to be worse," she said. "Before they built a bridge, there was just a cable strung across the river. You had to get in the basket with all your stuff and pull yourself across." \nIn choosing to live in a place of extraordinary natural beauty, the residents of McCarthy and Kennicott, a ghostly former mining town a few miles away, accept some extraordinary obstacles in their daily lives, and for those who want to eat well, being in one of the most isolated places in the US is a challenge. \n"Out here, you have a choice," said Mark Vail, a former Air Force cook who lives in McCarthy year-round. "You can live on ramen noodles and baked beans, or you can learn to cook." \nFor Vail and his neighbors, "cooking" must often include a working knowledge of gardening, canning, charcuterie (every couple of years, he turns a whole moose into sausage, liver pate and jerky), brewing and electrical engineering. \nVail even makes his own mustard and ketchup, but says it is no big deal. \n"Everything I do comes from old cookbooks," he said. But as his sled dogs howled, he conceded that driving a dog team to retrieve groceries is a skill not learned in any cookbook. \nMaking Due \nLocal cooks have turned necessity into craft, learning traditional skills (smoking fish, sun-drying vegetables, brewing beer) and organizing modern systems (powering appliances with solar panels, flying in a weekly supply of organic produce) to produce good home cooking on a regular basis. \n"My own smoked salmon and pickles, that's what I have to eat when I don't feel like cooking," Vail said. \nSerge Perez is the chef at the McCarthy Lodge, where Richardson works as a cook. McCarthy has about 30 full-time residents, but summer brings hundreds of tourists, from glacier-bound mountaineers to European families who never put a toe on the ice. "I tell my cooks that if they can cook here, they can cook anywhere," he said. "It's a great education." \nMany locals have had some professional cooking experience, whether as backcountry guides for wealthy tourists, mining-camp cooks, or both. James Sill, who lives in nearby Kennicott, trained as a pastry and banquet chef and has done stints at the luxurious Greenbrier resort in West Virginia, but does not seem to mind that his cake-decorating skills now get a workout only a few times a year. \nSill is one of the profession's many obsessive-compulsives (all pastry chefs have a streak), and can make a thousand perfect buttercream roses without stopping, except to light the cigarettes that perch on his lower lip as he works. "I've done my time with that stuff," he said. \nTwo weeks ago, Sill was assembling a wedding cake in stages for a pair of adventurous souls planning a wedding on the Kennicott Glacier (the bride, groom and guests planned to wear crampons on their shoes). "Baking is not that hard out here," he said. "There's a lot you can do with just butter, sugar and flour." \nWithout much space in his kitchen the baking is done in his shed. First, he attacked the workbench with a staple gun, covering WD-40 stains and dead wasps with a sheet of smooth white parchment paper. Over an upturned blowtorch, Sill stirred a saucepan of boiling caramel, carefully brushing down the sides of the pan with water in the approved cooking-school manner. As the mixture thickened to amber, he grabbed a couple of wooden dowels and started stringing long strands of thin caramel from the dowels to the floor. "You can break this up, stick it into a chocolate ganache tart, and you've got yourself a garnish," he said. "Beats the hell out of a mint leaf." \nSweet Summer \nAugust in Alaska is a relatively carefree time: The mail plane runs on time, shorts and sandals are worn, and fat raspberries dangle by the roadside. Gardens can be tended, and construction projects moved along. Most cabins here are surrounded by outbuildings: greenhouses, fish smokers, woodsheds, and food caches, high wooden towers festooned with lines and netting that keep out bears and wolverines. "Rule No. 1: Don't keep your meat where you sleep," Vail said. \nRight now, McCarthy's gardens are in full, eccentric bloom. Almost no fruit can grow in this cold soil, but the vegetables grow three times larger than normal, as if to compensate. Twenty hours of daylight and clear conditions, combined with the rich mineral deposits in the local soil, produce -- briefly -- huge onions, beach-ball size cabbages, and 2m-tall poppies. \nIn Mark Vail's large, circular garden, laid out like a pizza with wedge-shaped beds, he grows familiar vegetables but also caraway seeds, celeriac and purple kohlrabi. "I try to grow most of what I eat," he said, "but the occasional trip to Costco is very helpful." \nROASTED CAULIFLOWER AND BROCCOLI WITH SALSA VERDE: \n \nAdapted from Kirsten Richardson \nTime: About 45 minutes \n -- 3/4 cup whole shelled almonds \n -- 1 large head broccoli, cut into florets \n -- 1 large head cauliflower, cut into florets \n -- 1/2 cup plus 2 tablespoons extra virgin olive oil \n -- 1 teaspoon salt \n -- 1/2 teaspoon freshly ground black pepper \n -- 1 shallot, minced \n -- 2 tablespoons red wine vinegar \n -- 3 anchovy fillets, minced \n -- Juice of 1/2 lemon \n -- 1 cup coarsely chopped Italian parsley leaves \n1. Heat oven to 350 degrees. Spread almonds on a baking sheet and toast until brown and fragrant, 8 to 10 minutes. Leave oven on. When almonds have cooled, chop coarsely. \n2. Meanwhile, in a large bowl, toss broccoli and cauliflower with 2 tablespoons olive oil, salt and pepper. Spread on two baking sheets and roast until tender, 30 to 40 minutes. \n3. In a large bowl, mix shallot and vinegar and set aside for 5 minutes. Whisk in anchovies, lemon juice, remaining 1/2 cup olive oil, and salt and pepper to taste. Stir in almonds and parsley. \n4. Remove vegetables from oven, add to bowl and toss with sauce. Taste and add more salt, pepper, vinegar or lemon, if needed. Serve warm or at room temperature. \nYield: 4 side dish servings.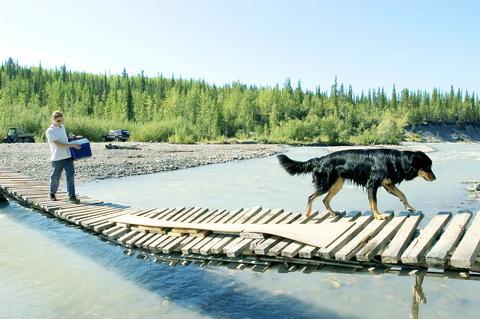 Kirsten Richardson, hauls a load of food across a stream of frigid water on her way home in remote Alaska.
PHOTO: NY TIMES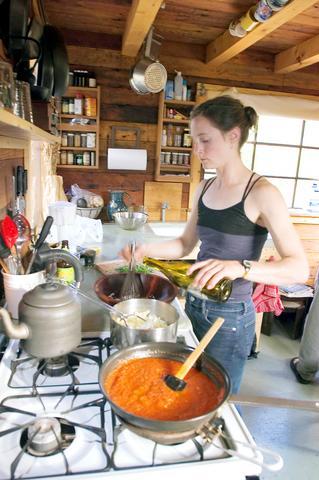 The cooks of McCarthy and Kennicott get down to business.
PHOTO: NY TIMES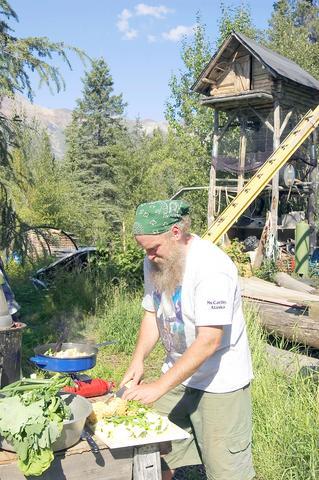 PHOTO: NY TIMES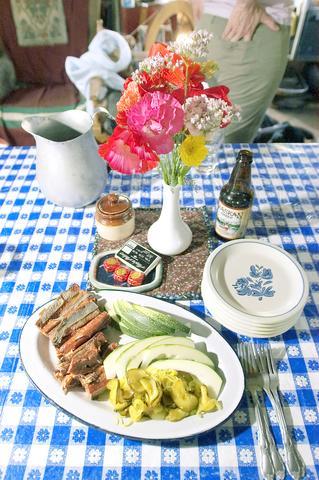 PHOTO: NY TIMES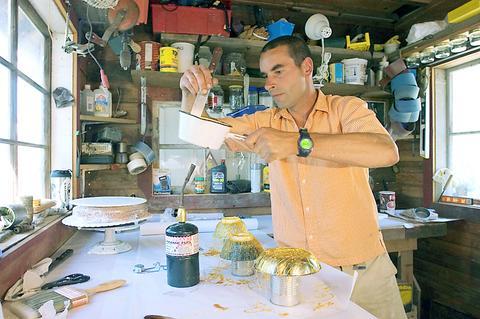 PHOTO: NY TIMES
Comments will be moderated. Keep comments relevant to the article. Remarks containing abusive and obscene language, personal attacks of any kind or promotion will be removed and the user banned. Final decision will be at the discretion of the Taipei Times.