Political infighting is taken to graphic new levels in PC game
It could be construed as bad taste, but a locally produced computer game - the aim of which is to kill off some of the nation's leading political figures - has proved a huge hit with online gamers
While a vast majority of the population remains fearful of a repeat of the recent riots in the run up to the inauguration of President Chen Shui-bian (陳水扁), one local computer game manufacturer has taken a different view and is eagerly anticipating social disturbances. According to Digital Extreme's product manager, Chang Chen-wei (張振偉) the more trouble there is, then all the better for him and his company.
Chang's views might seem rather foolhardy and it should be pointed out that neither he nor his colleges agree with such anti-social behavior. The recent attempted "coup d'etat" by some of those embittered by the outcome of the election have, however, been responsible for seeing sales of the company's latest game soar.
2004 Everybody Fight (2004全民開打), a first-person shoot 'em up that pits members of the "pan-green" and "pan-blue" camps against each other, could be considered to be in rather bad taste, but the game has proved a huge hit and the turbulent post-election fallout has proven the perfect backdrop for the game.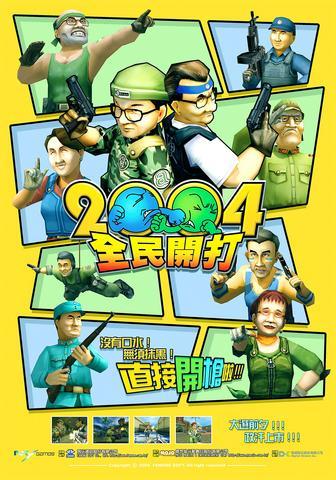 2004 Everybody Fight is a first-person shooter game that attacts politicians in a PC way.
PHOTO COURTESY OF DIGITAL EXTREME
"Before the election, the game was already hugely popular. By mid-March and election-day itself we had built up what we considered to be reasonable sales figures," Chang said. "After the election sales just went nuts. I reckon the demonstrations and riots made so many people angry they figured they could vent their frustration by playing the game."
Built around and based upon a game engine originally developed by the company two years ago for use in a cops-and-robbers first-person shooter that has yet to be released, the game features 10 instantly recognizable cartoon-like representations of members of the pan-green and pan-blue camps. The idea behind the game is simple: blow your opponent to kingdom come and stay alive.
The pan-greeen camp's comic characters feature Chen Shui-bian in military fatigues, Lee Teng-hui (李登輝) in World War II Japanese military dress, Annette Lu (呂秀蓮) in a distinctively fashionable green jumpsuit and accompanying neck scarf, Su Tseng-chang (蘇貞昌) in a green singlet and Chen Ding-nan (陳定南) in green army clothing.
Representing the pan-blue camp are Lien Chan (連戰) dressed in SWAT team attire, Ma Ying-jeou (馬英九) in his running gear, James Soong (宋楚瑜) in a 1940's style Chinese Nationalist army uniform, Wang Jin-pyng (王金平) in a police uniform and flak jacket and Lien Fang Yu (連方瑀) in blue dungarees ,who was added for the simple reason that the company couldn't think of anybody else in the pan-blue alliance who was instantly identifiable.
Post-election sales of the comedic first person shooter spoof have increased beyond all expectations. The game's LAN (local area network) site receives hundreds of hits every day from gamers eager to exterminate members of the opposing political camps using a wide array of automatic weaponry.
The total number of units sold nationwide stands at over 3,000 and, while not officially available outside of Taiwan, 500 units have found their way to Hong Kong. This number may seem insignificant when compared to those of international LAN based games such as Counter Strike, but sales of the nation's first indigenous shoot 'em up have pleased its designers.
"We knew we would never match the sales of Counter Strike, but for a relatively simple to understand load and play game I think we've done really well," said Digital Extreme's Abel Wang (王國棟). "And as Taiwan's first indigenous first-person shooter game we've proved that there is a large market for unique games with local flavor."
It took a team of eight artists, four programmers and two effects/music editors just two months to design the game and get it on the shelves. Creation of the game itself may have been straight forward enough, but management did face one dilemma: how to make a game, the underlying theme of which is violence, one that was at the both humorous and inoffensive? The ire of certain politicians whose fondness for slapping law suits on groups or individuals for the most trivial of matters was something that company executives wanted to avoid.
"I think we managed to avoid controversy by ensuring that the game's characters didn't make fun of the people they represent. They were created to look as real and as genuine as is possible, albeit in a cartoon way," said Chang. "They don't do anything that could be considered as rude and we specifically didn't include blood in the game because we knew that if we added gore people would complain."
Before the game was distributed to stores, Digital Extreme contacted representative of both camps in order to ensure that its content would not offend. According to Chang, Lien Chan's son Lien Sheng-wen (連勝文) was also contacted and asked to participate in an advertising campaign -- a request he turned down on the grounds that he felt that it would be inappropriate at the height of his father's election campaign.
The game's characters pursue each other through a mixture of recognizable locations, including the Presidential Office and the KMT and DPP election headquarters, as well as several imaginary ones. The most popular of all the game's maps is the one set against the backdrop of the Presidential Office. Players get to run around the building's maze of corridors, explore its subterranean passageways and take to its roof with a sniper rifle.
Recent online-player statistics show that a large number of gamers, many of whom are aged between 16 and 18, show their political alliances to play with the pan-greens and opt to play as Chen's character. Needless to say, the most hunted down and targeted figure to date has been Lien.
The choice to release 2004 Everybody Fight as a LAN online only game, which means that gamers who enjoy playing against the computer rather human opponents online are unable to play, has enabled the company to avoid becoming a victim of PC game pirates and keep costs at a minimum.
"We knew when we released it on LAN only that we'd get complaints from people wanting to play the game at home with AI rather than online, but it was a question of both time and money," said Wang. "To create a good enough AI would have taken us at least a year, if not more. The added time and expense would have meant that we'd have to charge more for the game. And with locally produced PC games now costing as little as NT$90 we felt that LAN was the best way to go."
To maintain player's interest the company has already completed a series of patches that will be available in the run-up to the inauguration. The first of these new downloadable levels features the riots in front of the Presidential Palace. New characters will be also be added over time and there is even talk of adding remote controlled airplanes.
Once again treading a fine line between controversy and fun, Digital Extreme's upcoming game will follow the exploits of Taiwan's most notorious gangster, Chen Chin-hsing (陳進興) as he kidnaps people and shoots it out with the police.
Comments will be moderated. Keep comments relevant to the article. Remarks containing abusive and obscene language, personal attacks of any kind or promotion will be removed and the user banned. Final decision will be at the discretion of the Taipei Times.