Arts patron reveals all after brush with death
Dai Dong-ni (戴東尼), president of the Australia Chinese Cultural and Art Association, and his family, have cherished their collection of Chinese paintings over five generations. Viewing their collection -- which includes almost all the important painters in the past 100 years -- has previously been the privilege of their most honored friends, but for the first time, this impressive collection has been opened to the public at the National Cultural Association (文化總會), the first stop of a planned world tour of 33 countries.
Over 100 originals by some 60 Chinese master painters have been gathered under one roof for viewers to appreciate up close. These include: Wu Chang-shuo's (吳昌碩) Flowers (花卉), Chi Bai-shi's (齊白石) Leaf and Insects (貝葉草蟲), Chang Da-chian's (張大千) Scholar Under Pine Tree (松下高士)and Hsu Bei-hong's (徐悲鴻) Horse (馬). They are just a small slice of the significant collection in "Collection of 19th to 20th Century Genuine Traditional Chinese Painting and Calligraphy" exhibition. (真跡?中國近代名家傳統書畫收藏展).
Dai Mei-ling (戴美玲), Dai Dong-ni's mother, revealed her reason for putting the family's collection on show. "Since my family and I emigrated from Shanghai to Australia, I fell seriously ill and no doctor could save my life at whatever cost. At that time, I started practicing Falun Gong. My health turned around. It was like a new life was given me. Since then I decided to practice what Falun Gong taught me. I want to share my collection with everyone for free. These works of art are valuable but I can never take them with me to my grave," said Dai at the opening of the exhibition.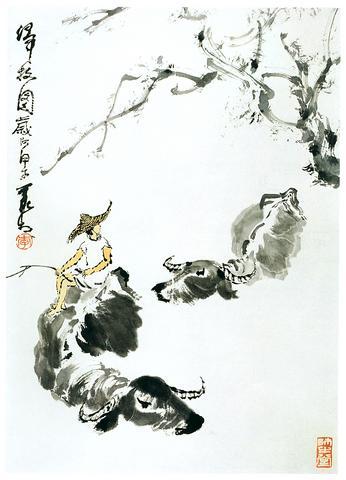 Li Keran's Child and Buffalos.
PHOTO COURTESY OF NCA
The Changan school of paintings is one of the main categories of Dai Family's collection. Shi Lu (石魯), who has recently become a new favorite among collectors, fused the northwestern Chinese landscape colors around him -- lively green and luscious red -- into his landscape works.
Gao Chian-fu (高劍父), father of the Lingnan school in southern China, shows strong influences from his education in Japan in his Eagle series painted in fluid brushes and captivating colors. Another Lingnan-school artist, Chao Shao-ang (趙少昂), expresses the distinctively Guangdong flavor in delicate shades of vibrant colors in Bamboo.
Fu Bao-shi (傅抱石), a well-known figure of the Chingling school, was the first painter to disregard the painting tradition of leaving blank space on the panel. His Landscape series, in which minimalist human figures appear against rugged, overwhelming cliffs, powerfully evokes the magnificence of central Chinese mountains.
Horses are Hsu Bei-hong's most celebrated subject. Hsu applied his knowledge of anatomy to painting the joints and calves of the horses and insisted on reserving one particular brush for painting the tail. These characteristics are evident in Hsu's Horse, on show at the exhibition.
Among other rare finds are Empress Dowager Zi Hsi's (慈禧) Birds and Flowers and famous Chinese opera singer Mei Lanfang's (梅蘭芳) Lady. Both are exquisite works.
Collection of 19th to 20th Century Genuine Traditional Chinese Painting and Calligraphy will run through March 21 at National Cultural Association, 15 Chongqing S Rd., Sec 2, Taipei (台北市重慶南路二段15號).
Comments will be moderated. Keep comments relevant to the article. Remarks containing abusive and obscene language, personal attacks of any kind or promotion will be removed and the user banned. Final decision will be at the discretion of the Taipei Times.