Exposing Taiwan's celluloid
An exhibition of the country's pioneering photographers also gives an insight to Taiwan's past
For a brief, yet interesting photographic look at Taiwan of yesteryear, the National Museum of History (國立歷史博物館) is the place to go. The museum is currently holding a special photograph exhibition that sets out to document the development of photography in Taiwan from the years 1871 through 1970.
Entitled A Retrospective of One Hundred Years' of Taiwan Photography (回首台灣百年攝影幽光), the exhibition is a collection of works by 14 photographers.
Focusing predominantly on people rather than places, the works paint an interesting picture of not only the development of photography in Taiwan but also of its peoples. The exhibition begins with some of the earliest photographs taken in Taiwan by foreign photographers.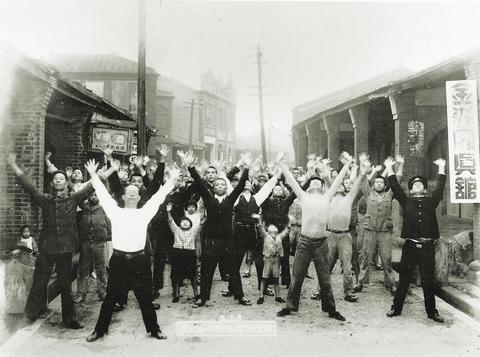 Wu Jin-miao's 1943 shot titled Musical Exercise is one of the works on display inan exhibition celebrating Taiwan photography at the National Museum of History.
PHOTO COURTESY OF NATIONAL MUSEUM OF HISTORY
Many of these early works, such as those taken by Japanese national Torii Ryuzo (鳥居龍藏) in the late 1800s, focus mainly on the nation's indigenous tribes.
Ryuzo took some stunning shots of Atayal and Ami men, women and children, at a time when very few foreigners had ever seen such peoples, often dressed in their battle gear. His subjects are generally posing, fully aware a camera is being pointed at them.
Examples of works by Taiwan's "first" photographer, Lin Tsao (林草), include several trick photos. The photographer, who was born in Taichung in 1881, gets up to all sorts of double exposure tricks. The most eye catching picture is of a ghostly head floating between what appears to be two men -- but who on closer inspection happen to be one and the same.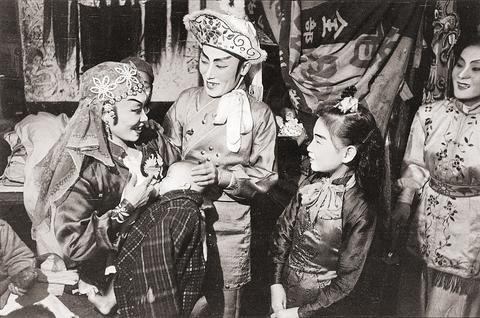 Chang Chai's untitled photo was taken in 1940s Taipei.
Other works of note include those by Wu Jin-miao (吳金淼), who took some remarkable shots of everyday life in Taiwan from 1938 through 1948 that include a comedic shot entitled "musical exercises," which sees an exuberant crowd stretching while posing for the camera.
Some shots of the time are less funny, however. Deng Nan-guang (鄧南光), for example, takes a rather grim look at how the Japanese army was treated with reverence.
The shot, taken in 1940, shows a group of soldiers walking passed a crowd of civilians, all of whom are bowing in respect, or possibly dread.
Sadly, like many other exhibitions at the museum, English language material is minimal and the show gives viewers an all to brief glimpse of the works of the nation's pioneering photographers.
For those who wish to learn more, and who posses moderate Chinese language capabilities, then in addition to the exhibition, a special two-day seminar featuring panel discussions and lectures apropos the history and development of photography in Taiwan will take place on Saturday, Nov. 8 and Sunday, Nov. 9.
For further information about the seminar, call (02) 2370 6031 or email janet@moe.nmh.gov.tw.
Publication Notes
A Retrospective of One Hundred Years' Taiwan Photography (回首台灣百年攝影幽光) is on display at the National Museum of History (國立歷史博物館), 49 Nanhai Rd, Taipei (台北市南海路49號) until Nov. 11.
Comments will be moderated. Keep comments relevant to the article. Remarks containing abusive and obscene language, personal attacks of any kind or promotion will be removed and the user banned. Final decision will be at the discretion of the Taipei Times.