Higher than seventh heaven
Wu Bai and China Blue will be making a welcome return to stadium venues in Taiwan for the first time in two years when the combo takes its `2002 Ninth Heaven Tour' on the road across Asia
Dubbed "the king of live music" by both the Asian music press and a multitude of fans scattered across the region, homegrown guitar hero, Wu Bai (伍佰), and his band, China Blue will be bringing their 2002 Ninth Heaven Tour to fans across Taiwan over the coming month.
The tour, which is the combo's first such large-scale venture in Taiwan for nearly two years, comes hot on the heels of the band's recent sell-out Pub High sojourn around the nation.
While the mini-tour saw Wu Bai and his hard-playing band -- bassist Ju Jian-hui (朱劍輝), drummer Dino Zavolta and keyboard player Yu Dai-ho (余大豪) -- returning to the pub circuit from whence they came, the Ninth Heaven Tour is set to see the combo kicking up a guitar-fuelled racket at three of the nation's largest stadiums.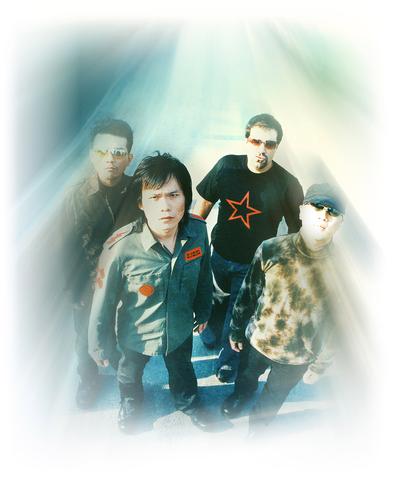 China Blue is, left to right, Yu Dai-ho, Wu Bai, Dino Zavolta and Ju Jian-hui.
PHOTO: MAGIC STONE RECORDS
Beginning at Taipei Municipal Stadium (台北市立體育場) on Saturday, May 11, the tour moves onto Chunghwa Municipal Stadium (彰化縣立體育場) the following Saturday, May 18, and finally on Saturday, May 25 at Kaoshiung's Chengching Lake Baseball Stadium (高雄澄清湖棒球場).
Since hitting the local music scene in the early 1990s with its self-titled debut album, Wu Bai and China Blue have appeared on top music charts across Asia with a string of hit albums. The most recent of which, Dream River (夢的河流), although released late last year, is still riding high on pop charts in Singapore, Malaysia, Hong Kong and China.
While the Asian music scene is hardly short of heroes, the meteoric way in which the local rocker and his combo made the big time differs radically from many of their peers.
The phenomena that has become Wu Bai and China Blue was not created by record company executives with an eye on a quick profit. In fact, with the exception of popular indie rockers, Quarter Back (四分衛) and now mainstream pop idols, Mayday (五月天), Wu Bai and China Blue are one of the few local acts to hit the big time that can boast garage-band roots.
"We all played for different bands up until about 1991, after which [Ju Jian-hui] and I began jamming together with the eventual idea of forming a newer, fresher, and original rock band," Zavolta said. "Then one day, he called me up and asked me if I would mind filling in for a one-off gig with himself and a guitarist named Wu Bai."
According to Zavolta, the trio hit it off almost immediately and China Blue fell into place shortly thereafter.
"Something just clicked between us. Both the music and the mo chi (默契) we had were fantastic," Zavolta added. "What really helped us though, was that when we first came out, Taiwan -- along with other Asian countries -- was ready for an Asian rock band that played live music."
By the mid-1990s, the band had conquered the hearts and minds of a Taiwanese audience sorely lacking guitar heroes. With its eclectic brand of very Taiwanese rock `n' roll enjoying an all-time high the length and breadth of the nation, the combo branched out and began replicating this success across Asia. The band's high-octane gigs in China, Hong Kong and Singapore are now guaranteed sellouts.
A major factor of the popularity of the bands' live performances is the ability of the four-piece combo to continue to create original and exciting material. Material that not only has the capability to appease fans with a hunger for guitar-laden rock, but also charm fans with an ear for less raucous vibes.
"Although our styles may vary, our sound remains the same. Our most recent album is a good example of this. [The album] is extremely versatile. If you are a rocker, Broken (斷了) would be the song for you. If you enjoy Latino music, the song for you is You Love Me (妳愛我)," Zavolta said. "Then Snake (蛇) is for the Indian music lover and the rock ballad, Dream River (夢的河流) for ballad lovers. There's something in our music for everyone."
Although the back-clad, helmet hair-styled Wu Bai has become one of Asia's most instantly recognizable rock icons and has would-be rockers emulating his low-slung guitar playing stance from Beijing to Bangkok, China Blue is far more than a backing band. Wu Bai is as much a part of China Blue as are China Blue a part of Wu Bai.
"Wubai is part of China Blue. He is the lead singer and guitarist of China Blue. Just as Hsiao Ju is the bassist, [Yu Dai-ho] the keyboard player and I'm the drummer," Zavolta said. "Although he writes the music and lyrics, we arrange each song as a band. Wu Bai makes a rough version of a song he has written and then we collectively arrange it together. Which is the crux of our contrasting styles."
Publication Notes
What: Wu Bai and China Blue: 2002 Ninth Heaven Tour (伍佰 and China Blue: 2002巡迴演唱會 -- 九重天)
Where & When: Saturday, May 11 Taipei Municipal Stadium (台北市立體育場) Saturday, May 18 Changhwa Municipal Stadium (彰化縣立體育場) and Saturday, May 25 Kaoshiung (高雄澄清湖棒球場). All shows begin at 7pm
Tickets: Cost NT$1,000 or NT$800 and are available from ERA ticket outlets nationwide
Comments will be moderated. Keep comments relevant to the article. Remarks containing abusive and obscene language, personal attacks of any kind or promotion will be removed and the user banned. Final decision will be at the discretion of the Taipei Times.