Atypical Taiwanese
There's nothing extraordinary about Lin Dao-ming's tale of having completed the military service required of every Taiwanese man -- save the fact that he's white
It doesn't matter if you're tall or short, rich or poor, a PhD or high-school flunkie, if you're a Taiwanese male you will spend two years in one of the branches of the military. In the case of Lin Dao-ming (林道明) it also didn't matter that he was about as Caucasian as the American mid-west breeds them. \n"Everyone would tell me `there's no way you'll have to do military service. You're a foreigner!'" said Lin, who goes by the English name T.C. "Well, they were wrong." Lin, in fact, is Taiwanese -- he has the ID card to prove it -- and as such, his name was bound to come up in the annual military service lottery, no matter what he looks like. \nThe letter he had anticipated but hoped would not come arrived in late 1995 ordering him to report to boot camp in Hsinchu in February the next year, where he would be issued a new identity -- Recruit Warrior 天A ####### (新兵戰士天A######, the number cannot be published) -- and would become arguably the most anomalous soldier in the Taiwanese army. \nThree years out of the service, he has written an account of his experience in an as-yet unpublished book tentatively titled Counting Mantou: An American in the Taiwanese Army. \nI'm Taiwanese. No, really! \nBy all appearances, Lin does not look Taiwanese at all. After all, he's white, which is natural considering his parents are white folk from Oklahoma. \nHe grew up in Colorado, New York and Florida, went to American schools and holds a degree from Washington and Lee University in Virginia -- a waspy southern American college. \nHis life took a radical turn, however, when he enrolled in a Chinese-language program at Tunghai University in Taichung during his junior year of college in 1988. \n"I remember immediately being struck by this place and thinking, `this is where I want to stay,'" Lin said. \nAfter reluctantly returning to the US to finish off his degree in 1991, Lin was back to Taiwan six months later, this time living in Hsinchu with the family of his best friend and classmate Lin Yi-ping (林以平) from Tunghai University. "They took me in like I was their son," he said. \nThen, three years later, he quite literally became the Lin family's newest son. \n"We were trying to find a way so that I could stay here and my ganma (乾媽) brought up the possibility of adopting me. It seemed a bit far-fetched at first, but after a lot of talking about it, we decided finally to do it," Lin said. "The Lins adopted me out of the kindness of their hearts." Of course, it wasn't that easy. The adoption was legal, but bureaucratic inertia was a problem as were officials who were perplexed almost to the point of immobility by the mere thought of Lin becoming Taiwanese. \nThen, there was the delay in getting the papers formally processed, during which time Lin needed to be out of the country. He spent six months jobless and bored in Hong Kong and sleeping on the couch at the home of the director of the Chunghwa Travel Service, Taiwan's de facto embassy in Hong Kong. \n"For a while there I was stateless, which was weird. You normally think that only happens to refugees," he said. \nUltimately, the paperwork received the requisite chops and signatures and Lin was then issued a travel document that would allow him to return to Taiwan to live with the Lin family. He was 25 and he was no longer T.C. Locke. His new name was Lin Dao-ming. \nAt that point he realized that "you're a citizen not of a family, but of a nation." This meant that Lin had incurred a number of new civic responsibilities, like showing up to vote at election time, but the most onerous of these by far was military service. "I knew I would hate it," Lin said. "Everyone does." \nDrop and give me 100 \nCounting Mantou, a title derived from a Chinese phrase for wasting time either in the army or in jail -- is both a personal story of Lin's time at a mountain base in Miaoli County, as well as an insider's look at Taiwan's military. \nThe book also handles questions of identity and assimilation that few people as outwardly un-Taiwanese would be forced to face. Lin, after all, was an obvious outsider going where no honky had gone before. \nIronically, the military proved to be the environment where Lin has felt the most accepted as a regular member of the community. "I get more looks walking down the street in Taipei," Lin said. \nIn his book, he notes with some surprise that the young men arriving at boot camp barely noticed that among their ranks was a long-haired, pale-faced Caucasian standing in the same lines as they to gather equipment, get their hair sheared and face verbal abuse from the drill sergeant. "They were too overwhelmed by their own trauma to pay attention to me," Lin said. \nThe atmosphere on the first day, Lin writes in his manuscript, was one of "suspense and apprehension, verging on outright dread." But as the tension died down and the soldiers settled into a routine, the acute displeasure at having to perform military service acted as a bond between him and his comrades -- they were all soldiers and they were in it together. \nAs quickly as possible, he learned the barked orders of his commanders, but the language barrier remained a problem despite his strong command of Mandarin and resulted in the occasional delay time between a shouted order and his action. "I earned a reputation as a bungler because of that. And I did a lot of pushups because of that too." Nonetheless, he was conferred the same responsibilities as the other soldiers and served in the base's guard company, which meant two-hour rotating shifts at the gate with a loaded M-16 checking the ID's of people coming and going. \n"It was nice as a guard. Civilians would drive or walk by and maybe take a second glance at me, but no one seemed to notice anything wrong with the picture," Lin said. "The only time I raised eyebrows was when a commander reviewing troops stood in front of me and was just speechless. He must have thought he was seeing things." Lin said that apart from the occasional incredulous look, he received the same treatment as all the other men and his superiors held the same expectations of him. He was promoted to corporal, transferred to the brigade headquarters for lighter, more complicated work than guard duty and received a certificate for his hard work killing pigs in a 1997 foot-and-mouth disease outbreak. He failed, though, to be moved up to sergeant, which he regrets because of the lost pay. If his appearance was the cause of his being passed up for promotion, he says he did not receive that impression. \nEventually, he even learned to like certain aspects of military life, in particular the comraderie in the barracks. "Things are really renao in the army. You're never alone. You're always part of a group and that's quite a special feeling." \nInside out \nOnce military service is completed, it's easy to look back with a hint of nostalgia, but Lin is emphatic that he would not wish to repeat the experience. \nFirst of all, 1996 was a bad year to be entering the army, because China was lobbing missiles, albeit unarmed, into the waters around Taiwan. The genuine fear that all-out war could break out was most palpable in the military. "Since we were so fresh, we probably wouldn't have been called up for battle. But the situation gave everyone a sense that this was serious." Furthermore, regular military service has its inherent dangers as well, especially in Taiwan which has among the highest rates of death due to accidents in a peacetime army. "The army's a dangerous place." On top of that, the training, he said, is rigorous and the soldiers are often rough boys. "The country guys are tougher. And the Aborigines, they're in a league of their own." "If they're properly equipped and coordinated, the army would be a force to be reckoned with. I think they're a pretty scary group." This is what makes Lin doubly anomalous in the army. He is so soft-spoken and soft-tempered, it's hard to imagine him thrusting a bayonet into a straw dummy or screaming a wild battle cry. But that is what he did. \n"I learned a lot in the army. Mostly about myself. It taught me to be realistic about my abilities. Some things you can do and some things you just can't do." He made it through, though, and now he can share horror stories from military service with every other Taiwanese man. "When Taiwanese men meet, eventually they start talking about where they spent military service. I can do that now." The person he is talking to may not expect it, but Lin can indeed produce his ID with the chop showing he has completed his military service. When he does, a connection is made that few, if any, foreign-looking people would be able to make. \n"I surprise people all the time. Like when I showed my ID to the ticket seller at the Miaoli train station to get a soldier's discount. He laughed and said, `Now I've seen everything.'"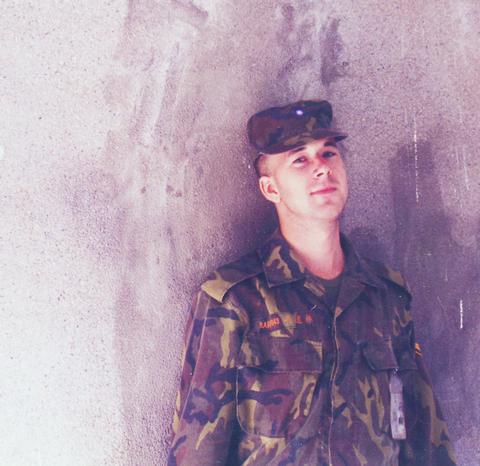 You're in the army now. Lin Dao-ming during his military service.
PHOTO COURTESY OF LIN DAO-MING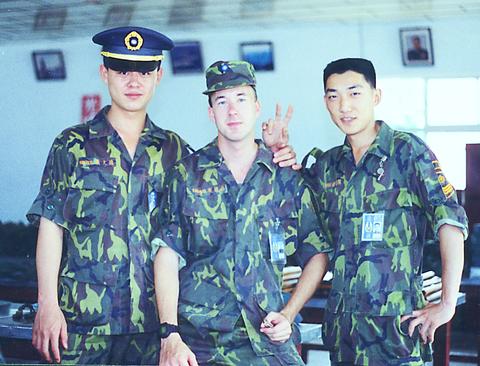 Lin Dao-ming, center, with a couple of his army buddies.
PHOTO COURTESY OF LIN DAO-MING
Comments will be moderated. Keep comments relevant to the article. Remarks containing abusive and obscene language, personal attacks of any kind or promotion will be removed and the user banned. Final decision will be at the discretion of the Taipei Times.