Dai's House of Stinky Tofu 獨臭之家
Address: 145-1, Nanjing E. Rd., Sec. 5 (南京東路5段145-1號),
Telephone: (02) 2760-7652.
Open: 11:30am to 1am.
Average meal: NT$150.
Details: No English menu available. Visa and MasterCard accepted.
Dai's House of Stinky Tofu has another name in Chinese -- House of Unique Stink. It may sound funny to foreigners who are loathe to try the unique dish, but after visiting Dai's, one may find that stinky tofu really doesn't taste as bad as it smells.
Almost every dish at Dai's is made using stinky tofu. There are the typical tofus; steamed, stir-fried, and grilled, but Dai's is the only place in the world, according to owner Wu Hsu Pi-ying (吳許碧瑛), that serves cold, raw stinky tofu.
Decades ago, stinky tofu was a military staple for soldiers patrolling China's borders. But as Taiwan's night-market culture developed, so did stronger, spicier and more diverse flavors of stinky tofu.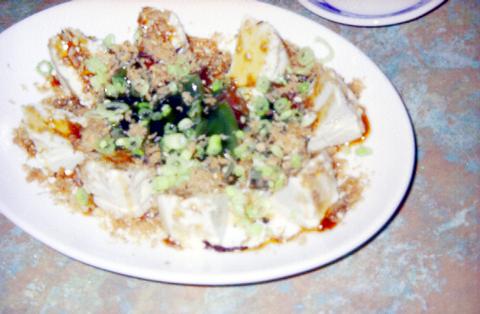 The fried tofu of the house is the flagship dish at Dai's House of Stinky Tofu.
PHOTO: YU SEN-LUN
Unlike most night-market stinky tofu stands where the odor permeates the air, Dai's house is simply a clean, ordinary restaurant with a huge Crouching Tiger poster on the wall.
Film director Lee Ang (李安), whose autograph is scratched on the poster, had a stinky tofu feast from Dai's house earlier this year after returning to Taipei with his Oscar. An inveterate stinky tofu lover, Lee is said to prefer Dai's steamed tofu.
The somewhat freaky cold stinky tofu (涼拌臭豆腐) is actually quite refreshing -- similar to, but milder than blue cheese. With its soft and dense texture, it's served with shredded scallions in a light soy sauce and is recommended as a starter.
The raw tofu adds a new line to Dai's 50-year-old menu and is, according to Wu, the healthiest way to try stinky tofu.
In some places, you really don't want to know how the tofu is made, said Wu. Long ago, some used rotting seafood to ferment the bean curd while others used chemicals. But Dai's products are all vegetarian, using amaranth, mustard leaf, bamboo shoots and more than 10 kinds of Chinese herbs to ferment the bean curd for six months, said Wu.
Pure vegetarianism has turned Dai's stinky tofu into something of an urban legend. Seven years ago, Tsinghua University's (清華大學) bio-science research lab examined a sample of Dai's stinky tofu and discovered more than 15 kinds of active bacteria swimming around in it, just as it does in yogurt. "Many of our customers said their stomach problems improved after eating our tofu. There are even doctors recommending their patients to visit us," said Wu.
Fried stinky tofu is the least pungent and therefore more suitable for first-timers. The fried tofu of the house (招牌炸) is Dai's flagship dish and has extra-crispy skin and smooth tofu inside. Try mixing the four sauces into your own blend: soy sauce, garlic and radish pastes and chili sauce.
For solo visitors, the tofu fried noodles with spicy and sour sauce (酸辣臭豆腐炒麵) is a must. Chewy thick noodles are stir-fried with diced tofu and vegetables for a taste extravaganza.
Comments will be moderated. Keep comments relevant to the article. Remarks containing abusive and obscene language, personal attacks of any kind or promotion will be removed and the user banned. Final decision will be at the discretion of the Taipei Times.