55 years of Taiwan comics on show in retrospective
"I love Taiwan, but I love comics even more," said President Chen Shui-bian last week as he visited the exhibition documenting the history of comics in Taiwan since 1945. Though trying to be humorous, Chen probably echoed the feelings of almost every teenager in Taiwan.
This is one show the kids will think is all right. Local comic books from the past are displayed alongside a few from Japan and the western world. Others included are manuscripts from the cartoonists, and popular comic books still out on the market.
Exhibit items go back to the year 1945, which is a defining year for local comics when the magazine "Hsin-hsin" (新新雜誌) was published. Active proponents of comics Ye Hung-chia (葉宏甲), Hung Chao-ming (洪晁明) and Chen Chia-peng (陳家鵬), whose samples can be seen in the show, filled the magazine with cartoons depicting social chaos after the World War II. Corruption, injustice, and inflation are vividly recorded on the "paper movies" by those socially conscious cartoonists that were unshaken even by political threats during the White Terror period.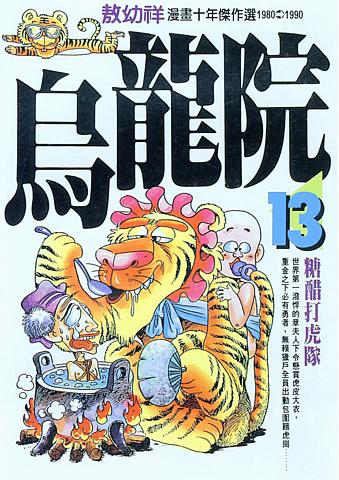 Wu-Lung Yen, by Yu-Hsiang Ao.
PHOTO: COURTESY OF NATIONAL MUSEUM OF HISTORY
The 1950s is another exciting phase for local comics. Some long-standing cartoonists started to flourish during this decade, exhibiting tremendous creativity and style, showing a strong local color and emotional attachment. Some of the artists featured in the show include: Chen Ting-kuo, (陳定國) who animated the local opera story "Beauty with the Chinese Eyes" (鳳眼美人); Liu Hsing-chin, (劉興欽) who detailed the life and culture of locals through the loveable, popular cartoon characters "Brother A-san" and "Great Auntie" (阿三哥與大嬸婆); and Niu Ke, (牛哥) who attracts a range of comic fans with his creation Uncle Ox (牛伯伯). Another special feature of the show is the work of Chen Hai-hung (陳海虹), who used traditional media of ink and brush to create martial arts stories and is thus dubbed the father of that type of comic book in Taiwan.
Local comics has their halcyon days until the mid-1960s, when comic artists came under political suppression. Censorship caused a dramatic drop in comic book publications, from 4,000 in 1966 to 200 in 1970. That year, when restrictions were relaxed, Japanese comic books dominated the market and have done so ever since. Recovery was slow for local comics, yet in the mid-1970s some local comics began to show up in newspapers, a harbinger of another heyday for Taiwanese strips.
Comics came to life again mainly because of the relaxation in the political arena and this encouraged new artists to express themselves. As can be seen from the multitude of copies in the show, all kinds of comic magazines flooded the market, with the long-awaited coming-of-age for local comics occurring in the 1990s.
Uen Cheng (鄭問) is one of the artists featured that rose to stardom in the mid-1980s. He was able to more freely express himself after the Kaohsiung Incident of 1979 because freedom of speech became a major issue. His comics could be seen in newspapers like the China Times Weekly (時報週刊) and he enraptured local readers with works such as "The Master of Warrior (鬥神)," "Panzer General (裝甲元帥)" and "Sword A-Bi (阿鼻劍)." Uen later on even drew the attention of the Japanese comic fans and aroused hugh interest with his "The Legend of Heros in East Chou Dynasty (東周英雄傳)."
For comic buffs, the museum has more information available.
Publication Notes
Art Notes:
What:
A Celebration of Taiwan Comics(漫畫史特輯)
Where:
National Museum of History, 49 Nan Hai Rd. Taipei(歷史博物館 - 南海路49號); Tel: 2361-0207. 10AM to 6PM. Closed Monday.
When:
Until August 6
Comments will be moderated. Keep comments relevant to the article. Remarks containing abusive and obscene language, personal attacks of any kind or promotion will be removed and the user banned. Final decision will be at the discretion of the Taipei Times.