How can Hillary Clinton sell herself to voters who already know her?
After decades in the political limelight, the Democratic National Convention offers the former US secretary of state a chance to encourage voters to take another look at her
Few conventions were as successful as when US Democrats gathered in New York in 1992 to nominate Bill Clinton for president. There was the Hollywood-produced Man From Hope video, a dramatic midtown Manhattan stroll by Bill and Hillary Rodham Clinton from Macy's to Madison Square Garden and a six-day post-convention bus caravan that drew crowds all the way through its end in St Louis, Missouri.
As Hillary Clinton arrives in Philadelphia for her own nominating convention, she faces many of the same problems her husband encountered in 1992: She, too, is damaged after a bruising campaign and shadowed by a cloud of mistrust stirred by her actions.
While Bill Clinton was a relatively new, if battered, face, ready for his reintroduction in 1992, Hillary Clinton is a political institution. With one exception, she has spoken at every Democratic National Convention since 1996.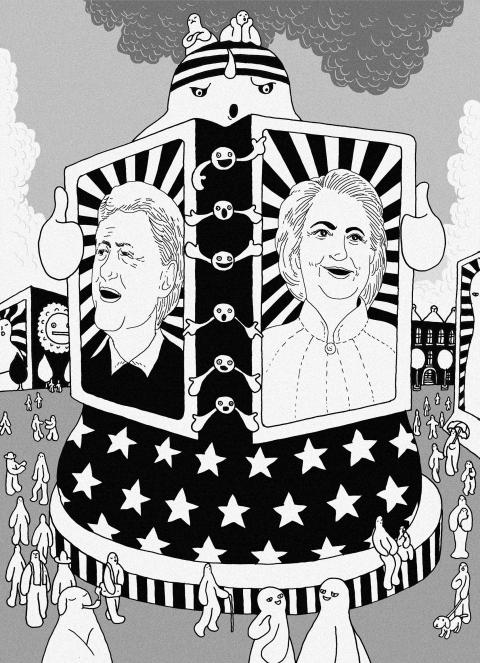 Illustration: Mountain People
"If you don't know the Clintons by now, you are never going to know them," Republican former US House speaker Newt Gingrich said.
Donald Trump entered the Republican National Convention last week in Cleveland with the opportunity to recast the way Americans viewed him, a moment he arguably failed to seize, but Hillary Clinton's task in Philadelphia is decidedly harder.
She has been a fixture on the US political scene for a generation, subjected to endless attacks, examination and analysis. She is a proxy in debates over feminism and political power and a recurring subject of parody on Saturday Night Live. Views about her — particularly on issues of trust after the US FBI investigation into her handling of e-mails as US secretary of state — are seared in place with many voters, pollsters say.
After 25 years, her days of reinventing herself are almost surely gone.
And yet these four nights in the public eye, particularly coming after Trump's often chaotic convention in Cleveland, Ohio, offer her a chance to persuade important segments of the electorate to take another look at her, to consider parts of her life that have been lost in the glare of scandals and investigation and to judge her candidacy in contrast with the dark image Trump presented last week of himself and the nation.
That would start with supporters of US Senator Bernie Sanders, many of whom, particularly younger ones, learned much of what they know about Hillary Clinton through the prism of Sanders' attacks and have been steadfast in their opposition to her — potentially all the more so after her choice of US Senator Tim Kaine of Virginia, a moderate, as her running mate.
However, just as crucially, she could find an audience with independent voters struggling between two candidates they do not like, who will have an opportunity after this week to make a direct comparison between the visions being offered by Hillary Clinton and Trump.
For nearly a year, Hillary Clinton has struggled to answer questions about her use of a private e-mail server, particularly after her conduct was excoriated by the FBI; Republicans have accused her of negligence, criminal mishandling of classified information and even treason. Rightly or wrongly, the most recent controversy is what has defined her most.
"She is someone with a long record in public life, but people forget," said David Greenberg, a history and journalism professor at Rutgers University. "Younger voters, who don't have the memory — or older voters with short memories."
From that perspective, there is much that Hillary Clinton might be able to do as she controls the convention stage for the next four nights.
A parade of Democratic stars, including a sitting president, a former president and Sanders, stand ready to offer a remedial course in Hillary Clinton.
"We have a cavalry who are fully armed," said David Plouffe, who managed then-US senator Barack Obama's campaign in 2008. "For Trump, it was all on him."
Hillary Clinton also has the advantages of following the turbulent Republican gathering and of having a team far more experienced than Trump's at producing sophisticated conventions, giving her an opportunity to contrast a presumably more united party and a more consistent message with what was displayed in Cleveland.
Hollywood director and actor Rob Reiner, who is a long-time supporter of Hillary Clinton, said she should use the convention to tell the story of her life.
"She has been an advocate her entire life for women, for children, for all the causes that we care about," he said.
"I know she has a lot of baggage and all that stuff, but a lot of that is unfair," the director added.
So what might Hillary Clinton do?
Uniting the party is the easy part. Yes, she needs to galvanize her party entering the general election — and Hillary Clinton might be aided greatly both by Sanders, who is set to trumpet his endorsement of her, and by Trump, who has proved to be a great mobilizing force for Democrats.
However, unity is not enough. Considering the passion that Trump's supporters have shown, Hillary Clinton — who is not known for her ability to light up a room — would be well advised to figure out a way to have Democrats, to borrow a phrase, fired up and ready to go.
"The one thing that needs to happen coming out of the Democratic convention is for the Obama coalition being very enthused about her candidacy — not just beating Trump," Plouffe said.
"She has to give a speech that makes people as excited about her as they are about beating Donald Trump," Plouffe added.
US Senator Chuck Schumer, who served with Hillary Clinton in the US Senate, said the convention would offer her an opportunity to debunk what he called the conservative caricature of her.
"The right-wing media has tried to portray her as something she's not," Schumer said. "The convention is a great way to undo some of that media image. People will see her up close. They will see her the way she is. I think their minds are open."
Age is a virtue. The demographic differences between Hillary Clinton and Sanders supporters underline one of her biggest challenges: He crushed her among younger voters, whom she will need in November. The convention will give her a shot at winning them back.
Even before arriving in Philadelphia, Hillary Clinton had taken steps to close that gap by, among other things, moving toward Sanders' position in favor of free tuition at public colleges.
There are other ways she can extend her appeal.
"Eighty percent of her speakers should be under 40," Gingrich said. "She has to convince the younger generation that she is an acceptable leader for that generation."
Younger voters have much to learn about Hillary Clinton, be it her record in the Senate or her years as first lady. (An added bonus for Hillary Clinton: Many of them have managed to come this far in life without knowing the political meaning of the word "Whitewater.")
One thing to watch: whether Hillary Clinton avoids decades-old references, like her reaching back to "voodoo economics" — a 36-year-old attack line that former US president George H.W. Bush once used on former US president Ronald Reagan — at the event this month where Sanders endorsed her.
Do not forget Trump. Conventions are about drawing contrasts and Hillary Clinton has shown no reluctance to highlight her differences with Trump. Philadelphia will provide an enormous stage to refine those arguments and respond specifically to how Trump tried to sell himself to voters in Cleveland, particularly on immigration and the threats of terrorism and crime.
"She's in a position where she can be the safer choice," said Stuart Stevens, a Republican consultant who ran former Massachusetts governor Mitt Romney's campaign for president in 2012. "In times of instability, voters tend to look for safety."
And Hillary Clinton will benefit from timing: If the back-to-back conventions somewhat resemble a slow-motion debate between the candidates, Trump has had his say and Clinton can make a closing argument that, if done right, could stick in the minds of many voters.
"For her, the convention speech is the opportunity to have the final two words of the summer political season," said Steve Schmidt, a senior adviser to US Senator John McCain when he ran for president in 2008. "The race is going to freeze in place a couple of weeks after those conventions."
Comments will be moderated. Keep comments relevant to the article. Remarks containing abusive and obscene language, personal attacks of any kind or promotion will be removed and the user banned. Final decision will be at the discretion of the Taipei Times.