Unity of Gulf monarchies under threat
Qatar's support for the Muslim Brotherhood angers Saudi Arabia, the dominant member of the Gulf Cooperation Council
A breach between Qatar and some of its Gulf Arab neighbors is a pivotal test for a three-decade-old union of monarchies formed to stand united when threatened by common enemies.
The six neighbors have struggled for years to transform their alliance from a simple security pact into an integrated economy, but plans for a customs union, integrated power grids and a joint military command remain unfinished or unrealized.
Critics of the Gulf Cooperation Council (GCC) blame its inadequacies on petty jealousies, border disputes, or the perceived dominance of its biggest member, Saudi Arabia.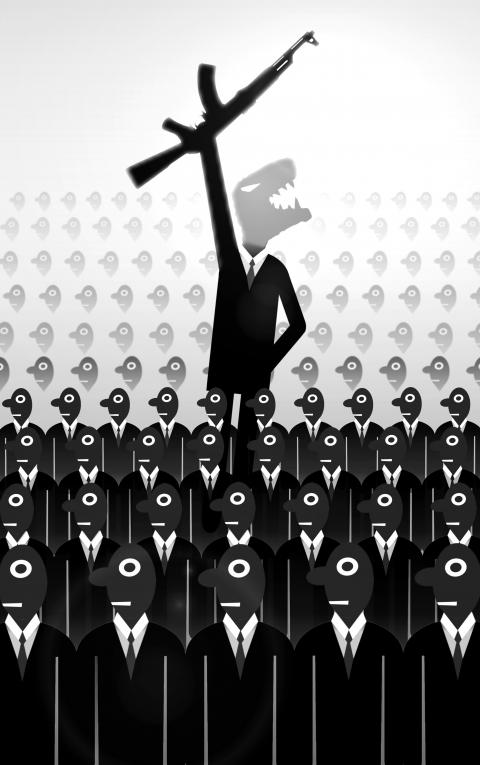 Illustration: Yusha
If the allies can no longer reach broad agreement on how to navigate the political troubles afflicting the region, then the main point of their partnership is in question, analysts say.
Born more out of fear than greed, the council, which also includes Kuwait, Bahrain, the United Arab Emirates (UAE) and Oman, has managed to present a unified front at times of threat ranging from Iranian revolution to Iraqi invasion.
The organization was born in 1981 to counter the revolutionaries who had toppled Iran's Shah, a fellow dynast familiar to Gulf Arab leaders, two years earlier. As Iran and Iraq embarked on an eight-year war, survival became the watchword for the council.
Now, even as most Gulf Arab economies are booming and the council touts itself as a rare outpost of stability in a turbulent region, the member countries have never appeared more divided.
"Will the GCC kill itself?" ran the headline in Kuwaiti newspaper Al-Rai on Thursday last week.
A statement put out by Saudi Arabia, the UAE and Bahrain on Wednesday last week said that they were withdrawing ambassadors from Doha, and all but accused Qatar of undermining the members internal stability which was unprecedented as a public display of divisions.
BROTHERHOOD
Saudi Arabia and the UAE are incensed by Qatar's support for the Muslim Brotherhood, which they regard as a dangerous political enemy. They are also furious about Doha's backing for more radical Islamist groups in Syria.
The UAE summoned the Qatari ambassador last month after Qatar-based Brotherhood cleric Youssef al-Qaradawi condemned the UAE as being against Islamic rule, a remark the UAE described as insulting and shameful.
UAE media quoted Qatari Foreign Minister Khaled al-Attiyah as saying the comments did not reflect Qatar's views. Sources close to the cleric said he would not stop speaking his mind.
Qaradawi said Saudi Arabia was backing those who "are far from God and Islam" in Egypt, meaning the military-backed authorities that overthrew an elected Islamist president.
Saudi Arabia and Qatar are leading backers of rival Syrian rebel groups, and they and other Gulf states are the principal external forces supporting key players in Egypt and Yemen.
Acting together they could affect regional change. Apart, they risk dragging the Gulf into the post-Arab Spring quagmire.
A Gulf Arab diplomat said the decision to recall the envoys was taken after a meeting the foreign ministers of the council on Tuesday last week at which it became clear Qatar would not change its approach.
"After this meeting they decided — the Saudis, the Emirates and Bahrain — to take this kind of step," the diplomat said.
"It is a very negative step in our experience as a group, in this organization," the diplomat added.
SIBLING RIVALRY
There have been plenty of previous rifts among the six dynasties, which sometimes appear to regard each other as rivals rather than partners, but they have never involved such a public spat or come at such a dangerous time.
Unlike in the past, the Gulf states cannot count on strong Arab allies with large armies to see off external threats.
Gulf citizens see their region as the last bastion of security in the Arab world, with Iraq and Syria in conflict, Yemen and Libya in chaos, Egypt destabilized and Lebanon and Jordan undermined by turmoil in neighboring states.
Critics of the council deride its failure to fulfill its promises on issues such as currency or border union. Despite big arms purchases, all its members remain dependent for their defense on alliances with Western powers, principally the US.
The Gulf countries refer to each other in official statements as "full brothers" — the closest blood relationship in a society traditionally built upon large polygamous families.
However, they have often nursed sibling rivalries in disputes ranging from border demarcation and foreign policy to occasionally unflattering portrayals of rulers in each other's state media.
Saudi Arabia and Qatar in particular have had a series of disputes, including border clashes in 1992 which led to several deaths and a five-year period from 2002 when Riyadh had no ambassador in Doha after arguments about al-Jazeera broadcasts.
Qatar and the UAE also fell out in the 1990s when Dubai gave refuge to a former Qatari emir who was ousted in 1995, and Doha has also crossed swords with Bahrain. Smaller-scale rows have periodically flared up between Saudi Arabia, Oman and the UAE.
At root, these disputes and the council's slow pace in creating a stronger union have often resulted from the fundamental imbalance that Saudi Arabia has a bigger population than the other five countries combined.
Political analysts say some in the smaller countries have seen the council as a ratification instrument for Saudi policies.
"Becoming a mediating power in the region has upset a lot of governments who think we are too small. But we are here to say we are not small, we believe in our role and will continue it," a source close to the Qatari government said.
SAUDI FRUSTRATION
For Saudi Arabia in particular, the disunity is a source of frustration. Riyadh has pushed hard since late 2011 for the council to forge a closer union on a shared foreign and security policy.
The personal initiative of King Abdullah, the idea to form the organization emerged as a response to the Arab Spring and fears of Iranian interference and also represents an important building block of Saudi efforts to become less dependent on the West.
However, in December last year Oman said outright it did not want to be part of such a union, weeks after angering Riyadh by facilitating secret US-Iranian talks that the Saudis fear will reduce international pressure on Tehran.
Kuwait stayed above the fray last week, talking of acting as a mediator when its emir returns from a medical trip overseas, but refraining from joining the pressure on Doha.
"The Saudis are strongly committed to the unity of the Gulf states, and they want other states to take their share of responsibilities towards the people of the Gulf," said Saud al-Sarhan, director of research at the King Faisal Center for Research and Islamic Studies in Riyadh.
"Saudi Arabia is taking control of regional and Arab security, and slowly bringing to an end the era of reliance on foreign partners for strategic priorities," he added.
Additional reporting by Amena Bakr, Rania el Gamal and Yara Bayoumy
Comments will be moderated. Keep comments relevant to the article. Remarks containing abusive and obscene language, personal attacks of any kind or promotion will be removed and the user banned. Final decision will be at the discretion of the Taipei Times.