Smuggling, soccer and the mafia
Italy's organized crime groups have a combined revenue of 116 billion euros, more than the annual sales of its biggest company, and mafia groups even own soccer teams
When police went after Mafia boss Francesco "The Fat Head" Pesce in southern Italy, they ended up with more than they bargained for: his local soccer team, Rosarnese.
The semi-professional squad, controlled by the Pesce crime family for years, according to a clan member who turned state's witness in 2010, found itself placed under judicial control in 2011 and in need of new sponsors.
Though soccer is virtually a religion in Italy, no new backer came forward — for fear of angering the 'Ndrangheta, a powerful Mafia network in Calabria, the region in the "toe" of Italy. In July last year, after a dismal season of 24 losses, five draws and just five wins, the Rosarnese team was dismantled.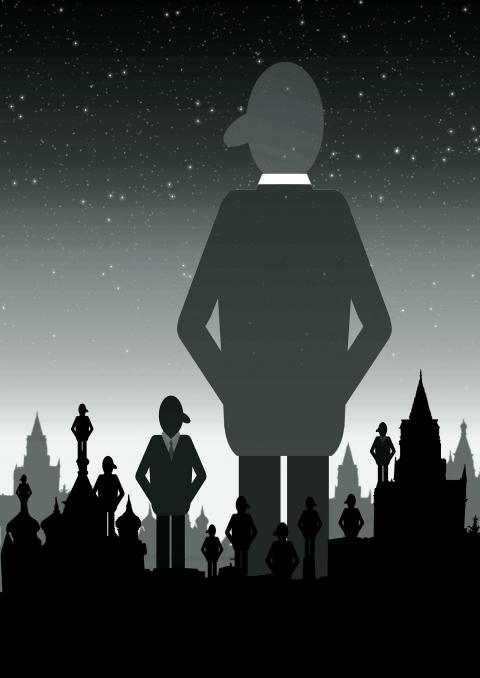 Illustration: YUSHA
The demise of the soccer club, which was a small part of 220 million euros (US$296 million) in assets law officers seized from the Pesce clan, illustrates the growing influence of the 'Ndrangheta. The group's economic clout now surpasses that of its more storied Sicilian cousin, the Cosa Nostra, Italy's top anti-Mafia magistrates say.
"Today, the Calabrian Mafia is a national and an international force. It pollutes the economy and is heavily compromising the political system," said Pierpaolo Romani, national coordinator of an association uniting city governments against the Mafia and author of the book Criminal Soccer about the mob's interest in the sport. "With a football team, the 'Ndrangheta expands both its economic reach and its political standing in a community."
The 'Ndrangheta has grown rich thanks to a business strategy focused on cocaine. Just 5km from Rosarno is the huge container port of Gioia Tauro, where almost half of all the cocaine seized by police in Italy last year was found. The harbor, positioned half-way between the Strait of Gibraltar and the Suez Canal, is a key commercial hub and has become the 'Ndrangheta's main artery for South American cocaine and other contraband, which it hides in the flow of legal cargo.
The police have had some victories over the 'Ndrangheta and other Mafia groups. Pesce, for instance, was convicted for racketeering and mafia conspiracy and is serving a 20-year sentence in a high-security prison. He denies any wrongdoing and is appealing the ruling.
Despite such gains, the sums involved in organized crime in Italy, which will vote in a new parliament next month, remain enormous. Taken together, Italy's main crime groups — the 'Ndrangheta, the Cosa Nostra and the Camorra from Naples — would have an annual turnover of 116 billion euros, according to the UN Office on Drugs and Crime. That is more than the annual sales of Italy's biggest company, oil-giant Eni.
TRACKING CONTAINERS
In a basement on the outskirts of Rome is a nerve-center in the fight against smuggling: the anti-fraud unit of the national customs agency. There, a team of 15 analysts — including computer experts, a mathematician, a statistician and an electrical engineer — occupies a room with 10 large flat screens showing live maps of the world's busiest shipping lanes. Investigators using sophisticated computer analysis and a vast database try to identify high-risk containers heading for Italy.
In particular, the unit monitors ships traveling to Gioia Tauro and passes its information to finance police in Calabria, who combine that data with intelligence gathered through more traditional investigative methods, such as bugged cars, wiretaps or stakeouts. However, the odds of finding smuggled drugs in the giant port are stacked against the police.
At the dock, more than 1,000 employees load and unload containers 24 hours a day, seven days a week, closing only on Christmas and New Year's day. At night, floodlights illuminate the 3.2km-long quay. Pinpointing a few duffle bags of cocaine — the typical shipping method in recent months — among the non-stop cargo shuffle is like trying to find a grain of black sand on a white beach.
The port authority declined to comment on drug smuggling, but investigators say the duffle bags packed with super-pure cocaine weigh between 40kg and 45kg each and are light enough to be lifted by one man. They can be tossed into a container in a Central or South American port and removed quickly at Gioia Tauro before customs officials have a chance to intercept them. The containers are easily resealed to leave no trace.
"The containers are Trojan horses," said Claudio Petrozziello, commander of the province's finance police, as container carriers whizzed around the dock behind him.
Each duffle bag of cocaine is worth as much as 2.25 million euros wholesale, and about 9 million euros on the street. Mostly — the Italian Interior Ministry estimates 90 percent of the time — the criminal clan's bag-man, and not the police, gets to the contraband first.
Nevertheless, finance police and customs authorities are having increasing success. In June last year, finance police found 17 black Jansport bags containing foil-wrapped and vacuum-sealed bricks of South American cocaine. The haul was worth more than 38 million euros wholesale, and at least four times as much on the street. The police are still hunting the smugglers.
In total, the police seized in excess of 2 tonnes of cocaine at the port last year, more than double the amount of 2011, finance police data showed.
Daniele Testi, a spokesman for Contship, the container terminal logistics firm at the port, said: "What is happening in Gioia Tauro is what is happening in all the world's largest ports. Contship continues to believe that the police must do all they can to fight crime. What we are trying to do is make sure that the business runs smoothly, is successful, and continues to provide jobs."
A COURAGEOUS MAYOR
The police have made inroads in other areas. In 2008, they planted a bug in a Rosarno laundromat and recorded a conversation between Domenico Oppedisano, a crime boss, and another Mafia suspect.
Oppedisano said there were 250 mobsters in the town of fewer than 15,000 people, according to a transcript of the conversation.
Oppedisano, 82, was later arrested for being the boss of bosses of the 'Ndrangheta's estimated 150 clans and is currently serving a 10-year prison sentence for Mafia membership — a crime in Italy. He denies wrongdoing and is appealing his conviction.
In an attempt to loosen the grip of the Calabrian mob, authorities in Rome dissolved Rosarno's city council in 2008 because it had been infiltrated by the 'Ndrangheta. When new mayoral elections were held two years later, Elisabetta Tripodi, who had previously worked as a secretary in city hall, won.
Explaining why she took on such a challenge, Tripodi said: "I did not want Rosarno to be known as a town of racists and mobsters."
As well as being blighted by the Mafia, the town's image had also been tarnished by violent clashes between African migrant workers and locals in January 2010.
Since then, Tripodi has taken an unprecedented stand against the 'Ndrangheta, going so far as to sue Francesco "Fat Head" Pesce, 35, in civil court for damages in the case involving the soccer team and other local businesses. The court awarded the city a 50 million euro settlement, which is to be paid from a state fund of confiscated Mafia cash.
In retaliation, the 'Ndrangheta vandalized city property, and Tripodi received a threatening letter.
"These threats convinced us that we were heading down the right path, because it meant that what we were doing was bothersome," Tripodi said.
She now lives under 24-hour police protection, and when she is in her office in town hall, she closes a steel door behind her.
"I've had bodyguards with me at all times for 14 months. Everything in my life has changed," she said, adding that her two sons, 12 and 16-years-old, hope that she serves only one term.
Tripodi gets help from anti-Mafia magistrates, such as Alessandra Cerreti, who confiscated the soccer team from the Pesce clan, and from the local finance police, but her bravery and altruism stand out.
"The 'Ndrangheta is an invasive presence in all segments of Calabria's social and political life," said Cerreti, who lives in the regional capital, Reggio Calabria, under 24-hour protection by armed bodyguards. "There is an army of professionals, businessmen, and even sometimes magistrates and members of law enforcement, who put themselves at the service of the 'Ndrangheta out of personal interest."
Combating those interests is an uphill battle, though Rosarno keeps trying. The failure to find new sponsors for the local soccer club hurt. The Mafia regularly tries to blunt police victories, and often succeeds.
"It is in the 'Ndrangheta's interest to demonstrate that a seized asset wastes away in the hands of the state," Cerreti said. "We put into place a series of initiatives to keep it from happening, but the difficulty is that the 'Ndrangheta invests rivers of cash in the asset or company, while the state does not have the same resources."
Nevertheless, on the outskirts of town, the Pope John Paul II stadium now hosts a new amateur soccer team and is an after-school haven for young boys.
"For these kids in Rosarno, soccer is everything," said Agostino Orlando, sports director of the new club, as his young son clung to his leg.
As he spoke, players in yellow jerseys and black shorts began arriving for a game against a nearby rival.
"We're a new team. We've been reborn," Orlando said.
However, the glowing lights of the port in the distance were a reminder that Rosarno, like Italy, still has a long fight ahead.
Comments will be moderated. Keep comments relevant to the article. Remarks containing abusive and obscene language, personal attacks of any kind or promotion will be removed and the user banned. Final decision will be at the discretion of the Taipei Times.