Activists challenge Beijing with election push
Perhaps it's just a veneer of democracy, but China's election law in theory permits independent challengers to nominate themselves, and more candidates are putting themselves forward to fight for disadvantaged groups' rights
Hundreds of independent candidates fighting for seats in China's usually tame local congresses are opening a new front in the nation's battle over political rights, courting voters on the streets and the Internet despite political controls.
The Chinese Communist Party (CCP) says the provincial and municipal People's Congresses are the basis of Chinese-style democracy. Critics, however, say the councils — stacked with party officials, powerless to control budgets and unwilling to challenge policies — are tame chambers used to give a facade of popular acclaim to top-down power.
This year, however, unprecedented numbers of independent candidates are seeking to change that, challenging the much larger slates of CCP-backed candidates, despite a crackdown on dissent and slim chances of winning seats, activists said.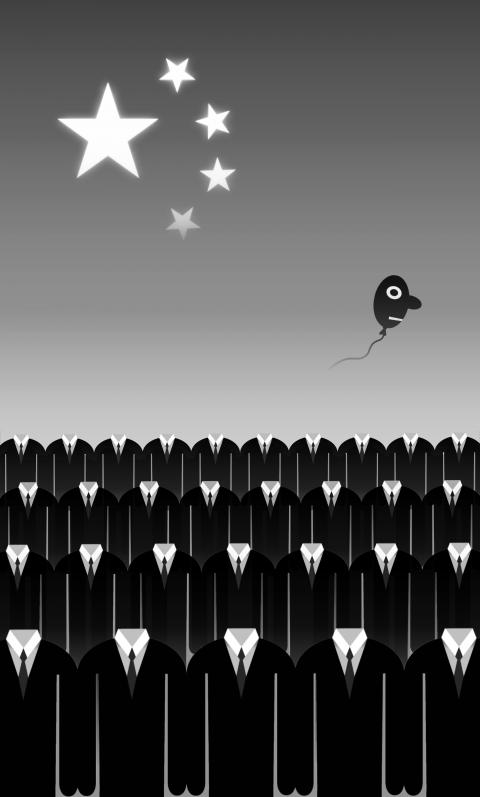 Illustration: Yusha
"There are many, many more candidates than before. It's impossible to give precise numbers, but many more," said Li Fan (李凡), the head of the World and China Institute, a small, privately funded Beijing group that monitors elections.
"There are two reasons. First, social grievances are deeper than before, so more people want to become congress delegates to press for rights. Second, there is the role of the social media. Microblogs are playing a big role," Li said.
In elections across China in recent and coming months, Chinese voters choose about 2 million delegates to represent them in local assemblies, according to the National People's Congress, the national-level parliament.
In some respects, the elections for these bodies are not unlike the government assemblies and councils that run states and cities across the US and other countries. However, the similarities quickly dissolve.
Most voters in China tend to unquestioningly tick the box for the CCP's candidates, but the election law in theory allows independent challengers to nominate themselves.
In past elections, which happen every five years, a few independent candidates have won spots on local assemblies, which they used to campaign against government abuses and land grabs.
This year's independent campaigners say they face many barriers to becoming formally accredited, including police harassment, bureaucratic sabotage and many voters' wariness of risking trouble by endorsing them as candidates. Even if some win that recognition, their hopes of winning seats are slim.
"We need to solve China's systematic problems, and the key to a breakthrough is elections," said Zhou Decai (周德才), a farmer-turned-businessman campaigning for a place on a congress in his home county in Henan Province.
"Even if a few get in [to congresses], that won't change things," Zhou said in an interview in Beijing, where he said he had been speaking to lawyers and supporters about his plans.
"But the election can expose problems in China's system, and it's also a way of putting pressure on local government officials," said Zhou, a stocky, crew-cut man who has long campaigned over land disputes in his home, Gushi County.
PARADOX
The spread of independent campaigns has underscored the paradox that even as the CCP has sought to deter dissent, new sources of discontent keep welling up, often aided by the spread of the Internet.
The surge of election-inspired activism was the latest sign that a government crackdown, which brought the detention of dozens of dissidents this year, was encountering emboldened opposition, supporters of the movement said.
"This shows that demands for political rights have spread and now more ordinary citizens are joining in," said He Depu (何德普), a long-time dissident released from jail early this year, who is supporting independent candidates in Beijing.
"The chances of them being elected as people's congress delegates are slim, but the importance is in participating, because it shows that people have political expectations that must eventually be met," He said.
He spoke over the telephone after, he said, police told him not to meet a foreign reporter. He is not allowed to seek a congress seat because he remains stripped of political rights as part of his sentence on subversion charges, he said.
In a sign of China's changing times, independent candidates have embraced China's growing microblog Web sites to promote their campaigns. Dozens, if not hundreds, of such campaign sites can be found on Sina's dominant microblogging site.
On his microblogging site, 31-year-old Beijing candidate Xu Chunliu (徐春柳) tells prospective supporters that, "as a member of your community, I share the residents' complaints."
He also vows to clean up the neighborhood's traffic jams and poor management.
"There are more independent candidates than before, because I think ordinary people understand more about their rights, and the Internet has also made us more visible and improved our communication," said Liu Xiuzhen (劉秀貞), a 57-year-old retired transport worker who is also campaigning as an independent in Beijing, where the vote takes place in November.
"Some of us are rights defenders, and think we can help other disadvantaged groups by doing this," Liu said.
She said she and a dozen other candidates were prompted to run because they felt the government did not help them reclaim money lost in an investment scam.
The CCP has made stronger control a priority as it heads towards a leadership handover late next year.
DETENTIONS
Despite the outward show of democracy, some independent candidates working with He said they were detained while canvassing potential supporters.
Yao Lifa (姚立法), the "godfather" of China's independent candidate movement since he won a seat in his local assembly in 1998, was detained by officials for several months and is now under guard for much of the day in his hometown in Hubei Province.
"Because we're in the middle of this election, they want to stop me from helping others," Yao said in a late-night telephone interview.
Yao lost his seat in 2003, when city officials refused to let him formally run again.
"The growing number of [independent] candidates shows that corruption and social divisions are forcing more ordinary people to stand up for themselves," said Yao, a former school official.
"But the government is also increasingly harsh," he said. "It wants to have a show of democracy, but is afraid the show will be taken from its grasp."
Comments will be moderated. Keep comments relevant to the article. Remarks containing abusive and obscene language, personal attacks of any kind or promotion will be removed and the user banned. Final decision will be at the discretion of the Taipei Times.