Taking bail to the next level
In the US, wealthy people charged with serious crimes have the option of being bailed out — if they pay for the bail monitors
If you had been looking closely during the criminal case of Bernard Madoff, you might have spotted a portly man with a gourmand's jowls and a walrus mustache hovering just behind the defendant's elbow on his various trips to court. Though dressed like a lawyer, he was not one; nor was he a prosecutor, a personal assistant, a limousine driver or a family friend.
His name is Nick Casale, a retired New York Police Department (NYPD) detective serving as a monitor in the latest iteration of that age-old institution known as bail. Casale, in short, was a state-sanctioned nanny, escorting Madoff back and forth from his penthouse to the courthouse to ensure that the world's most famous fraudster abided by the strict conditions that got him out of jail.
"It was an almost military matter," Casale observed proudly, sitting in his office, high over Madison Avenue, where Madoff's bulletproof vest was, months later, still fetched up against the wall. Not only did the high-profile and high-paying babysitting gig rely on the assistance of several former NYPD cronies, it also required the deployment of a chase car, a digital voice recorder, a broadband wireless router, several metal door bars and a high-resolution, vandal-resistant Nuvico day/night camera — the one with the plastic dome and manual zoom lens.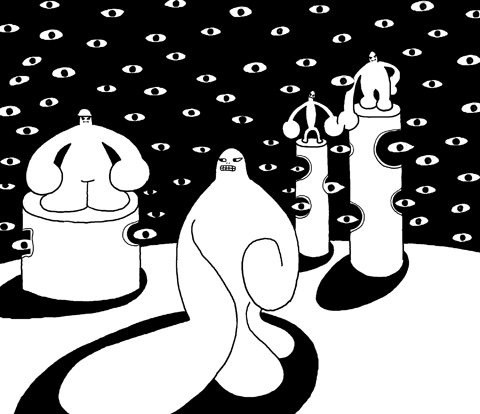 It was, in other words, a drastic distance from the seemingly quaint alternatives of incarceration or release in advance of standing trial.
Bail, of course, is nominally the province of the government, but as with certain toll roads and various crucial functions of the military, it has lately seen a wave of privatization. Over the past two years, a handful of the hottest criminal cases involving the famous and the wealthy have led to the hiring of specialized Manhattan firms like Casale's. Such firms, which also do private investigations and other security work, are stocked with retired city officers and former federal agents who tend to make the shift quite naturally from, say, protecting snitches at the Motel 6 in Scranton to watching over Wall Street cheats returned to their ample apartments.
But the new arrangements are complicated by several questions, including: Whom are the monitors really serving — the judge who devised the terms of the release or the defendant footing the bill?
"The client is the court," said Ed Stroz, a former FBI man and a co-founder of Stroz Friedberg LLC, which took over the Madoff monitoring from Casale after several months. "This is not a valet service. This is like jail outside."
Casale was not so certain.
"It's a complex issue," he said. Would you, as a bail guard, reprimand the man who signs your paychecks? Lock him in the bathroom? Tackle him if he ran out the door?
Then there are the sociological implications of letting the rich drop wads of cash on the sensitive scales of justice while criminal suspects of modest means languish behind bars.
"There's no doubt about it: Privilege has its privilege," said Casale, a broad, bearish man with a happy capitalist pluck. "The thing is," he posited hypothetically, "I happen to own a body shop that specializes in Mercedes. So what am I supposed to say? That you can't drive a nice Mercedes-Benz?"
When Marc Dreier was arrested last December in a US$400 million fraud case in which he sold fake debt to a number of New York hedge funds, his lawyer, Gerald Shargel, understood at once what he had to do. Dreier's assets had largely been seized or frozen by the government and he lacked the cash or property to post a convincing bail. So Shargel, a creative legal thinker, reached deep into his playbook and suggested that his client be released into the custody of a team of private guards, paid for mostly by Dreier's family.
"What guards do is put a mechanism in place that reassures the court," Shargel explained. "There are people on site" — people with guns, it should be said — "who are there to make sure that the conditions are enforced."
The company he hired — for US$70,000 a month — was Pathfinder Consultants International, a security firm founded last year by Philip Scala, a retired federal agent who once ran the FBI's Gambino family squad. The company's president, Robert Hart, himself once an agent, helped devise a protocol for Dreier in accordance with the court's elaborate orders: 24-hour lockdown, no access to the balcony, no Internet service, no cellphones, a highly restricted visitors list and, perhaps most chilling, Dreier's written consent for the guards to use "reasonable force" if he foolishly chose to run.
"Prior to the assignment we did a walk-through of the apartment," Hart recalled. "Conventionally speaking, security sweeps like that are designed to stop people from getting in. This one, of course, was designed to stop people from getting out."
To that end, Pathfinder brought in locksmiths to disable the locks at Dreier's 280m² East Side apartment, hired an alarm company to install metal contacts on the front and balcony doors, and advised the building's staff that all visitors would have to be announced and then escorted upstairs by an armed guard after signing into a logbook. Dreier's computers were tapped, his mail was screened, a midnight curfew put in place. Anything sharp — steak knives, scissors, razor blades — was removed from the apartment. The elaborate home entertainment system was dismantled. The telephones were neutered: no call forwarding, no call waiting, not even caller ID.
"If anyone believes it's better to be at home than at the MDC or MCC," said Hart, referring to the city's federal jails, "he's never been at home with armed guards in his living room 24 hours a day. You can't go out, you've got no access to computers and you're living in earshot of someone paid to watch your every move."
Naturally, this can come as quite a shock, especially to white-collar defendants who, before their arrest, lived in breezy freedom and with relative levels of comfort and respect, probably surrounded by aides tending to their whims, not guards restricting their movements.
Scala, in a moment of candor, recalled how Dreier, fresh from the indignities of the lockup, was happy to be home but nonetheless stunned by how his apartment had been transformed into something like a large and well-appointed cell.
"Day 1, two investigators from the Southern District drive him to his place at Beacon Court," Scala said. "He's got a full-growth beard, he's dazed, he's not even really talking. He's just so thrilled to be out of the MDC.
"So we sit him down and speak to him diplomatically: This is who we are. This is our role. And finally he says, 'Let me get this straight. There's going to be a guard in my condo 24-7?'"
Anthony Valenti, a former federal investigator who is now managing director at Stroz Friedberg, suggested that this "intellectual change" — watching one's castle suddenly transform into a dungeon — can be difficult to take.
"Ugly scenes at kitchen tables," he said, are not uncommon.
"Think about a rainy day — or even three in a row," Valenti said. "You're stuck in the house, you can't go to the gym, you've got a bad case of cabin fever. Now multiply that by 67 weeks. Sometimes the subject accepts his fate and sometimes he lashes out."
Dreier, for one, was driven half-wild in his five-month stint at home by the former federal agent in his living room who spent his eight-hour shift talking on his cellphone not only nonstop but also at an excruciating volume.
"There was a time when he would have simply told the guy: 'Enough. Do you know who I am? I'm Marc Dreier,'" one of his lawyers said. "But at that point, the guy basically ran his life."
Bail, as it is known today in the US, derives from the Habeas Corpus Act passed by the English parliament in 1679, which states, in part: "A Magistrate shall discharge prisoners from their Imprisonment taking their Recognizance, with one or more Surety or Sureties, in any Sum according to the Magistrate's discretion."
What is often misunderstood is that the practice is not meant to be punitive, and that the law actually favors granting bail. There are only two reasons to deny it: when defendants present a flight risk or a danger to the community. Of course, within that framework, there is ample wiggle room for lawyers to argue for bail by offering ever more sophisticated provisions to be certain that their clients do not abscond from Brooklyn to Bolivia.
It is generally acknowledged that the first case of highly monitored bail was that of John A. Gotti, the son of John J. Gotti, the Gambino family don. He negotiated his release from jail in October 1998 with a US$10 million deposit and oaths to wear an electronic bracelet, allow his phones to be monitored by the FBI and permit a full-time guard to be posted outside his home in Oyster Bay, New York.
More restrictive still was the case of Mahender and Varsha Sabhnani, a wealthy couple from Muttontown, Long Island, who were charged in 2007 with enslaving and torturing two Indonesian domestic workers at their home. While awaiting trial in Brooklyn, the Sabhnanis were released on an unheard-of condition: that private guards be placed in the house. (Both Sabhnanis were convicted and sentenced to prison; their maids were awarded nearly US$1 million in back wages.)
The US Court of Appeals for the 2nd Circuit, when considering the Sabhnani case, immediately recognized the implications of the groundbreaking arrangement, but more or less dismissed the problem in a footnote.
"The government has not argued and, therefore, we have no occasion to consider," the judges wrote, "whether it would be 'contrary to principles of detention and release on bail' to allow wealthy defendants 'to buy their way out by constructing a private jail.'"
Sabhnani's lawyer, Stephen Scaring, said that bail babysitters for the rich were not only legal but also a simple fact of life.
"Donald Trump flies in his own plane," he noted. "The rest of us fly coach."
The Dreier case produced a legal document that dealt head-on with the equity of the practice: an order composed by Jed Rakoff, a federal judge in Manhattan, who wrote, in a memorable opening line, "How glorious to be an American citizen." While Rakoff eventually condoned bail monitoring in his order, he seemed to do so with hesitation in his heart.
"It cannot be gainsaid that many kinds of bail conditions favor the rich," he wrote, "and, conversely, that there are many defendants who are too poor to afford even the most modest of bail bonds or financial conditions of release. This is a serious flaw in our system. But it is not a reason to deny a constitutional right to someone who, for whatever reason, can provide reasonable assurances against flight." ("What am I supposed to say? That you can't drive a nice Mercedes-Benz?")
So far, according to interviews with lawyers and the security firms that serve them, there have been a half-dozen cases of home confinement with bail monitoring, as the practice is formally known: those of Gotti, Madoff, Dreier, the Sabhnanis, David Brooks (a wealthy financier indicted on a fraud charge in 2006) and Cameron Douglas, the son of Michael Douglas, who was arrested this summer on a federal drug charge after being found with what the authorities said was about a half pound (230g) of methamphetamine.
This universe is so small because the variables that go into bail-monitoring cases rarely occur together. What is required, first of all, is a defendant responsible enough to be let out of jail but risky enough to need watching. At the same time, the defendant must have the means to afford round-the-clock surveillance at rates that can reach six figures a month.
There is fierce competition — "friendly competition," Scala said — for the limited number of bail-monitoring cases, which after all are highly lucrative and mainly involve, after the initial setup, hanging out with people at their home. Casale, for one, would not talk in detail about his action plan for guarding Madoff, calling it his "recipe for cake," then quickly adding, "and I sell cake."
"It's intellectual property," he explained. "You think you can walk into the Four Seasons and get hold of their recipe for duck? Well, you can't. Not even if you're Ruth Reichl."
Still, it's possible — even likely, the monitors say — that these plum jobs will increase as investigative agencies turn more of their attention toward Wall Street.
"I think there's a feeling that, with more of these people being arrested, there's a likelihood that judges will make it available for people who can pay," Scala said. "One can only guess what's going to happen as the facts come in on Bear Stearns, Merrill Lynch, Lehman Brothers, Bank of America and the rest. Once that information starts flowing to investigators, agencies will all of a sudden hold people accountable for the economic crash."
And once that happens, you may be seeing a lot more financial types hiring the services of a nanny — not for the kids, but for themselves.
Comments will be moderated. Keep comments relevant to the article. Remarks containing abusive and obscene language, personal attacks of any kind or promotion will be removed and the user banned. Final decision will be at the discretion of the Taipei Times.