Venetians fear for their cultural heritage
Jobs have disappeared to the mainland, tourists now outnumber residents and locals fear the Queen of the Adriatic is in danger of losing her soul
As the remaining carnival confetti was cleared from the narrow, labyrinthine streets of Venice last week, residents emerged here and there from behind closed doors to watch bleary-eyed revelers stream down the Strada Nuova on their way back to Milan, London, Tokyo and beyond. At the Casino, housed in a palazzo perched on the Grand Canal, organizers totted up the numbers — 1 million visitors; hotels 95 percent full and 100,000 packed into St Mark's Square to watch a woman dressed in white wings descend on a wire from the bell tower of St Mark's Basilica.
Alongside the jubilant carnival managers stood Massimo Cacciari, the heavily bearded, stick-thin mayor of Venice who still comes across as the distracted philosopher professor he was before seeking election. Given the stellar returns from his city's latest masked spectacle, Cacciari seemed subdued. And as the carnival-goers left he had good reason to be.
For months now, Cacciari has been under attack from locals who believe that he is failing to protect the soul and vibrancy of perhaps the most beautiful city in the world. There was outrage when the mayor allowed the erection of massive advertising hoardings in St Mark's Square, which Cacciari claims are essential to pay for the upkeep of the city as Prime Minister Silvio Berlusconi's government squeezes funding.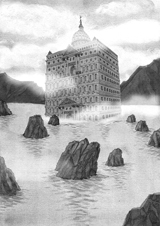 There was further restlessness when officials announced the installation of 60 Coca-Cola vending machines in the city's piazzas, in return for 2.5 million euros (US$3.2 million) over five years from the drinks giant. The deal has a whiff of double standards, critics argued, since the city has been sending out "decorum" patrols to stop tourists picnicking in St Mark's Square and dropping Coke cans in canals.
But Cacciari again pleaded poverty, arguing: "We need a financial strategy to save our cultural heritage."
And then there are the growing number of Venetians, such as Matteo Secchi, the combative son of a Venetian wine merchant, who has been totting up some alarming numbers of his own. Every week Secchi heads to the town hall to check on the number of residents in Venice. Almost every week that number is lower than the week before. Armed with the latest grim statistics, Secchi updates the electronic board he has erected in a shop window near the Rialto bridge.
Venice, as a lived-in city, is dying. A population that peaked at 164,000 in 1931 is now hovering at around 60,000. Since about 20 million tourists pour in each year — 55,000 a day — it's a safe bet that most days there are now more tourists than locals in Venice.
"The number of locals has dropped 600 since we started counting last March and we are set to go under the psychological 60,000 barrier in May," said Secchi, who heads a residents' group, Venessia.com, which is planning a procession to mark the occasion. "We will hold the funeral of Venice and take a coffin down to the town hall."
Secchi and the 600 members of Venessia.com did not stay at home during the carnival, but organized their own protest party for residents by the Rialto, dressing up as native Americans.
"Tourists were welcome, but the point was to show we feel like we are living on a reserve," Secchi said.
Leaflets in five languages said: "Our cultural identity is at risk of dissolving if Venice becomes a theme park — we Venetians will not surrender!"
Co-hosting the party was Venice's second new activist group, 40xVenezia, which has been battling against the creeping colonization of houses and apartments by bed-and-breakfasts and rental agencies, which pushes up rents and property prices beyond the reach of locals.
"We believe 1,000 homes were lost between about 2002 and 2007, and we have been kicking up a stink about a new proposal to allow hotels in Venice — a very powerful lobby — to turn more houses into tourist-based accommodation, which would be devastating," activist and lawyer Francesco Versace said.
EXODUS
By the time all the bed-and-breakfasts arrived in Venice, thousands of locals had already packed up and left. The exodus became marked in the 1970s and 1980s, when Venetians, exasperated by the aftermath of the floods of 1966, fled toward the promise of a house on the mainland with a garden and a car in the garage. The jobs, too, were migrating to the mainland. As the old industries on the Venetian island of Guideca, notably the manufacture of watches and components for bombs, died out, the new place to look for work was in the chemical factories around the mainland town of Mestre nearby.
When the February carnival tradition was revived in the 1970s, in the hope of attracting tourists in greater numbers, many locals thought of it as a last hurrah for the old city. Former Venetians now living in Mestre still recall the 70s carnivals as a kind of collective goodbye party.
Enrico Crosara, 40, would love to join his mates in Mestre, but as a baker working in Via Garibaldi, close to the walls of the old shipyards, his early shifts rule out the long ride in from the mainland. So he stays in a city whose habits he no longer recognizes.
"It's like a curfew after dark, there is just nothing to do," Crosara said.
He remembers the area bursting with life and a sense of community when he was a child. Now, the doors are bolted and white sheets flap from occasional washing lines like flags of surrender.
Next door, at the association for World War II partisans, Renzo Fae, 65, is yelling down the phone in Venetian dialect, giving an elderly local tips on how to fill in his pension form.
"This used to be a very tight community," Fae said, after putting the phone down.
"Locals would take their honeymoon near St Mark's Square, less than a mile away," he said.
Matteo Secchi passed this way as a child, en route from his home sestiere, or neighborhood, of Cannaregio, to see Venezia play soccer at the stadium built at the tip of the city.
PLAYING PIRATE
"Back then, visiting fans used to come in by boat under escort and there were always plans to play pirate and board them by force," Secchi said. "After games, we would play against neighboring squares or just gossip. In such a small place news traveled fast, so I would walk down to the bridge and everyone would know what I had been up to."
Today Venezia have dropped from Serie A to Italy's third division, a decline bemoaned by the men who gathered last week at a backstreet supporters' club for a mid-morning glass of red wine.
"Membership here has halved to 111 since the 1970s and those left are all old," bar worker Rosa Ferruccio said.
Across from Crosara's bakery there has been a church since the 14th century, when Venice's empire spanned the Mediterranean and the local population was already close to 150,000. Today, the cavernous interior of the church of San Francesco Di Paola, complete with a Giandomenico Tiepolo painting, draws as few as eight worshipers to mass.
"We did get 150 in for Ash Wednesday," priest Don Giuseppe Faustini said. "And we do fill up for funerals."
The city's predicament is compounded by the fact that even the death of Venice is taking place somewhere else, says Ernesto Fabris, a local stonemason.
Fabris is one of six remaining gravestone specialists whose workshops are tucked away down the narrow streets opposite the island of San Michele, Venice's cemetery.
"There used to be a lot more of us tagiapiere round here," he said. "But annual deaths in the Lagoon are now just 1,200 a year, 30 percent down on 20 years ago."
As he spoke, he watched his brother rub gold leaf into the lettering on the headstone for a recently deceased gondolier, one of the few trades still on the up.
Fabris also battles costs and delays his mainland competitors do not face. With a small, dusty storage space down at the end of a dark, fetid alley, he cannot order stone in bulk.
"One tonne of white marble cut into 40 slabs that we ordered recently took four men two days to wheel, slab by slab, from the quay to the lock-up," he said.
STREET LIFE
As the local population dwindles, the tourists are slowly killing off the same Venice street life that they dream of witnessing close up, said postal worker Orietta Sinibaldi, 50.
Sinibaldi works around Salizada San Francesco, where a cluster of neighborhood shops huddle just next to St Mark's, protected by a network of back streets that has apparently left traditional lifestyles intact.
"It may look that way, but even here the tourists have cut into a space in which Venetians used to live," Sinibaldi said.
The "decorum" patrols that sometimes pounce on tourists should they dare to eat a sandwich in the street are an attempt by the authorities to address some residents' complaints without scaring away the city's principal source of income.
"Tourism is the biggest business in town and the key is decorum," tourism assessor Augusto Saladori said.
But Michela Scibilia, a graphic designer who moved to Venice 22 years ago, said Saladori was missing the point.
"This town needs the kind of tourists the Biennale and the film festival bring, not necessarily rich, but certainly not the huge groups that follow raised umbrellas. The city was sold off cheap to the hoteliers, water taxi operators and shopkeepers, who got the chance to make money and now Venice has the mass tourism it deserves," Scibilia said.
Scibilia, 43, a mother of two, is one of the 1,500 members involved in the lively debate on 40xVenezia's forum, that includes academics, architects, lawyers and priests. The group has revived neighborhood festivals and gathered signatures to keep the local maternity ward open. It is now campaigning against the garish display that Venice plans to take to the Shanghai Expo next year, complete with a water-filled canal.
"It looks like the fake Venice in Las Vegas," Scibilia said. "If you promote the city like this to millions of potential Chinese tourists they will come and just object to the smell of the canals and the fact there is nowhere to pee."
Working out of a restored palazzo with its own boat moored by the back door, Scibilia represents a new generation of Venetians who have settled to find a quality of life absent in Italy's car-clogged towns.
"I met four people I needed to see this morning walking to school. Where else can I have a village life in an international city?" she said.
INTERNET
For those bucking the trend by moving in, the Internet is proving crucial. Once a week Scibilia orders vegetables from an Excel file e-mailed by the vegetable-growers on the lagoon island of St Erasmus and joins a queue on the quayside to pick up her order when the boat comes in.
"This does not have to be a city stuck in the past," she said. "When experts dream up perfect cities, without cars and livable, it's Venice."
But back in Via Garibaldi, a filled-in canal which is the nearest Venice has to a high street, a handful of shoppers tightened their coats against the cold last week as they passed the numerous boarded-up shop fronts.
Watching them from the till at the bakery, Enrico Crosara's mother Angela said she was not so sure Venice was set for a rebound.
"Ten years ago there were four of us behind the counter and the queues stretched out the door on a Saturday morning," she said. "Now there are two of us and we spend most of the time staring out the window."
Comments will be moderated. Keep comments relevant to the article. Remarks containing abusive and obscene language, personal attacks of any kind or promotion will be removed and the user banned. Final decision will be at the discretion of the Taipei Times.