Looking for ways to stave off recession
Many economists see a recession as inevitable now and say several factors would decide how widespread and painful it is and how long it lasts
In South Korea, exporters are suddenly struggling. In India, industrial growth has slowed substantially. In Sweden, Volvo is cutting thousands of jobs. In Japan, which thought it was immune to the current market chaos, a credit squeeze seems to be forcing small companies into bankruptcy.
Around the world, fears of recession have fed a stock market panic, as worries about toxic assets spread from the financial sector to the credit markets and now to the broader economy. Companies from Germany to Asia are hoarding cash because credit markets are tight. The sheer uncertainty of it all is upending plans for businesses to expand. Consumers have pulled back, just as they received some relief from high oil prices.
Even credit-worthy companies cannot get money in Europe. And across Asia, export growth has slowed to a crawl or started declining in real terms — and that was before US retailers announced steep sales declines last Wednesday.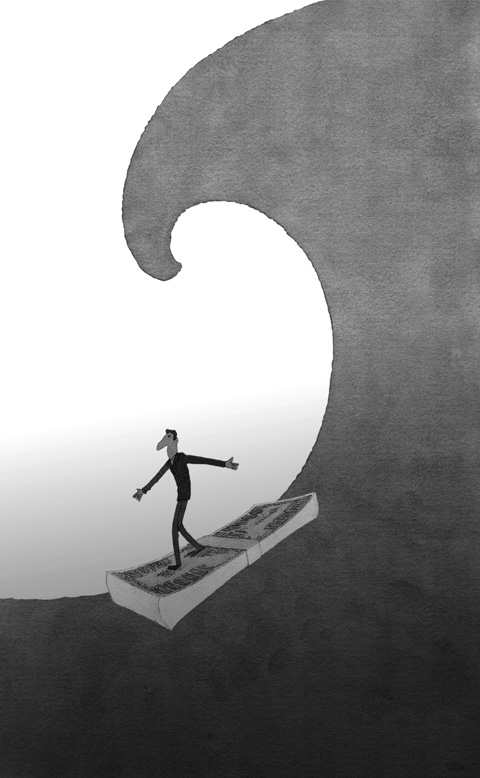 The US, once the engine of the global economy, is ailing and in no position to inspire confidence, much less point the way around or out of recession. Americans are seen as both the root of the problem and powerless to solve it.
But no government effort has been able to stanch the bleeding — even the unprecedented coordination of central banks on three continents, which only generates more fear.
The liquidity provided by the European Central Bank, for instance, seems to be going through a revolving door. After releasing billions of euros into the market, the bank took in a record 102.8 billion euros (US$139.3 billion) on Sept. 30 and 64.4 billion euros last Thursday for banks. Instead of lending their spare cash to each other or the rest of the economy, banks have parked it with the central bank at ultra-low interest rates.
"No sane banker with good contacts and clients would do this," said Erik Nielsen, chief Europe economist at Goldman Sachs in London. "It would be a huge arbitrage profit if they wanted to lend, but they don't."
The short-lived notion that Asia had decoupled from the US, and was now operating independent of the American business cycle, is all but dead. Asia is the biggest beneficiary of the rise in global trade over the last two decades. Its corporate earnings, real estate prices and much more are dependent on a steady inflow of US dollars and euros through exports to the West.
But the IMF predicts growth in the 15 nations that use the euro will fall during the second half of this year and barely rise next year. (And that estimate was prepared in advance of last weekend's IMF and World Bank meetings in Washington and was already considered out of date by many experts.) Britain, the only major European economy outside the euro zone, is expected to shrink through next year.
Many in Asia, despairing of help from the West, are looking toward Beijing.
"The United States is beyond saving — our only hope rests with China," Dick Chen, a middle-age manager, dressed in a blue pin-striped shirt carrying an ultra-slim mobile phone, said as he watched the markets with dismay on Friday in a Hong Kong trading room.
True, for the last six years, the Chinese economy has charged ahead despite every obstacle. In fact, Beijing was more concerned about the economy overheating and spurring inflation. So China ran a budget surplus, repeatedly raised interest rates and required banks to deposit a remarkable one-sixth of their assets as reserves to the central bank.
But facing slower growth, Beijing is suddenly trying to goose its economy by cutting interest rates and taxes and lowering reserve requirements. But the government is finding the economy is already looking a little out of breath.
Economists see annual growth slowing from 12 percent a year ago to 8 percent or 9 percent this winter.
South Korea is already hurting.
"The problem is the global recession — people don't buy consumer electronics, this means less exports and fewer dollars for us," said Choi Hae-pyong, an electronics parts manufacturer south of Seoul. "It's like walking in a thick fog."
Lower exports have an impact throughout Asian economies, on real estate for instance. As long as the region kept exporting and kept saving the proceeds, investors bid up real estate and share prices. Now prices of both have a long way to fall.
Last week showed the first concrete signs that the financial crisis may be starting to damage Japan's broader economy. On Wednesday, Tokyo Shoko Research, a market research company, released data showing the number of corporate bankruptcies jumped 34.4 percent last month from a year earlier, to 1,408 failures, a five-and-a-half-year high. Economists said the increase might reflect a growing credit squeeze in which Japanese banks cut back on loans to smaller, lesser-known companies.
Since the middle of last month, lending to even credit-worthy companies has dried up in Europe.
In March, for example, Thomas Serval arranged a 3 million euro private equity investment for his small French company, which develops Bluetooth devices to read data from bar codes, ubiquitous in modern commerce. But he is carefully nursing the money.
Serval, like other business executives in Europe, has had to cancel several projects because his suppliers could not get loans. His banks now refuse unpaid invoices as lending collateral, a recent reversal of their longstanding policy.
Banks, in a fashion, are blaming consumers. Steven Cooper, managing director for local business banking at Barclays, said some small businesses simply failed to accept that their businesses would make less money in the future. Unemployment is rising, sapping the client base of restaurants and hotels, but nervous suppliers are often demanding more money up front, squeezing businesses on both.
And that is why government actions — from the US$700 billion bank bailout in the US to the coordinated cutting of interest rates by central banks last week — have had little effect on freeing up money and getting banks to lend to each other or their customers.
For instance, Cooper said easing the cost of credit would not make Barclays' clients more creditworthy in a downturn.
"It's not just about the cost of funds. Credit is risk-weighted and the risk in the economy is not necessarily changed by this," he said.
Many businesses have already started to retrench, like the European auto industry.
Volvo said it would eliminate 2,700 jobs in Sweden and an additional 600 abroad in response to what it called the "rapidly deteriorating market situation." Opel, the German subsidiary of General Motors, temporarily shut down two plants to accommodate the steep falloff in demand.
Carlos Ghosn, the chief executive of Renault, said bluntly last week that the credit crunch left him with no choice but to start hoarding money. He predicted a "prolonged and strong" recession.
"We have to be very cautious in the use of cash by slowing down investments, reducing inventories and activities," Ghosn said. "That means losses and this will add to the financial burden."
Many economists see a recession as inevitable now. Several factors will decide how widespread it is, how painful it is and how long it lasts.
There is still the possibility, of course, that some confidence could be restored if leaders meeting in Washington over the weekend come up with a cohesive plan, in particular, one that involves governments insuring bank deposits or interbank lending.
The other hope is consumers. If European or American consumers keep spending, that too could at least stave off the worst of a downturn. But Americans have pulled back and retailers expect a dismal holiday shopping season. And the downward spiral of financial events since the bankruptcy of Lehman Brothers on Sept. 15 has eviscerated European business and consumer confidence.
If Asia can move from an export-driven economy to a consumption-driven economy, it could keep Asian factories chugging along and perhaps generate some demand for American and European exports. But Asians are used to saving, not consuming.
Comments will be moderated. Keep comments relevant to the article. Remarks containing abusive and obscene language, personal attacks of any kind or promotion will be removed and the user banned. Final decision will be at the discretion of the Taipei Times.