UK school pioneers participatory education
A new report published in the UK calls for a different approach in schools, with children playing an active part
Turn off the main road in Cramlington, 14.5km north of Newcastle, on the new east coast of England, and you come to a flat, wind-swept open space. On one side there's a fenced-off building site; on another there are some low-rise buildings from the 1960s and 1970s that look well past their prime. It's somehow hard to reconcile all this with anyone's shining example of a school in the last century, let alone in this century. And yet a new report published by the UK-based Innovation Unit suggests that is precisely what Cramlington community high school should be.
The report What Next? Twenty One Ideas for Twenty First Century Education by Charles Leadbeater is a synthesis of the current best practice in six schools (or groups of schools) that have been working closely with the Innovation Unit over the past 10 years. Leadbeater's earlier report, Personalisation Through Participation, helped kick-start the slow drift towards personalized learning in UK education policy, and his recent book, We Think (published by Profile Books), argues that participation will become the central organizational basis of society.
He believes that schools that don't understand — or pay attention to — their changing relationships with their pupils and their communities are the ones that struggle.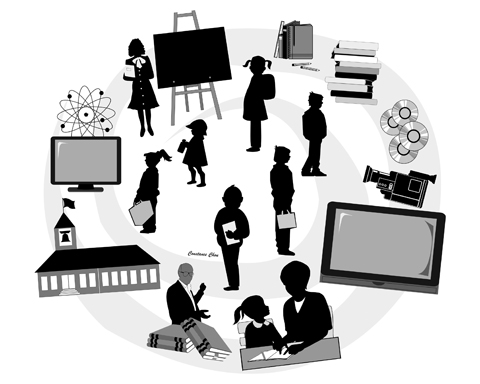 "Learning can no longer be seen as something that is done to children by teachers," he said, "nor even as something that happens only in schools between the hours of 8:30am and 3:30pm. It is now something that can happen at any time and in any number of different ways; schools have to be able to adapt to these new circumstances and continually reinvent themselves to find new ways of engaging with their students."
This might all sound a bit theoretical and idealistic for some tastes, but Leadbeater insists there are schools that are doing just this and the people who are leading them, far from being idealogues, are pragmatists.
"This isn't about abandoning the standards agenda," he said. "Every headteacher understands they need to do a good job in terms of delivering good academic and league-table results in order to get any legitimacy for what they are doing. Rather it's about understanding that qualifications aren't the only goal of an education, and that there are different — and often better — ways of making sure that children leave school with the cognitive skills they will need as adults."
So what's the blueprint? Leadbeater suggests you need a strong leadership team with charisma and vision that can first establish a sense of order. You can't turn around a failing or under-performing school unless you have a sense of structure that everyone both recognizes and knows will be enforced. He also argues that size does matter: just as relationships cease to function as effectively in big groups, so too do schools, and he would like to see the large schools broken up into a number of smaller schools — much as has happened in parts of New York City.
The trouble is you can't be too prescriptive. It's not just that there are pitfalls in any system — breaking up large schools can institutionalize segregation by effectively creaming off the highest achieving kids into one school and the more challenging into another — it's also that, by definition, personalized learning is personal, both to the students and the school concerned. So any school that tries to imitate another too closely is almost bound to get it wrong. All anyone can really do is pick and choose the relevant bits from schools that are getting it right. And one that is getting it more right than most is Cramlington.
In a few weeks' time, Cramlington community high school will cease to exist. Come September, it will be the Cramlington learning village. This may seem a cosmetic detail — after all, no one seriously expects the kids to say they are going to anything other than school. Yet Derek Wise, the headteacher, argues it is much more than that. It not only reflects a change in the school's status — Cramlington is going from 13-to-18 year (or grade) to 11-to-18 year, hence the building site, which will morph into a new year 7 (11-to-12-year-olds) and 8 (12-to-13-year-olds) block — it also demonstrates a clear sense of purpose.
"We want to break down the idea of the school as an institution where children have no say in their education and replace it with one of an institution where they learn the things that are important to them, at times and in ways that are relevant to them," he says.
Looking around the school, you begin to get a feel for what he means. Timetables are arranged to suit learning needs, rather than being regimented into strict 45-minute blocks. So if a lesson needs to last 75 minutes, half a day or even a whole day, then it does. Students are also given timetabled lessons in "learning to learn," where they are shown how to make best use of their time and to conduct proper inquiry and research. There are designated learning mentors, with each student given a six-weekly review. Homework is set a half-term in advance and, while there are some set topics, students are also given options that allow them to approach the subject in a way they want.
The only real limitations are money and space: Cramlington gets the same budget as any other school and some of what it wants to do in terms of group and personal learning is restricted by classroom design. But even here it has used its ingenuity to reconfigure an existing block to allow a whole year group to work together with a team of teachers, and its new year 7 and 8 building has been designed around the concept of inquiry-based learning.
"We want to encourage students to take responsibility for their learning," said Julie Mosley, the assistant headteacher who has been part of the team writing the curriculum for the new age groups.
"And this means they will have some input into how their lessons are structured and, to some extent, what they learn and when. It's not some airy-fairy fun syllabus, though. There is a clear progression and a body of knowledge that must be covered. The difference is that, by giving the students some independence, they will actually learn more than the basics required of them," she said.
The Cramlington kids are no paragons; they're just as stroppy and difficult as teenagers in any other school.
As science teacher Kenny Brechin said, "Our kids will always ask the question: 'Is this lesson good enough for it to be worth my while to behave?' And if they can't see the point, they won't."
And the message seems to be coming back that, more often than not, they do see the point. When Derek Wise took over the school 18 years ago, its reputation was iffy and its exams pass rate hovered at around 40 percent. Now, after a bit of initial stick and a lot of subsequent carrot, the pass rate has risen to well over 80 percent.
What it does require is confidence.
"You have to be receptive to new ideas and be prepared to go with them," Wise said. "When we first introduced 'learning to learn,' we only timetabled one lesson per week in whatever room we had spare. Unsurprisingly, it didn't work nearly as well as we had hoped. Some schools might have just given up on them at that point, reckoning they were a bit of a non-starter. We talked it over with the staff and reckoned that it failed because we didn't back it wholeheartedly. When we did so, it really paid dividends — and we haven't looked back."
Wise is far too much of a diplomat to say so to me, but the confidence he talks about clearly also extends to telling the UK Department for Children, Schools and Families (DCSF) to back off from time to time and to protect his staff from some of the more ridiculous central diktats.
"What we are fighting is a dependency culture," said his deputy, Mark Lovatt. "Many teachers end up just spoon-feeding information to their students, because they know they are going to be judged on how they perform in exams and they are terrified of failure. So kids often end up bored and failing to acquire any independent learning skills that will benefit them later on. In some ways that teacher-student relationship is mirrored in that between the DCSF and schools: the DCSF doesn't really trust schools to deliver, so it micromanages them to the nth degree. And schools lose their ability to innovate as a result."
This raises some interesting questions about the Innovation Unit itself. The schools minister, Lord Adonis, is due to be present at this week's launch of Leadbeater's report, but it is anyone's guess just how far he and the government will be prepared to back up this support with hard policy to devolve more powers to schools to deliver learning in the way they see fit. The suspicion remains in many quarters that the Innovation Unit largely exists as a symbol to the teaching profession that the government is receptive to new ideas, while the DCSF technocrats have no real intention of decentralizing their control.
As with almost any report, you can read it any which way. Rather than looking for similarities in the Cramlington experience, you could just look for differences. You could argue that Cramlington's almost monocultural white intake makes it far easier to realize the idea of personalized learning than in schools where a large number of students may speak English as a second language and the range of possible provision is far less prescribed.
And you could argue that the level of teacher retention at Cramlington is well above the national average, helping to instill a sense of common purpose. But then so what?
Because the real point of Leadbeater's report is that excellence is a process, not a finite goal. And no one can really be sure what works unless they are prepared to give it a go.
Comments will be moderated. Keep comments relevant to the article. Remarks containing abusive and obscene language, personal attacks of any kind or promotion will be removed and the user banned. Final decision will be at the discretion of the Taipei Times.