Europe is learning to live with the mighty euro
European firms are no longer so reliant upon the US market, their raw materials are cheaper and the falling dollar has cushioned them from oil price hikes
When the euro tiptoed above US$1.30 four years ago, finance ministers from Germany, France and Austria wrung their hands about how it would hurt Europe's exporters, some muttering that the US should put its economic house in order.
Now, the euro is skirting US$1.60, and most Europeans are stoic.
While the currency continues to absorb the brunt of the dollar's decline -- the US Federal Reserve's rate cut on Tuesday will only add to the pressure -- Europe has learned to live with the almighty euro.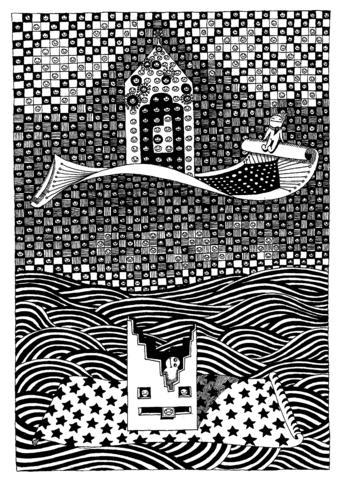 ILLUSTRATION: MOUNTAIN PEOPLE
Because of new markets abroad, leaner companies at home and the positive side effects of a weak dollar, European exporters have withstood the loss of competitiveness that comes with a buoyant currency.
Last week, as the euro rocketed into uncharted territory against the dollar, Europe reported a healthy gain in industrial output, with Germany, France, Italy, and Spain all chipping in good numbers. Exports in Germany rose 9 percent in January over the same month last year.
While a surging euro is indisputably a burden for Europe's exporters, making their goods more expensive in the US and dollar-linked markets, it has not yet had a sharp effect on Europe's economy, which continues to grow, although at a more subdued pace.
Anton Boerner, who leads an association of German exporters, said he viewed inflation as a bigger threat than exchange rates. At a recent meeting with two European Central Bank governors, he urged them not to lower rates, even though it would have taken pressure off the euro.
"Some of my members asked, `Was it necessary for you to say it that strongly?'" he recalled in an interview. "I said `Yes. We're not focused on quarterly results. We're looking for long-term results.'"
Boerner predicts that Germany will ship 1.02 trillion euros worth of goods this year, 5 percent more than last year. At the latest exchange rate, that works out to some US$1.6 trillion, enough to keep Germany neck and neck with China for the title of world's merchandise export champion.
"It's quite an impressive figure, given the situation with the dollar," said Boerner, president of the BGA or Federation of German Wholesale and Foreign Trade.
There are several reasons for Europe's resilience, not least the painful cost-cutting by its companies, which has made them globally competitive for the first time in a decade. Many exporters have relocated production outside Europe, where costs are lower and not denominated in euros.
A strong euro has its benefits, beyond giving European tourists an occasion to go on shopping sprees in New York. It makes imported raw materials cheaper for European manufacturers, and it cushions Europeans somewhat from the rising price of oil, which is traded in dollars.
The euro has risen 18 percent against the dollar in the last year. But economists point out that the trade-weighted exchange rate -- which measures the euro against a basket of currencies from its trading partners -- matters more. By that yardstick, the euro has risen a more manageable 8.6 percent.
With the development of the global economy, Europe no longer relies as heavily as it once did on the US for trade. While the weak dollar and the faltering US economy are hampering trans-Atlantic exports, shipments to Russia and the Middle East are booming. Germany, Italy and other European countries specialize in the kinds of goods -- sophisticated machinery and equipment -- for which these fast-growing countries have a seemingly bottomless appetite.
"Emerging markets and oil-producing countries are in a fantastic position," said Norbert Walter, the chief economist of Deutsche Bank. "They are a good underpinning for a considerable chunk of exports."
Still, these reassuring trends have not muffled the drumbeat of anxiety from some European executives and politicians. Many are convinced that Europe cannot ward off the effects of a weak dollar indefinitely. A collapse in exports would be a serious threat, particularly in countries like Germany, where consumers are not spending enough to fuel the economy.
"The longer we stay at current levels, the more the damage will be; it's only a matter of time," said Holger Schmieding, the head of European economics at Bank of America in London.
In the last three months of last year, he said, exports from the euro zone to the US fell 8 percent, compared with the same period in 2006. That trend is unlikely to turn around soon. And yet, order books are bulging at German machinery makers and other exporters.
BMW last week reported a 9 percent gain in profit in 2007, surprising analysts, despite the US being its largest market. The weak dollar hurt BMW, according to Norbert Reithofer,the chairman, but BMW made up for the loss with cost savings and strong sales.
BMW is moving to expand a so-called natural hedge against the rising euro, its assembly plant in Spartanburg, South Carolina. The carmaker said recently it would centralize production of its X Series sport utility vehicles at the plant, investing US$750 million and adding 500 new jobs.
Nor did the soaring euro prevent the European Aeronautic Defense and Space Co from scoring a landmark victory over Boeing, winning a US$35 billion contract from the US Air Force for it and a US partner, Northrop Grumman, to supply aerial refueling tankers.
EADS, the parent of Airbus, attributed its first annual loss in five years partly to the decline of the dollar. It said it would increase its currency hedging to offset the exchange rate. But the dollar's weakness will give Boeing a hefty advantage over Airbus.
Even in light of good cost control and the benefits of structural changes, "there's no way you can easily digest such a massive shift in exchange rates," Walter said, adding that in the last seven years, the euro has nearly doubled against the dollar.
While there are occasional eruptions of anxiety, politicians and executives here have avoided calling on the European Central Bank to intervene in the market to curb the rise of the euro. Few have even demanded lower rates, which would make the euro less attractive to investors.
In part, this is because the bank's president, Jean-Claude Trichet, has rebuffed efforts to put pressure on the bank, notably the remarks last fall by French President Nicolas Sarkozy.
Trichet himself has expressed some concern in recent days about sharp movements in exchange rates. But he has placed his emphasis squarely on the weak dollar, noting that US officials always say that a strong dollar is in the interests of the US.
In part, the public quiescence about the euro is because business is still strong.
"The order books look good," Schmieding said. "It's difficult for companies to complain while exports are still rising."
Walter, however, said he was not comforted by full order books.
"It's not the intake of orders that matters," he said, "but the cancellation of orders or requests for delays in shipments."
Has that begun?
"We haven't seen it yet," he said, "but we could begin to see it."
Comments will be moderated. Keep comments relevant to the article. Remarks containing abusive and obscene language, personal attacks of any kind or promotion will be removed and the user banned. Final decision will be at the discretion of the Taipei Times.