The vision of a chemist
An essay in honor of Taiwanese Nobel laureate Lee Yuan-tseh on his 70th birthday
In about 1965 I was introduced by Bruce Mahan, at the University of California, Berkeley, to a freshly minted doctoral student. A pair of bright eyes examined me from behind an ion-beam machine.
The eyes belonged, of course, to Lee Yuan-tseh (李遠哲).
The apparatus he was hiding behind, had I been astute enough to realize it, was an ancestor of the fabled molecular-beam machine that Lee and Dudley Herschbach (Herschbach being already recognized as a pioneer of molecular-beam chemistry) would construct at Harvard a couple of years later.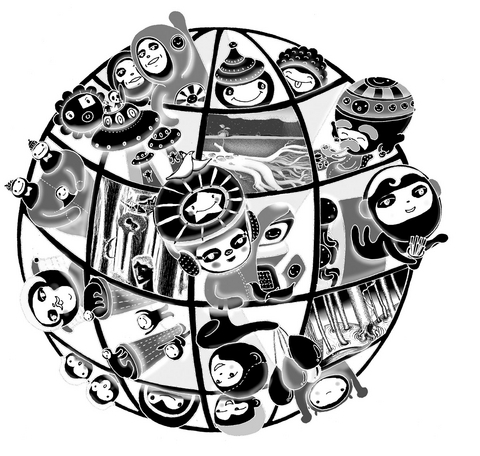 Lee's experimental brilliance was never in doubt, from the time that he reached Herschbach's laboratory at Harvard.
There I found Herschbach dancing with delight at his good fortune in having snared a co-worker with magic fingers.
Lee's talent was to know when to design methodically, and when to take a leap of faith. With that combination of skills one can also become a leader far beyond the confines of the lab.
It is, in fact, a talent that chemists cultivate. Since they have daily experience with the insoluble, they have ideal background for high-level administration.
It was many years, however, before Lee decided on that fateful change of career, but first I want to look back to one of the first of the chemistry Nobels -- Svante Arrhenius.
His breadth of vision was evident in his ability to see the landscape of chemical reaction, with its mountain ranges that separate chemical reagents from products. These barriers to reaction provide us with a limited amount of protection against the otherwise deadly effects of warming.
Few know that 100 years ago Arrhenius was thinking in terms not only of chemical change, but also climate change. Moving beyond the confines of chemistry, Arrhenius pondered the conundrum of the Ice Age.
Most of the planet was once covered by a sheet of ice. It was Arrhenius who first made the connection between that prehistoric period and the possibility of future global warming. He was astute enough to see that the clue might lie in changes in a trace constituent of the atmosphere: carbon dioxide. In this he was much ahead of his time.
Arrhenius made his observation on the basis of a feat of calculation.
Here the chemistry of human relationships comes into play, for it was in the same year of 1896 that Arrhenius' marriage collapsed. He consoled himself by spending 14 hours a day in calculation.
By the end of the year Arrhenius was able to conclude that a small reduction in concentration of carbon dioxide, present as only one part in a thousand in the atmosphere, could actually have caused the Ice Age.
His imagination did not flag. Might it not be possible, he asked himself, to show that this change in carbon dioxide concentration could result from human activity?
Could it be that far from being threatened by a new Ice Age, we were now generating enough carbon dioxide to cause significant warming?
He resumed his frantic regime of calculation. His wife had long since left.
Finally, he arrived at the result that the consumption of coal in the 19th century could indeed have been sufficient to cause a very significant doubling in the atmospheric concentration of carbon dioxide.
At this point Arrhenius asked the wrong question. Shivering in the Stockholm winter he began to calculate whether it would be possible to deliberately accelerate the global production of carbon dioxide so that the climate in Stockholm would become more bearable.
Then he dropped the entire question, and for half a century the world forgot this aspect of his work.
All the while, accelerating industrialization was accomplishing what Arrhenius had found so desirable -- polluting the atmosphere with industrial carbon dioxide to the point that only the most determined international effort will save us from climate changes that can be expected to cause vast social upheavals, including, it is to be feared, famine and war.
History can unfold at a rapid pace. Arrhenius, who died only a couple of years before I was born, lived for a considerable part of his life in a world in which the major source of power was a minor pollutant: the horse.
I remember my father describing to me his reaction when he first saw a funeral hearse powered by a motor, rather than being drawn by a horse. He fell to the ground, helpless with laughter.
"So now," he gasped, contemplating the accelerated pace of life, "the dead are rushing to their graves."
If he were alive today, he might be justified in asking whether the living are doing the same.
Scientists tend to ignore history. But they know one important part of history well -- the development of scientific thinking in the 20th century.
It is an inspiring story, with a moral. In the space of a lifetime fundamental changes took place in our concept of matter, of energy, of time and space, and of the nature of life and the origins of the universe.
The moral of this staggering revolution in thought is that humankind can change its perception of the world fundamentally in a short period of time, and that this can occur peacefully.
The human animal can learn. Indeed, given a life of dignity, it will embrace learning. Why else have we been given breath? There is hope, therefore, that we can address the great problems that face us -- problems of burgeoning population, exploding expectations and depleted resources.
How could chemistry contribute to this vital new understanding -- a revolution in thought? Chemistry, when I was a schoolboy, was famous above all for the fact that it smelled. Small boys referred to it as "stinks."
And so it did. At Manchester University one could find the chemistry department blindfolded.
For all that, chemists were the heirs of Arrhenius. Their horizons were as wide as the material world, and their philosophy was one of optimism.
Herschbach hid his abounding optimism, not too effectively, behind the oft-repeated phrase: "The difficult we can do right away, the impossible may take longer."
The impossible seems to be what is needed.
The way we shift the world is with the help of the spirit of the times.
When Herschbach, Lee and the rest set out on their scientific adventures, that spirit was to minimize. Art and architecture were stripped down to their bones. Ornamentation was out.
"The form a thing takes," it was being said, "should follow function."
What this meant was that the lines of a building should reveal its purpose. In chemistry this translated into the demand that chemical laws should reflect their molecular origins.
This was the new aesthetic. And now we celebrate the 70th birthday of the son of an artist (Lee's father was an accomplished professional painter).
His son, in the company of others, found a way to render the complexities of chemistry in the simple lines of intersecting beams. What could be more minimalist than this reduction of chemistry to encounters between the fundamental components of matter?
What, if we accept this notion of cultural unity, can we expect in the future from chemists and architects, including the architects of society as a whole, our leaders and our governments? Where else in society are we attempting to make "the forms things take follow their function"?
First of all there is the global movement to have governments made subject to their function. That function is to benefit the governed. This is a revolutionary concept, since throughout history governments have ruled by placing their own interests first. They have paid, therefore, too little attention to the concepts of compassion, of tolerance and the rule of law.
A story from the history of my own family may serve to illustrate the change. In the early 1930s my parents, hounded out of Hungary by one oppressive government and out of Germany by another, arrived in England with its tradition of liberalism. As in any country, there were, nonetheless, government regulations to be obeyed.
One such, now archaic, was that a radio had to be licensed. My mother took herself off to the post office where, for 10 shillings -- US$2, let us say -- one could purchase a year's license to use a radio. This went to the BBC, a government agency, to assist in the costs of programming.
Ahead of my mother in the line-up was an elderly lady (not as old as I am now, but about Lee's age) who was explaining to the clerk who issued licenses that she, this lady, objected to a radio program that the BBC had broadcast which involved a talking parrot. It was cruel, she felt, to make animals perform for public amusement. As a matter of principle, therefore, she was refusing to pay the full fee for her license.
At the end of a good deal of polite argument, it was agreed by the official that she would be given her radio license for the reduced fee of US$1.50 rather than the full US$2. My mother, listening to this from her place in the line-up, held back tears of delight.
The most hopeful sign of our times is the unprecedented respect for the individual that stems from the accumulation of such small but vital gains. We are still faced, in parts of the world, with intolerance and fanaticism. But the future belongs to the great movements of respect for individual conscience, coupled -- importantly -- with a new sense of individual responsibility.
The greatest service that Lee has rendered in a spectacular career, launched but by no means ended, is not simply in drawing attention to the role of the individual molecule, though he has done that, but in insisting on our common humanity -- that of those on this island, on the adjacent mainland, and around the world.
The pivotal moment in his life -- if I may make such a judgment -- is not to be found in 1986 with the award of a Nobel Prize by that astute committee in Stockholm, but in a decision that lay in his own hands, which was to return to this island and, as he rightly envisioned it, to this continent.
The saga of the young Lee headed out for Berkeley and Boston is one learnt by schoolchildren in Taiwan. But the saga that will be celebrated longer in public memory on both sides of the Taiwan Strait is that of the older and celebrated Lee who chose to return.
It is for this most of all that many thousands congratulate Lee on his birthday.
John Polanyi is a Nobel laureate in chemistry.
Comments will be moderated. Keep comments relevant to the article. Remarks containing abusive and obscene language, personal attacks of any kind or promotion will be removed and the user banned. Final decision will be at the discretion of the Taipei Times.