Korean nuclear deal is just the beginning
The signing of a six-nation statement of principles is being hailed by some as an important breakthough, but pessimists are questioning how easy it will be to get the North Koreans to stick to their side of the bargain
Progress could be slow in implementing and verifying the dismantlment of North Korea's nuclear programs, analysts said on Monday, as they warned against over-optimism following the agreement of a six-party statement of principles on how to end the programs.
"It is not true that everything is okay now that the statement has been issued," said Liu Jiangyong (劉江永), a professor at the Institute for International Studies in Beijing's Tsinghua University.
To expect that Monday's agreement would lead smoothly to a solution of the nuclear issue would be "blind optimism", Liu said.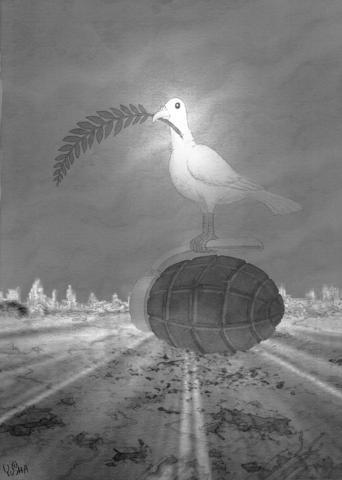 ILLUSTRATION: YU SHA
"The consensus now reached is only an intention, which was already quite difficult [to reach]," he added. "In the future, the difficulty is concrete implementation of the agreement."
"It is possible that there could be a time lag because of mutual distrust," Liu said.
US chief negotiator Christopher Hill also said the agreement, issued after more than two years of talks on the nuclear issue, would only begin a long process. "We need to work to see that it's implemented," Hill told reporters.
Zhou Yongsheng (周永生), a North Korea specialist at Beijing's Foreign Affairs University, said he was "relatively optimistic" about implementation of the agreement.
"But as to when it will be implemented, from the Democratic People's Republic of Korea's (DPRK) consistent style, it is hard to say," Zhou said. Zhou highlighted potential pitfalls, including North Korea slowing down or blocking international inspections of its nuclear facilities, and possible failure by other parties to provide energy aid promised to North Korea.
"For example, the DPRK could say they are not getting the energy aid [specified in the agreement], or use other excuses.
"I think China's aid will be implemented, and South Korea is always generous to the DPRK -- its promise is reliable," Zhou said.
"But the US, Japan and Russia -- for these three countries, it's hard to say."
In the agreement, the US, China, South Korea, Russia and Japan also promised to "promote cooperation in the fields of energy, trade and investment" to help improve North Korea's highly underdeveloped, state-run economy.
"We would like to see North Korea have a stronger economy," Hill said. "So I'm sure we will be very much involved, consistent with our undertaking [in the joint statement]."
North Korea has asked the UN World Food Program (WFP) to end its emergency food aid this year and change to development aid, after 10 years of helping the impoverished country to overcome the long-term effects of a famine that is estimated to have killed over 1 million North Koreans in the 1990s.
"We are discussing with the donors if they would be willing to support a transition [to development aid for North Korea]," WFP spokesman Gerry Bourke said on Monday.
The joint statement says all parties should take "coordinated steps" to implement the agreement in line with the principle of "commitment for commitment, action for action". This wording appears to be a compromise to bridge differences over the sequence of implementation between Washington -- which insisted that North Korea must act first -- and Pyongyang, which wanted "simultaneous steps."
Different understandings of the "action for action" principle could well hamper implementation of the agreement. Hill said that the US still expected North Korea to make the first move by ending its nuclear programs, but he admitted that sequencing would be a "very important" issue to be discussed when the six-party talks resume in November.
North Korea had demanded a light-water reactor for energy production as part of the agreement, but the statement said only that the other parties "agree to discuss" the issue.
"At an appropriate time, we are prepared to have a discussion with the other parties about the issue of providing a light-water reactor," said Hill, adding that an appropriate time would be "after the DPRK gets rid of its nuclear program".
"We expect the DPRK to move promptly [to dismantle nuclear facilities]," he said. "We believe there are a lot of incentives on the table for the DPRK."
Comments will be moderated. Keep comments relevant to the article. Remarks containing abusive and obscene language, personal attacks of any kind or promotion will be removed and the user banned. Final decision will be at the discretion of the Taipei Times.