The link between scares, sperm counts and cellphones
A finding that mobile phones can reduce men's sperm count has been widely reported despite the limitations of the research. But why are the media so ready to fall for healthe scares?
There is only one word for the "mobile phones cut sperm by a third" story that emerged from this week's meeting of the European Society of Human Reproduction and Embryology: nonsense.
The work, which conference organizers refused to release formally to the press because of "limitations" in the study design, made it to front pages worldwide. The study involved just 221 men and claimed that those who had their phone on standby throughout the day had about a third fewer sperm than men who did not. Those who carried phones in pockets or on belt loops were apparently more likely to be among the sperm-depleted.
Let me expound on the subject of sperm for a moment. Whether a semen sample is bursting with the beasts or not is subject to innumerable factors: age, how much you drink, your general health, stress, whether you smoke or take drugs, and how often, as I believe the expression goes, you bash your bishop (frequent bashing means higher sperm counts).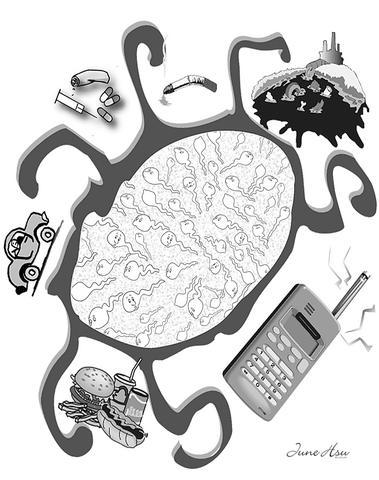 ILLUSTRATION: JUNE HSU
Abstinence is bad news for sperm, as the body operates on a use-it-or-lose-it principle. The more your various activities demand, the more your body thinks you need, and scales up production accordingly.
But a man who has successfully impregnated six women in a marathon all-day session would technically be deemed infertile the next, on account of him having exhausted his supply and having only a lonely few left.
Occupation is also significant. Truck and taxi drivers have lower counts because sitting all day means their testicles are held to the body and kept at a greater-than-optimal temperature. Painters and decorators have lower counts, probably because of solvent use.
Oh. And nationality. New Yorkers have loads and men in Finland, the home of Nokia phones, have the highest sperm counts on the planet.
Whatever those Finns are doing, its effect on their sperm counts is awesome.
Did the Hungarian researchers take account of any of these important variables? No, and with such a vanishingly small sample, the statistical power of such an exercise is zero.
Nevertheless, this "phones knacker your sperm" story will seep into international consciousness. In five years' time, there will still be companies taking advantage of this research in sales literature advertising supposedly safer cellphone devices. It is partly this commercial piggybacking that perpetuates these scares.
We are also particularly receptive to the "end of fertility as we know it" stories because for there have been years of reports of plummeting sperm counts. Experts are divided as to whether this is a true decrease or simply one of those reporting glitches, but the notion of men being emasculated by lifestyle again fits with our fears of fertility under threat. If sperm counts were falling as dramatically as claimed, all men would be infertile by now. The truth is that nature supplies hundreds of millions per shot and it only takes one. Trust me, the end of humankind is not here. But we'll probably go on thinking it is for some time.
There are plenty of other examples of long-running scares. The one about deodorants causing breast cancer, which is as nonsensical, has been doing the rounds for the best part of a decade. The theory that green bits on potatoes cause spina bifida was another scare that took years to eradicate. Then there was the furor over the third-generation pill in 1995, which was about thrombosis risk -- it catapulted women to a 30 cases per 100,000 risk on these types of pill, yet pregnancy carries a 60 cases per 100,000 risk of thrombosis. Still women are suspicious of something that prevents them from becoming pregnant.
So why, with all its flaws, has this piece of sperm research hit the headlines? It's partly because we want to believe it. In the same way that we love to go to scary movies and frighten ourselves to death, so we want to believe that we are all doomed.
It's a kind of collective hair shirt. We want to believe that we are the arbiters of our own misfortune. It's all our fault that we get cancer, or blood clots, or whatever. If only we returned to the simpler life of yore, we would all be healthy, fertile and cancer-free. It's not true, but it would be nice if it were.
There are several factors that are common to these scares. Anything involving sex: estrogen therapy and the pill score high because they involve women flaunting their sexual activity beyond menopause or being free of the risk of pregnancy. A ubiquitous substance or object also adds power to the scare: milk (remember how milk drinkers get Crohn's disease?), phones, potatoes. Something unseen that you can't see and touch (especially something that you don't understand unless you have a physics degree) is important: thus radiation of all kinds is instantly feared, from nuclear power, mobile phones, powerlines, transmission towers, microwave ovens and computers.
It's a tremendous help also if the story features a dread disease or outcome: cancer, particularly breast cancer or infertility, adds horror. And perhaps the most important ingredient of all is something over which you feel that you can exert some control. We don't worry about asteroid strikes -- there's nothing we can do about them -- but we could stop using deodorants or drinking coffee. Finally, there is culpability. All the best scares allow us to apportion blame -- farmers? The government? Pharmaceutical firms?
So how do you sort the wheat from the chaff? Which stories are genuinely scary and which should be ignored? Not all should be dismissed. Radium on luminous watch faces was discreetly removed and suddenly, the machines that x-rayed feet in shoe shops just disappeared. As late as the 1960s, children were getting multiple x-ray exposures simply to check whether their shoes fitted.
My advice would be to check the statistics first. If you are quoted a risk increase, check what the risk was before. A 100 percent increase of a very small risk is still a very small risk. Find out what the absolute risk rather than the relative risk is; in other words, what are the real numbers of women dying or getting cancer or whatever. Again, you may find that this huge risk turns out to be one extra woman per 100,000. Not as bad as you thought.
If no one can give you real numbers, then feel free to ignore it. It is also useful to find out who is behind the information. Do they have something to sell or an agenda to push? If they do, be doubly suspicious.
As a last resort, of course, you could always just give up reading newspapers.
Comments will be moderated. Keep comments relevant to the article. Remarks containing abusive and obscene language, personal attacks of any kind or promotion will be removed and the user banned. Final decision will be at the discretion of the Taipei Times.