A 'two-speed' Europe?
Behind the scenes of the EU's summit to hammer out a consitutional deal was a vicious battle for supremacy, and it appears that it was mostly the euroskeptics who made a lot of progress
Don't be fooled by the image of happy unity portrayed by the EU's 25 leaders clinking champagne glasses over a historic Constitution deal.
Behind the scenes there is a ferocious struggle for supremacy.
The leaders' deadlock at last week's summit over who to select as next president of the European Commission underlined just how far the Franco-German "locomotive" that used to drive the bloc has become detached from most of its carriages.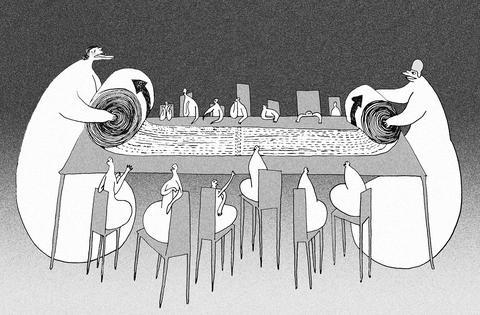 ILLUSTRATION MOUNTAIN PEOPLE
British Prime Minister Tony Blair reminded Paris and Berlin of just that as he and other states thwarted the duo's choice of candidate to head the EU executive, Belgium's Euro-federalist prime minister, Guy Verhofstadt.
"We are operating in a Europe of 25 ... not six or two or one," Blair's official spokesman said.
The comment was a riposte to French President Jacques Chirac's insistence that the successful contender for the top EU job should come from a country with long EU experience that was in all the main European policy initiatives, notably the euro single currency and Schengen open-border area.
That would bar anyone from Britain, Ireland, Denmark, Sweden and the 10 mainly East European states which joined on May 1.
The EU's enlargement looks set to bring more of a free-market, low-tax, lightly-regulated, English-speaking and pro-American bloc than either France or Germany would like.
The EU's newcomers do not, in general, share France's federalist vision of EU integration, and unlike France they do not see Europe as a counterweight to US power.
Indeed, the EU's defining moment of last year may well have been when Chirac chided the east European newcomers for siding with the US over the Iraq war, saying they had "missed a good opportunity to shut up."
A tense summit dinner last Thursday night revived the continent's splits over the war, a spectacle that would have confirmed US Secretary of Defense Donald Rumsfeld in his view of an "old Europe" and a "new Europe."
Diplomats said there were three coordination meetings at the summit between the leaders of Austria, Britain, Italy and Portugal, three of whom supported Washington over Iraq.
"A new Europe is taking shape -- a Europe where Britain can build alliances and feel at home," Blair said on Friday.
SHIFTING BLOCS
The blocs within the bloc are not fixed.
Spain, for instance, has switched back to what had long been considered the "European mainstream" since the Socialists won elections in March with a vow to pull troops out of Iraq. And Italy could see the pendulum swing the same way if Prime Minister Silvio Berlusconi were to lose elections due in 2006.
But Britain and France are set in opposing camps despite the effusive celebrations just 11 weeks ago to mark the 100th anniversary of the Entente Cordiale ending colonial rivalry.
Irish Prime Minister Bertie Ahern, the current EU president, declared the new constitution a "fundamental advance" for the EU.
It may be a more complex and hybrid beast than the US equivalent with lots of row-backs in favor of the nation state, but a constitution shared by 25 nations is indeed a big symbol.
Nevertheless, the left-leaning French daily Liberation panned the treaty on Saturday as potentially the "swan song for a Grand Europe" because it had been watered down by Britain's successful bid to preserve national vetoes on key policy areas.
Furthermore, under the constitution a Franco-German duo will find it difficult to impose its will on other states.
The initial text had said most decisions should be taken by a "double majority" of over half of the bloc's member states representing over 60 percent of its population.
Fearing this would make it too difficult for medium-sized and small states to block proposals from heavyweights, Spain and Poland pressed for higher thresholds to pass decisions.
The final version defines a qualified majority as at least 55 percent of member states representing at least 65 percent of the population.
There have been attempts to bridge divides: France, Germany and Britain have joined forces since the Iraq War in initiatives to boost European defense integration and persuade Iran to accept tougher inspections of its nuclear program.
Analysts say this stems partly from a realization in Paris and Berlin that they cannot drive a credible EU foreign and security policy without Britain.
But Chirac, welcoming the Constitution on Saturday, made it clear that euroskeptic states like Britain would not be allowed to hold France and others back from forging even closer ties.
"We have ensured ... that there are mechanisms which will prevent states that want to make progress more quickly from being blocked by those who need more time," he said.
That smacked of previous threats by France and Germany to lead "pioneer groups" of like-minded states towards closer integration, which raised the prospect of a two-speed Europe.
Comments will be moderated. Keep comments relevant to the article. Remarks containing abusive and obscene language, personal attacks of any kind or promotion will be removed and the user banned. Final decision will be at the discretion of the Taipei Times.