Blair wants to run and run
Many people think it's time for Britain's prime minister to step down, that the war in Iraq and the Kelly affair would do him in. But Tony Blair appears determined to stay on
Those calling for British Prime Minister Tony Blair to abdicate underestimate how difficult it is to oust a leader determined to stay on the throne
On the eve of his tenth and toughest annual party conference as Labour leader, there was one item of more encouraging news for Blair: the opposition Conservatives have called for his resignation.
Whatever the prime minister's multiple troubles, that should cheer him. The Tories (Conservatives) are what economists would call a "contrarian indicator." The chances of something happening become massively smaller the moment that the Conservatives demand it. If this holds as good as it has in the recent past, then Blair can look forward to many more years comfortably ensconced at Number 10.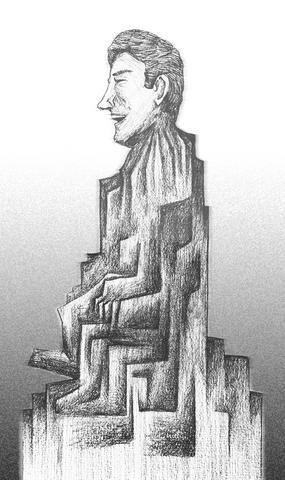 ILLUSTRATION: MOUNTAIN PEOPLE
Iain Duncan Smith, the Conservative leader, was late to a trend. Calls for Blair to abdicate his throne now come daily.
Discontented union leaders do it. Disaffected Labour members of parliament (MPs) do it. Newspaper columnists do it. The former minister Clare Short does it repeatedly, each time with added vehemence, as if she cannot fathom why he is still there when she has been so clear that he has to go.
More disturbing for Blair, the voters increasingly agree. A Mori poll published in the Financial Times last Saturday suggests that half the British public think he should resign. The poll of Labour Party members which The Observer published the following day indicates that 41 percent of them think Blair should be retired immediately or before the next election.
More sotto voce, even some of those who would be regarded as his natural allies wonder privately whether the leader might be approaching his sell-by-date. As one Labour modernizer put it to me recently: "We are all talking about how to renew the government. What we are actually asking, but do not say openly, is whether Tony can renew himself."
Charles Kennedy, the leader of the opposition Liberal Democrats, joined the fashion late last month when he talked about Britain entering the "post-Blair era," a trifle presumptuous from the leader of a party which has not defined an era in British politics for more than 75 years.
Calls for the prime minister to quit will clamor around Labour's Bournemouth conference as well, quite likely in the hall itself, certainly on the fringe. This all serves to illustrate how severely the erstwhile Teflon Man has been scorched. The once invincible Blair is now mortal enough to be told to his face that he must go. That still leaves an enormous problem in the way of those who would get rid of him. That obstacle is Blair himself.
Some political systems, like that of the US, limit the years that a leader can hold office. In the absence of automatic retirement, there are six main ways in which a British leader can be finished. Scandal can push him out. A palace coup by his senior colleagues can eject him. Revolt by his party can chuck him out. The curtain can be brought down by incapacity, exhaustion or death. The electorate can vote him out. Finally, and very rarely, a leader decides to go of his own volition.
Blair does not sound like a prime minister preparing to take voluntary redundancy. Nor does he come over as a man willing to compromise to keep his job. Those who want the leader to change get little return from him.
"I am what I am," he says bluntly.
Follow me -- or lump it. Those who want to change the leader are dismissed in even more dismissive terms. He is planning not only to fight the next election, but to continue as prime minister into the indefinite future.
If he won't jump, how realistic are the chances of his opponents giving him the push? Many of his opponents have seen the war in Iraq and the Kelly affair as the scandal -- "Blair's Watergate" as some of them have called it -- which would finally do for him. There's no question that the Hutton inquiry has been a searing expose of how government functions and a serial shredder of several reputations.
But Blair seems quietly confident that, for him, the verdict of Hutton will bring closure to the affair without terminating his premiership. About his first calculation, he may be wrong; about the second, his confidence looks well-founded. Any criticism Hutton makes of Number 10 is bound to hurt the prime minister, but it will not slay him.
I say this not least for the simple reason that Hutton did not recall Blair for cross-examination. You may think the Law Lord should have done. The fact is he did not. I can't believe that Hutton would have regarded it as proper process or politically wise not to have recalled Blair if the judge was minded to deliver a resignation-worthy damnation of the prime minister's behavior.
From a palace coup, Blair is well-protected. This scenario requires a majority of the Cabinet to tell the prime minister that he should spend more time with his family. They would have to do so in the knowledge that his almost certain replacement would be Chancellor of the Exchequer Gordon Brown. I can find no majority in the Cabinet for replacing Blair with the chancellor.
There could be a building majority in the party as a whole for doing that, but the mechanism for removing a Labour leader is tremendously difficult to initiate, as those party activists who are trying to table votes of no confidence in Blair at the conference are finding.
Again, there is a Brown problem, though a different one. A successful revolt needs a head. The rebels require a leader for the act of regicide. The temperamentally cautious chancellor does not want to make a direct challenge to Blair as at least one leading Tory once did to former prime minister Margaret Thatcher. The full-frontal stab is not a feasible option for the chancellor.
What ultimately did for Thatcher was the conviction among her colleagues that they would lose the next election if she remained as their leader. This is not true for Blair. Despite it all, Labour remains ahead of the Conservatives in the polls.
The surging Liberal Democrats are much more of a menace to the Tories than they are to Labour. At a general election, a rising Lib Dem vote will sweep away many Tory MPs before it begins to eat into Labour's ranks. For all the mutually vituperative rhetoric between Labour and the Lib Dems, they still have a common enemy in the Conservatives.
Kennedy closed his conference week in Brighton by lambasting Labour and Conservatives alike. But, in politics, things are seldom exactly as they appear. The Labour and Lib Dem leaders may be dishing it out to each other from public platforms. That did not stand in the way of Blair and Kennedy having a highly amiable private chat on the back patio at Number 10 just before the conference season began, where they broadly agreed that preventing the Conservatives from ever returning to government is their shared objective.
This is another reason why Blair can be more certain to win the next election than most prime ministers can be in the middle of a second term. Barring some sensationally unforeseen event, the only thing really likely to change this would be a serious deterioration in the economy. For Brown, this creates one of life's horrible paradoxes. The more skilled that the chancellor is at maintaining prosperity, the more securely his rival is embedded at Number 10.
That leaves Brown's acolytes hoping that frustration, weariness and unpopularity will drive the prime minister to his own conclusion that it is time to go. Well, the prime minister I saw at Chequers, his official country residence, last Friday did not look like a man too exhausted to carry on.
Quite the reverse. He was very bullish. As for unpopularity, these days Blair almost revels in being disliked. He interprets being attacked as confirmation that he is doing the right thing.
This prime minister has often liked to create the impression that he is not so power-obsessive that he would outstay his welcome. He might surprise us all to suddenly giving it up. I've never been terribly convinced of that.
Now, he says: "I'll stay until the job is done."
When did any politician think the job was done? Or that anyone else could do it better? He's planning to go on. And, I reckon, on.
And on.
Those trying to organize a retirement bash for Blair should be aware that he has no intention of going.
Comments will be moderated. Keep comments relevant to the article. Remarks containing abusive and obscene language, personal attacks of any kind or promotion will be removed and the user banned. Final decision will be at the discretion of the Taipei Times.