Taiwanese business in Vietnam: The next dragon awakes
Vietnam is ready to take advantage of proximity and relatively stable social and economic circumstances to woo investors. Problems remain, but Taiwanese businessmen say there's nothing that can't be fixed
On a steamy afternoon, locals casually sit in dusty streets sipping coffee from a roadside beverage stand. At a nearby crossroads, hundreds of old-model motorcycles honk impatiently, fighting for space to pass.
These are common scenes in Vietnam.
But not very long from now, the humble roadside beverage stand may become an exquisite outdoor cafe, and the ragged motorcycles may be replaced by streams of sedans cruising down asphalt-paved roads, following the communist country's accession to the WTO last Thursday.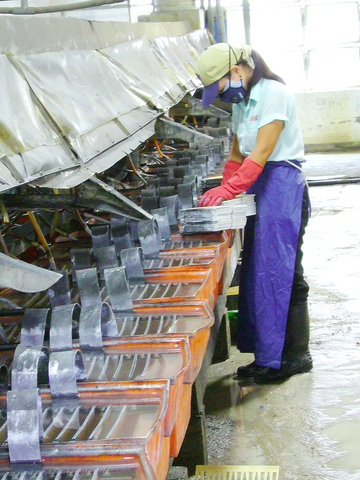 A worker examines components at Kung Long Batteries Industrial Co's factory in Vietnam last month.
PHOTO: JESSIE HO, TAIPEI TIMES
Vietnam is the 150th member of the WTO, and a rising star on the world stage with economic potential matching the BRIC nations (Brazil, Russia, India and China).
Foreign firms will have easier access to the Vietnamese market as the government slashes tariffs and removes trade barriers. Meanwhile, Vietnamese companies will be allowed to export more goods and services to overseas markets.
The Southeast Asian nation recently attracted the world spotlight by hosting the annual APEC summit meetings in the capital Hanoi in November.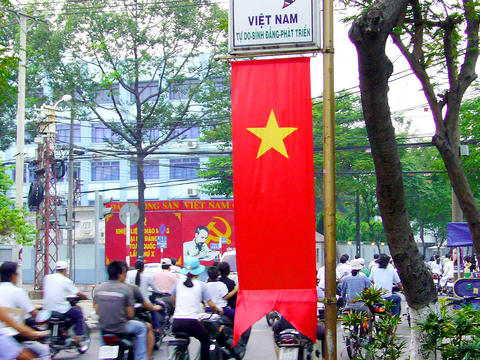 A street scene in Ho Chi Minh City last month. Vietnam is a happy hunting ground for ambitious investors.
PHOTO: JESSIE HO, TAIPEI TIMES
The event not only brought together 21 leaders of member economies, but also 1,200 executives of multinational companies to inspect the investment environment there. The result appeared to be phenomenal, with most praising the nation's economic reforms; even US President George W. Bush said that he would start his business in Vietnam were he a young entrepreneur.
Vietnam has posted the second-highest economic growth in Asia after China, registering 8.17 percent GDP growth last year, and is eyeing 8.5 percent this year.
The burgeoning economy has made Vietnam a favorite investment destination. One recent heavyweight deal was reached by US chip giant Intel Corp, which announced in November that it would build a US$1 billion semiconductor assembly and testing plant -- its largest -- in Ho Chi Minh City.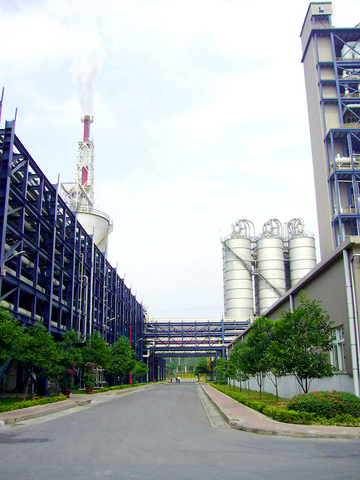 Formosa Industries Corp's textile factory in Vietnam.
PHOTO: JESSIE HO, TAIPEI TIMES
Overall, Vietnam boasted 6,813 valid foreign investment projects last year, with registered capital reaching more than US$60 billion, according to the Ministry of Planning and Investment's Foreign Investment Agency.
Foreign direct investment (FDI) also hit US$10.2 billion in the meantime, far exceeding the target of US$6.5 billion. The vibrant outlook made Vietnam raise its FDI target from last year to 2010 to US$55 billion, or an average US$11 billion a year.
The top foreign investors in Vietnam are Taiwan, Singapore, Japan, South Korea and Hong Kong, which account for 60.6 percent of registered investment capital, the Foreign Investment Agency said.
TAIWAN'S PRESENCE
Vietnam began shifting from its centrally planned economy in the late 1980s and implemented reforms that would lead to what it called a socialist-oriented market economy.
The country began accepting foreign investment in 1988. But Taiwanese investment started in the 1990s, when Taipei promoted a "Go South" policy. This policy encouraged local enterprises to invest in Southeast Asian countries to disperse investment risk and reduce dependence on China.
Investment concentrated on traditional labor-intensive manufacturing industries, such as textiles, plastics, shoemaking, papermaking and motorcycle manufacturing.
Taiwanese firms that established early roots in Vietnam include Sanyang Industry Co (三陽工業), Formosa Group (台塑集團), Ta Ya Electric Wire and Cable Co (大亞電線電纜), Pou Chen Corp (寶成), Vedan International (Holdings) Ltd (味丹國際控股) and Kung Long Batteries Industrial Co (廣隆光電).
"Low-cost, quality and diligent young workers are the first factor that attracted Taiwanese companies to the market," said Tina Chen (陳芳美), spokesman of Pou Chen, the world's largest shoemaker that makes footwear for renowned clients such as Nike Inc, Adidas AG, Reebok Ltd and Puma AG.
Pou Chen set up its shoemaking plants in Vietnam in 1994.
Because of World War II, the French Indochina War from 1946 to 1954 and the Vietnam War, more than 60 percent of Vietnam's 85.3 million people are younger than 30.
Vietnam has good relations with the world's major trading powers, including former ruler France, neighboring Southeastern Asian countries, China, Japan and the US. The end of the US embargo in 1994 and normalization of diplomatic ties with Washington the following year in particular brought enormous economic benefits for Vietnam.
The average salary in Vietnam is about US$60 per month, while wages along China's southeastern coast have been rising to 700 yuan (US$90) per month.
Confucian tradition in Vietnam places considerable stock in education and self-improvement. With at least one school in every village, the literacy rate in Vietnam has been pushed to more than 90 percent.
The Western influence that came with more than 65 years of French colonialism has also made Vietnamese more open to foreign influences and willing to embrace new concepts and follow world trends.
For example, there is an increasing number of schools in Vietnam offering classes in English only, and many college students now take English and Chinese lessons after school, said Arthur Ting (丁廣鋐), chairman of Phu My Hung Corp (富美興), a Taiwan-Vietnam joint venture that develops properties in Vietnam.
Stable political and social circumstances are another advantage that Vietnam offers over China.
With rival companies suffering from volatile policymaking in China, Kung Long Batteries Industrial, one of the world's largest makers of lead-acid batteries used for starting automobiles and motorcycles, reaped a windfall.
To cut its trade surplus, the Chinese authorities in September canceled a 13 percent export tax rebate on the batteries, forcing Chinese makers to raise prices.
Many companies then shifted their orders to Kung Long, which runs Le Long Vietnam Co (利隆), the largest battery facility of all foreign ventures in the country.
"Our orders have jumped by a factor of 10 and we are accelerating expansion of capacity, which will increase by 70 percent in the first quarter this year, to help meet the demand," Le Long general manager Lee Jui-chun (李瑞勳) said.
INTEGRATION
Vietnam also serves as a springboard to ASEAN, which is pushing for greater economic integration in the region.
Besides facilitating an increase in preferential free trade deals, ASEAN is looking to create a common market by 2015 when goods and services can flow freely.
As foreign companies set up factories in Vietnam for exports, the infrastructure sector will further benefit from growing domestic purchasing power and a flood of foreign investment.
The number of motorcycles in Vietnam, for example, is currently 12 million, and this is estimated to grow by 2 million units each year, which would boost Lee Long's sales, Lee said.
Other businesses to profit from this are suppliers of construction materials such as cement and steel, furniture makers, home appliance manufacturers and other suppliers of consumer necessities.
Poor infrastructure, however, is the first obstacle that companies must overcome in Vietnam.
Phu My Hung, Vedan and textile manufacturer Formosa Industries Corp (台灣興業), for example, have built power plants and sell surplus electricity to Electricity of Vietnam, the national power monopoly.
Yet Vietnam's sole electricity distributor has estimated that there will be a 1,700 megawatt shortfall in power supply this year.
A shortage of highways also increases the time and cost of transportation, while ports around Ho Chi Minh City are already full and new ones are not due to open for three years at the earliest.
Vedan, a maker of food additives, built a port near its factory when it entered Vietnam in 1991 to transport bulky monosodium glutamate (MSG) product -- a flavor enhancer widely used in Asia.
The Vedan Phuoc Thai port can accommodate two 12,000-tonne vessels for inbound and outbound raw material and finished products.
Rampant corruption and state protectionism, however, are obstacles to investment.
But the problems do not seem to be intimidating foreign investors, who are flocking to the country. After the traditional manufacturing industry, the high-tech sector is the latest newcomer to bank on Vietnam's dynamic economy.
"This is a land of opportunities," said Paul Wu (吳守程), general manager of Mitac Precision Technology Vietnam Co (漢達精密越南), a subsidiary of Mitac International Corp (神腦電腦) that makes servers, desktop computers and mobile communications products.
In October 2005, Mitac broke ground for its plant in the Que Vo Industrial Park, which is 33km from Hanoi. Mitac's investment there is mainly to supply its major client Canon Inc, which operates a factory in the park, Wu said.
Intel's investment did raise Vietnam's high-tech profile, but the absence of high-tech supply chains makes many high-tech companies choose China over Vietnam.
Wu said this is not a problem.
As the Vietnamese government is determined to develop its fledgling high-tech industry, especially software, the infrastructure will gradually move into place, Wu said. The business potential, coupled with incentives offered by the government, will eventually allure major high-tech players to complete the supply chains, he added.
Wu's projection is fairly correct. Hon Hai Precision Industry Co (鴻海精密), the world's largest contract electronics manufacturer, announced last Tuesday that it may invest US$1 billion to build facilities in Vietnam to help the company meet growth targets.
Various incentives offered by the Vietnamese government would help to achieve the high-tech bid. Local and foreign software and service providers, for example, are exempt from corporate income tax of 28 percent for four years from the date they generate their first taxable income, and enjoy a 50 percent tax break for the next four years. Software products are also free of value added and export tax.
For the Intel deal, the government further extended the 50 percent tax break to nine years.
ON TRACK
Finally, the communist government's determination would suggest that development plans would stay on track.
Vietnam has demonstrated this in a short time with its astounding success in coffee exports. The government encouraged farmers to grow coffee and expanded plantations substantially.
Vietnam's coffee output was less than 4 million bags (of 60kg each) in 1995. By 1999, Vietnam passed Columbia to become the world's second-largest coffee producer after Brazil with more than 11 million bags.
The same road to dominance in the high-tech sector is not out of the question.
"Thirty years ago, no one ever imagined Taiwan, with limited land and resources, would become a powerhouse of high-tech electronics products in the world," Wu said. "Vietnam is well poised for that position now."
Comments will be moderated. Keep comments relevant to the article. Remarks containing abusive and obscene language, personal attacks of any kind or promotion will be removed and the user banned. Final decision will be at the discretion of the Taipei Times.