Western countries wary of inflation as China prices rise
The cost of Chinese goods has climbed each of the past four months, and the increases will be passed on to consumers at some point
During 20 years in the toy business, Anthony Temple has reveled in the bounty of cheap stuffed animals, coffe mugs and figurines on sale from China. But, this year, his buying trip for his London-based company, Rainbow Designs, resulted in a rude awakening.
Traveling through the Pearl River delta north of Hong Kong, Temple found that cost increases -- for raw materials, but above all for labor -- dominated every discussion he had with suppliers.
Far from being keen to underbid each other, Chinese companies talked so consistently about marking up their prices 5 percent to 10 percent that Temple, whose company owns the British distribution rights to cuddly creatures like Paddington Bear and Jemima Puddle-Duck, became convinced that these were not simply negotiating tactics.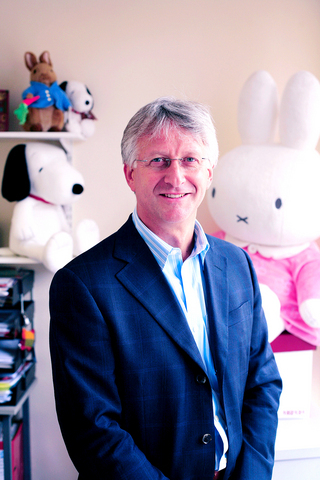 Anthony Temple, Paddington bear rights owner, says China is no longer a ``bottomless pit of cheap products.''
PHOTO: NY TIMES NEWS SERVICE
"When I went over there, I was under the belief that China is a bottomless pit of cheap products," Temple said.
"When I left, I was not," he said.
As the Chinese economy races forward, signs are multiplying that the Asian giant is beginning to slow its exports of something dear to the hearts of many consumers in developed countries: ever cheaper products.
For at least a decade, China has provided a boost for inflation-fighting central banks in Europe and the US by consistently cutting prices on a wide variety of goods, helping counterbalance the upward drift of overall consumer price levels.
US Federal Reserve Chairman Ben Bernanke opened an annual conference of central bankers in Jackson Hole, Wyoming, on Friday with a speech that noted how the emergence of China as an export powerhouse has altered the world economy in less than 30 years.
China's role in global disinflation -- as the phenomenon is known to economists and central bankers -- is not going to disappear. But a few recent numbers, along with anecdotal evidence, suggest that China's contribution to low prices around the world may be ebbing.
The European Central Bank promised to step up research into what has been called the "China effect."
Top officials at the US Federal Reserve have also begun speaking out about it. And the debate over how much China has contributed to taming global inflation is a central topic at the annual Jackson Hole gathering of the world's leading central bankers and academic economists.
In the US, data shows that Chinese import prices, which have fallen since data collection began in 2003, are leveling off, as are prices from other low-cost emerging markets.
The price of Chinese goods has leapt upward in the last four months, according to a purchasing managers' survey performed by London-based NTC Research. The survey's index showed a level below 50 -- a level indicating stable prices -- in March but it now stands at 56, a steep increase by the standards of a survey that usually moves in fractional increments.
China's galloping economy has been sending ripples through the global economy for years as demand has raised prices for critical commodities such as oil and copper there. China's purchases of US Treasury securities have also helped keep interest rates low.
And not all economists buy the overall notion that Chinese prices will soon pump up inflation rates in the industrialized world and force central bankers to press harder on the brakes. Skeptics about the "China effect" tend to focus on the ability of China and its customers to adapt.
As Chinese costs increase, foreign investors can set up shop in places like India and Bangladesh, which lag behind China as low-cost manufacturing centers. Other companies will press into China's vast interior to escape rising labor costs on the coast.
"The global labor arbitrage is alive and well," said Stephen Roach, chief economist at Morgan Stanley.
"It still pays very much to relocate production and employment to China to keep your labor costs down," he said.
The cheap clothes and toys that consumers around the world have purchased with seeming abandon have tempered prices, even depressing them over the years. Now, as Chinese makers move to increase their prices in response to higher costs, some central bankers worry that this global salve will disappear.
"Even in China, with its growing manufacturing base and large pool of labor, some indicators are showing upward pressures on export prices," Mervyn King, the governor of the Bank of England, said in a recent speech.
"And, in turn, that is raising our import prices, over and above the increases resulting from higher energy costs," he said.
The prospect of higher prices for finished consumer goods has become an obsession of sorts in the supply-chain business, according to interviews with retailers, importers, independent consultants and trade associations in Europe and the US.
"We may well be reaching a situation where prices of both commodities and manufactured goods will go up," said Kenneth Rogoff, a former chief economist of the International Monetary Fund.
"That's not pleasant at all," he said.
China's natural development has brought it to this point, economists said. Cheap labor and easy access to a first-class port in Hong Kong allowed China to flood the world with inexpensive goods. But as labor shortages develop, Chinese workers are starting to demand more money, adding to cost pressures from more expensive commodities and creating the classic conditions for rising export prices.
"Raw materials are going up; the price of oil is going up; wages are going up," said Peter Keller, managing director of the Merton Company, a plastic toy manufacturer based in Hong Kong.
"It is true that costs in China are rising and, where possible, cost increases are passed on," he said.
Merton is facing rapid wage increases at its plant in Guangdong Province. On Sept. 1, the minimum wage is expected to increase by about 20 percent, to 780 yuan (US$98) a month in the province.
Intense competition is still squeezing profit margins, but Keller estimated prices for products made under new contracts would be 5 percent to 10 percent higher as a result of the higher wages and raw material bills.
The good news for consumers is that rising costs in China are not yet leading to higher prices on store shelves, though they are probably chipping away at the profits of importers and retailers, economists said.
H&M, the giant Swedish clothing retailer, finds itself grappling with how to keep prices down as its suppliers demand more, said Nils Vinge, its director of investor relations.
Some strategies, like shifting production to low-wage Bangladesh or Turkey, with cheaper transportation costs to Europe, can reduce the impact, though not forever.
"In the long run, this makes its way to the consumer," Vinge said.
"In the short run, it does not," he said.
Data suggests that Europe and the US are, like H&M, somewhere between the short and long runs. Inflation has hovered slightly above 2 percent for most of this decade in the 12 nations that use the euro, but has been rising lately.
It was at an annual rate of 4.8 percent last month in the US.
In Britain, the Bank of England's most recent inflation report notes that even after stripping out volatile energy and metal prices, inflation is running at an annual rate of 5 percent. It also highlighted a turnaround in prices of British imports since 2004.
The European Central Bank pointed to a similar trend in the euro countries in its latest monthly report. The sensitivity to higher price levels has focused more scrutiny on China. The European Central Bank also noted that low-cost countries like China helped reduce the inflation rate for imported goods by two percentage points yearly from 1996 until last year for the euro nations.
Temple, the toy buyer, said he had managed to largely contain cost increases from China through a mix of tough negotiating and lower profits. But soon enough, the retailers he supplies -- like W.H. Smith, Harrods and Selfridges -- will find themselves under intense pressure to raise prices, he said.
"These prices have to be passed down to the retail chain next year," Temple said.
"Prices have to go up," he said.
Comments will be moderated. Keep comments relevant to the article. Remarks containing abusive and obscene language, personal attacks of any kind or promotion will be removed and the user banned. Final decision will be at the discretion of the Taipei Times.