TAITRA boosts ties with seafood deals
WIN-WIN: Importers are to purchase US$48 million of seafood over the next year from three Central American allies, which would help make up for a shortfall in local supply
The Taiwan External Trade Development Council (TAITRA, 外貿協會) yesterday said it has bolstered diplomatic ties with Central American allies after a delegation inked deals for US$11.06 million in seafood imports.
Early this month, the nonprofit government-sponsored trade promotion institution led a delegation of 10 local seafood importers, including Mayfull Foods Corp (美福食集), on visits to seafood suppliers in Guatemala, Honduras and Nicaragua.
The council said that it secured long-term procurement deals during the trip for the region's specialty Pacific white shrimp and Caribbean spiny lobster.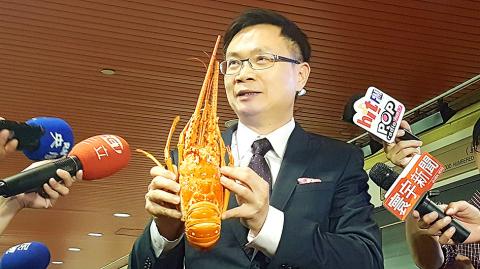 Taiwan External Trade Development Council chairman James Huang shows a lobster to reporters during a news conference in Taipei yesterday.
Photo: CNA
Taiwan has an immense appetite for seafood, with annual imports last year reaching US$400 million, while exports totaled US$100 million, it said.
"Compared with investments, purchasing imports is a more direct way to help boost the economic growth of Taiwan's diplomatic allies," TAITRA chairman James Huang (黃志芳) said at a news conference in Taipei yesterday.
Over the next year, Taiwanese importers are to purchase another US$48 million of seafood, besting the total of a procurement delegation last year, which secured US$16 million in beef import contracts, he said.
Asked if the purchases were aimed at countering China's efforts to poach Taiwan's diplomatic allies in the region, Huang said that diplomacy and economic cooperation go hand in hand.
The council strives to achieve mutual economic growth with all of the nation's allies, he said.
Taiwan has lost three diplomatic allies in the region since last year: Panama in June last year, the Dominican Republic on April 30 and El Salvador last month.
Taiwan has over the past decade enjoyed the benefits of free-trade agreements with Guatemala, Honduras and Nicaragua, said Y.C. Tsai (蔡允中), a negotiator from the Office of Trade Negotiations, the Cabinet-level agency responsible for implementing such policy.
The waiving of tariffs — typically ranging between 15 percent and 20 percent — would lead to savings for local consumers, he said.
There has been a 10-fold shortfall in local seafood supply that must be filled by imports, TAITRA International Marketing Advisory Center deputy executive director Krist Yen (顏貽彬) said.
Shellfish such as shrimp and lobster are Taiwan's smallest seafood export and import category, while fish is the biggest item, Yen said.
Taiwan last year imported US$1.06 billion of seafood from Guatemala, Honduras and Nicaragua, up 9.67 percent from 2016, TAITRA data showed.
Nicaragua is Taiwan's biggest source of frozen shrimp, supplying 19 percent of last year's US$231.8 million of shrimp imports, followed by Honduras at 17 percent, while Guatemala ranks 12th at 0.7 percent, the data showed.
Comments will be moderated. Keep comments relevant to the article. Remarks containing abusive and obscene language, personal attacks of any kind or promotion will be removed and the user banned. Final decision will be at the discretion of the Taipei Times.