Alexa allies with Cortana to take on Assistant, Siri
Amazon.com Inc and Microsoft Corp have joined forces to let their voice-controlled virtual assistants talk to each other, offering users the ability to seamlessly tap into work, their homes and shop online.
The partnership is the first time the two companies open up their artificial intelligence-powered virtual aides to each other, and is to be aimed at outsmarting rivals Google Assistant and Apple Inc's Siri.
The move in itself is rare, as most virtual assistants are known to use data from their own ecosystems and not talk to one another.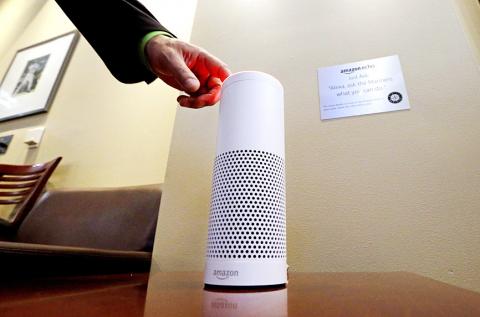 An Amazon Alexa device is pictured in a ballpark suite before a Seattle Mariners baseball game in Seattle, Washington, on May 17.
Photo: AP
Users of Amazon's Alexa would be able to ask Microsoft's Cortana to do a range of activities — from booking a meeting to reading work e-mail, and Cortana users would be able to call on Alexa to play music or turn on house lights.
Not to be left behind, Alphabet Inc on Wednesday said that Google Assistant will soon be available on third-party speakers and other home appliances.
"Starting later this year, with manufacturers like LG [Electronics Co], you'll be able to control your appliances, including washers, dryers, vacuums and more from your Assistant on your smart speaker, Android phone or iPhone," Google said.
Several technology companies are trying to grab a share in "smart" homes, which allow people to control various connected appliances, such as refrigerators and lights, from a central hub or a smartphone.
"In the long run it would seem that Amazon has more to gain ... as Cortana remains trapped within the PC ... while Amazon has won a powerful ally in its battle against Google," Atlantic Equities LLP analyst James Cordwell said.
While Amazon introduced voice-controlled Alexa with its Echo speakers in 2014, Google launched Assistant on its Google Home speakers last year. Apple in June introduced HomePod, powered by Siri.
Amazon Echo devices would claim a 70.6 percent share of the US market this year, compared with a 23.8 percent share for Google Home, research firm eMarketer said in May.
Users will be able to turn to their Echo device later this year and say, "Alexa, open Cortana," or turn to their Windows 10 device and say, "Cortana, open Alexa," the companies said.
"It is surprising to me that these competitors have collaborated, that speaks to the quality of their respective CEOs," Wedbush Securities Inc analyst Michael Pachter said. "They understand that they will benefit more by working together than trying to destroy one another."
Comments will be moderated. Keep comments relevant to the article. Remarks containing abusive and obscene language, personal attacks of any kind or promotion will be removed and the user banned. Final decision will be at the discretion of the Taipei Times.