Legislators fail to pass mining law
DETAILED REVIEW: Committee members discussed only 17 of the amendment's more than 80 articles, but managed to reach consensus on at least two issues
The Legislature's Economics Committee yesterday failed to approve the first reading of an amendment to the Mining Act (礦業法) and might resume the review in September at the earliest, as lawmakers disagreed with the Ministry of Economic Affairs over mining rights.
UNCERTAINTY
"We will likely have to select another date to resume the review after the new legislative session begins in September," Democratic Progressive Party (DPP) Legislator Gao Jyh-peng (高志鵬), who serves as the committee convener, said before adjourning the meeting.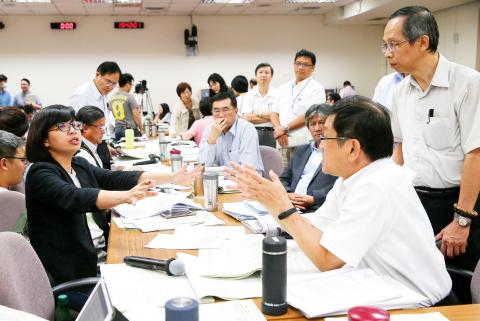 Democratic Progressive Party Legislator Lin Shu-fen, left, and Vice Minister of Economic Affairs Yang Wei-fu, second right, exchange opinions during a meeting to review an amendment to the Mining Act at the Legislative Yuan in Taipei yesterday.
Photo: CNA
However, there are uncertainties on when to continue the review, as it would be up to the next legislative session's committee convener to decide what draft bill reviews to prioritize.
THREE DAYS
The committee this week arranged a three-day meeting to review the amendment, but lawmakers and ministry officials only discussed 17 out of the more than 80 articles of the amendment, with the remaining articles still awaiting negotiation.
DPP Legislator Hsiao Bi-khim (蕭美琴) and Chinese Nationalist Party (KMT) Legislator Yosi Takun (孔文吉) proposed cutting the validity of quarries' mining licenses to 10 years from 20 years, with extensions lasting no more than 10 years.
DPP lawmakers Lin Shu-feng (林淑芬) and Kolas Yotaka said that enterprises that have applied to extend their mining rights, but the mining rights of which have expired pending approval of their application, should be required to halt all mining activities unconditionally.
SUSPENSION
Companies should also be required to suspend mining operations while they are undergoing environmental impact assessments (EIA), Lin added.
However, Vice Minister of Economic Affairs Wang Mei-hua (王美花) said it was not practical to limit mining licenses to 10 years, as mining operations require a lot of capital and it takes years for enterprises to pass their EIAs for projects before the actual start of mining.
It is unfair to blame license expirations on the companies and they should be allowed to continue operations while undergoing EIAs, Wang said.
If a quarrying operation was to be abruptly suspended, it would severely affect the domestic cement industry and its supply chain, Wang added.
The ministry's position is to keep the current law unchanged, which grants companies 20-year mining licenses and 20-year extensions, Wang said.
CONSENSUS
Lawmakers and officials agreed that the government should carry out strategic environmental assessments every five years to measure each quarry's reserves, and supply and demand for specific materials, such as cement, in domestic and international markets.
They also reached consensus about allowing Aboriginal communities to mine for non-commercial purposes without requiring a mining license.
Comments will be moderated. Keep comments relevant to the article. Remarks containing abusive and obscene language, personal attacks of any kind or promotion will be removed and the user banned. Final decision will be at the discretion of the Taipei Times.