Oil near US$46 as shale offsets OPEC cuts
'OBLITERATED': Oil production in the US has been increasing for the past 11 weeks, the longest run since 2012, undermining OPEC's efforts to boost oil prices
Oil on Friday closed near US$46 per barrel in New York, back to levels last seen before the OPEC deal, as the shale revival appears to be making the group's cuts ineffective.
After dipping below US$44, futures pared this week's decline to 6.3 percent.
However, prices remain near their lowest since OPEC signed a six-month deal to curb production in November last year.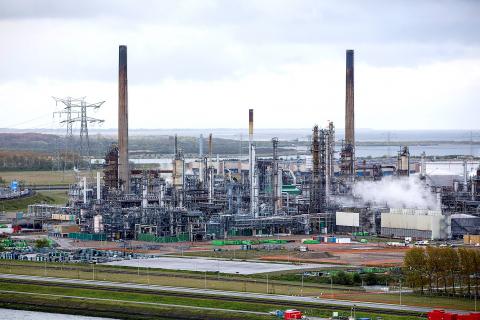 An oil refinery operated by British Petroleum PLC is pictured at the Port of Rotterdam in the Netherlands on April 24.
Photo: Bloomberg
Meanwhile, US shale drillers are pressing ahead with their longest expansion since 2011.
Market volatility and trading volumes surged.
"What we've seen in terms of the rebound today is really just a bit of a correction following an oversold market over the past several days," New York-based RBC Capital Markets commodities strategist Michael Tran said by telephone.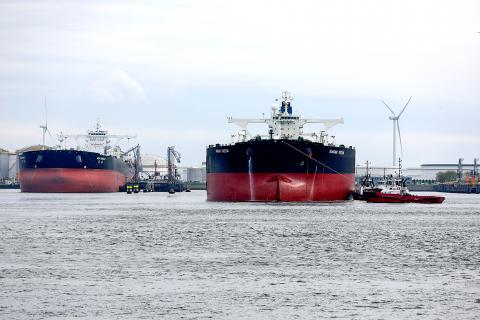 The New Entry and Maran Triton crude oil tankers sit docked at the Port of Rotterdam in Rotterdam, Netherlands, on Tuesday, April 25.
Photo: Bloomberg
OPEC's curbs drove oil above US$55 per barrel at the start of the year, encouraging US producers to ramp up drilling. The result has been an 11-week expansion of US production, the longest run of gains since 2012.
Prices are still more than 50 percent below their peak in 2014, when surging shale output triggered crude's biggest collapse in a generation and left rival producers, such as Saudi Arabia, scrambling to protect market share.
Oil market volatility, as measured by the CBOE/Nymex Oil Volatility Index, jumped to the highest level since December last year.
The US benchmark's 14-day relative strength index hovered near 30, signaling the commodity is oversold.
West Texas Intermediate (WTI) for June delivery on Friday rose US$0.70, or 1.5 percent, to settle at US$46.22 per barrel on the New York Mercantile Exchange. The contract is down 6.3 percent from last week's US$49.33 per barrel.
Total volume was about 70 percent above the 100-day average.
Brent for July settlement on Friday climbed US$0.72 to settle at US$49.10 per barrel on the London-based ICE Futures Europe exchange. For the week, the contract lost 5 percent from last week's US$51.73 per barrel.
The global benchmark crude traded at a premium of US$2.50 to July WTI.
Oil's retreat on Thursday stoked declines in other commodities from iron ore to industrial metals. The deterioration in sentiment also carried through to the currency market.
The sell-off was also due to "broad macro concerns regarding the Chinese economy. The entire commodity space was weaker," Tran said.
While OPEC is likely to prolong curbs for a further six months, US shale supply remains a concern, Nigerian State Minister for Petroleum Resources Emmanuel Ibe Kachikwu said.
The US oil rig count has more than doubled from a year ago to 703 this week, according to Baker Hughes Inc data on Friday.
Nationwide crude production in the US last week rose to 9.29 million barrels per day, the highest level since August 2015, according to the Energy Information Administration.
Russian Minister of Energy Alexander Novak on Thursday said that the country thinks it will be necessary to extend its agreement with OPEC beyond June.
OPEC is to meet in Vienna on May 25 to decide whether to extend the deal.
"Clearly, the faith in the OPEC and non-OPEC deal has just been obliterated. There are whispers and rumors out there that the deal won't even get extended," John Kilduff, a partner at Again Capital LLC, a New York-based hedge fund, said by telephone. "The proof just hasn't been in the pudding in terms of this accord."
Oil market news:
‧ Oil's slump to a five-month low is driven purely by technical trading and supply is still getting tighter, according to Citigroup Inc and Goldman Sachs Group Inc.
‧ From Exxon Mobil Corp to Total SA, the world's largest listed oil companies have sent a message to skeptical investors and rivals at OPEC: We can get by in a world of US$50 per barrel crude.
Comments will be moderated. Keep comments relevant to the article. Remarks containing abusive and obscene language, personal attacks of any kind or promotion will be removed and the user banned. Final decision will be at the discretion of the Taipei Times.