TAIEX plunges 2.18% on futures sell-off
'IMPATIENT INVESTORS': Yesterday marked the fourth straight losing session for the main bourse. UBS trimmed its target forecast for the TAIEX to 10,000 points this year
A futures-driven sell-off caused the TAIEX to plunge 2.18 percent yesterday to 9,348.63 points, its lowest level in four-and-a-half months, following speculation that foreign institutional investors added a net 10,000 short-position contracts in the day.
Yesterday was the fourth straight losing session on the main bourse since the government relaxed the stock-trading band on Monday to 10 percent, from the previous 7 percent, in line with international trends.
Turnover expanded to NT$135.17 billion (US$4.35 billion) from the previous session's NT$100.93 billion, according to the Taiwan Stock Exchange's (TWSE) data.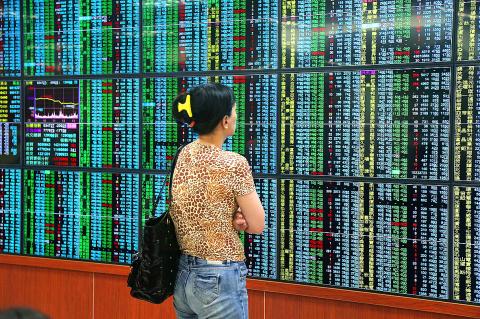 A woman inspects trading figures on the Taiwan Stock Exchange in Taipei yesterday during a day when the TAIEX plunged 2.18 percent following a NT$13.07 billion net sell-off of local shares by foreign investors.
Photo: CNA
Institutional investors sold a net NT$18.78 billion of Taiwanese shares yesterday, which included net sales of NT$13.07 billion by foreign institutional investors, the TWSE data showed.
"After the local main board consolidated for about three weeks without making a breakthrough, many investors appeared impatient and unloaded their holdings instead," Mega International Investment Services Corp (兆豐投顧) analyst Alex Huang (黃國偉) told the Central News Agency.
Huang said it was no surprise that foreign institutional investors rushed to dump their holdings in the spot market, especially large-cap high-tech stocks, to make profits in the futures market.
Shares of smartphone camera lens supplier Largan Precision Co (大立光) fell 7.24 percent to close at NT$3,205, Taiwan Semiconductor Manufacturing Co (台積電) dropped 1.4 percent to close at NT$141 and chip packaging and testing services provider Advanced Semiconductor Engineering Inc (日月光) lost 2.7 percent to NT$41.50.
UBS Securities Taiwan Ltd yesterday trimmed its target forecast for the TAIEX to 10,000 points this year, from the previous estimate of 10,600, as the economy displays signs of slowdown and investors lose some confidence.
The brokerage attributed the recent corrections in the local bourse to net selling by retail investors uneasy about political uncertainty and disappointing trade data.
After breaching the 10,000-point mark on an intraday basis in late April, the TAIEX had drifted lower by 2.7 percent for the past month, UBS Taiwan equities and research head William Dong (董成康) said.
UBS said it does not see a 12 percent contraction in exports in April as a sign of faltering external demand, saying it was caused partly by falling export prices.
However, a slowdown in emerging markets, China in particular, warrants caution given Taiwan's heavy dependence on China, which accounts for 40 percent of exports, the brokerage said.
Shipments to China shrank 6.5 percent for the first four months of the year and was down 12.5 percent to trade partners in Southeast Asia over the same period, according to statistics provided by the Ministry of Finance.
Softening exports have led UBS to cut earnings growth forecasts among listed Taiwanese firms to 9.8 percent this year, down 2.5 percentage points from its earlier estimate, citing weak PC shipments, a slowdown in China's handset market and an inventory adjustment for semiconductors.
However, UBS expects the market to rebound in the second half of the year, when companies are due to distribute dividend payouts and technology shipments are set to improve during the high season, Dong said.
In addition, the government might come up with market-friendly policies ahead of the presidential and legislative elections in January next year, Dong said.
Such policies could include further liberalization in the financial industry, more overseas investments and a potential increase in equity investments by government funds, he said.
Comments will be moderated. Keep comments relevant to the article. Remarks containing abusive and obscene language, personal attacks of any kind or promotion will be removed and the user banned. Final decision will be at the discretion of the Taipei Times.