TSMC forecasts 22 percent Q2 growth
PRESSING AHEAD: The world's largest contract chipmaker posted 'unseasonably strong' first-quarter results, including net profits that climbed to NT$47.87 billion
Taiwan Semiconductor Manufacturing Co (TSMC, 台積電) yesterday forecast better-than-expected sequential growth of 22 percent in revenue this quarter after the world's top contract chipmaker posted a quarterly net profit that beat analysts' expectations, fueled by resilient smartphone demand.
Revenue is expected to swell to between NT$180 billion and NT$183 billion (US$5.97 billion and 6.07 billion) in the current quarter, compared with NT$148.22 billion last quarter, with the strongest growth from the communications segment, TSMC chief financial executive officer Lora Ho (何麗梅) said.
The "unseasonably strong" growth cited by TSMC exceeds the 15 percent sequential expansion estimated by Credit Suisse analyst Randy Abrams. He forecast that TSMC's revenue would expand to NT$169 billion this quarter.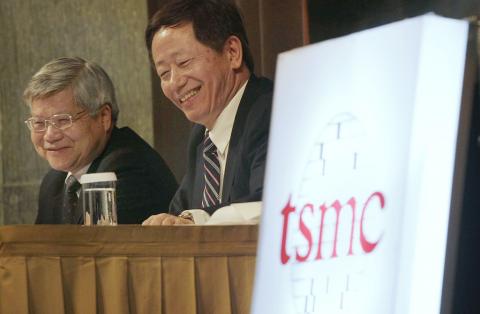 Taiwan Semiconductor Manufacturing co-chief executives C.C. Wei, left, and Mark Liu attend an investor conference in Taipei yesterday.
Photo: Reuters / Pichi Chuang
Abrams retained his "outperform" rating on TSMC with a target price of NT$130.
"Since mid-January, we started to see strong orders across all segments. We now adjust our demand outlook," TSMC co-CEO Mark Liu (劉德音) said. "First, the demand for smartphones appears healthier than we expect. Second, our 28-nanometer technology's performance and quality have helped fuel more customer demand."
As inventory for chip designers remains lower this quarter than the typical seasonal level, "we expect that our demand will continue to be strong and above seasonal [norms] in all major regions," Liu said.
Liu said the company would also see positive sequential growth in the third and fourth quarters, but the growth would "be normal and be more moderate than the second quarter," as customers' inventory would return to seasonal levels in the middle of this year, he said.
TSMC said it is to ship a high volume of 20-nanometer chips in the second half of this year and start mass production of next-generation 16-nanometer chips next year as scheduled.
The company expects the global semiconductor industry to see revenue grow by 7 percent annually this year, compared with a 5 percent increase estimated three months ago, and chip designers would see revenue rise by 9 percent annually from 8 percent previously forecast, Liu said.
The chip foundry industry would expand revenue by 14 percent this year, up from an earlier 10 percent prediction, Liu said. TSMC's revenue growth this year would outpace the rest of the industry by several percentage points, he said.
During the quarter ending March 31, TSMC's net profit expanded 6.8 percent to NT$47.87 billion, or NT1.85 per share, compared with NT$44.81 billion, or NT$1.73 per share, in the fourth quarter of last year. On an annual basis, the figure represented a growth of 21 percent.
Gross margin improved to 47.5 percent last quarter from 44.5 percent in the fourth quarter of last year, while operating profit margin rose to 35.4 percent from 32.8 percent.
This quarter, TSMC expects gross margin to climb to between 47.5 percent and 49.9 percent, while operating profit will rise to between 36.5 percent and 38.5 percent.
Liu said revenue contribution from high-end smartphones would rise to US$14 per unit this year, from US$10.8 last year.
Comments will be moderated. Keep comments relevant to the article. Remarks containing abusive and obscene language, personal attacks of any kind or promotion will be removed and the user banned. Final decision will be at the discretion of the Taipei Times.