Greece's biggest firm exits, unemployment rate soars
Greece said its unemployment rate has topped 25 percent and its biggest company announced on Thursday that it would quit the country, in a fresh blow to an economy German experts have warned cannot be "saved" without writing off more debt.
The announcement by drinks bottler Coca Cola Hellenic (CCH) that it is switching its primary listing from Athens to London and moving its corporate base to stable, low-tax Switzerland is a bitter blow to the debt-crippled nation.
The firm, which bottles Coke and other drinks in 28 countries from Russia to Nigeria, is Greece's biggest by market value and is 23 percent owned by Coca-Cola Co of the US. Its Greek operations, which account for 5 percent of its bottling business, will be unaffected, but the move was bad news for a nation struggling to compete inside the eurozone.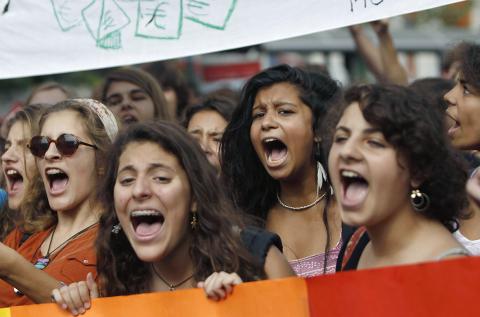 High-school students protest about transportation problems with their school buses due to austerity measures in Athens, Greece, on Thursday.
Photo: Reuters
CCH chief executive Dimitris Lois said the decision to switch the company's primary listing to London and its corporate base to Switzerland made "clear business sense."
It follows Greek dairy group FAGE's relocation to Luxembourg this month.
"This is a healthy company that does not want to suffer from Greece's high country risk," said an analyst, who spoke on condition of anonymity.
CCH's announcement coincided with data that showed Greek unemployment climbing for a 35th consecutive month in July to 25.1 percent from a revised 24.8 percent in June. The unemployment rate has more than tripled since the country's five-year-old recession began.
Fifty-four percent of Greeks aged 15 to 24 are out of work, fueling violent protests against the tax hikes, spending cuts and public-sector job losses demanded by the EU and the IMF in exchange for more than 200 billion euros (US$258 billion) in loans since 2010.
Greece is still far off target.
IMF Managing Director Christine Lagarde, speaking in Tokyo, backed calls to give the country two more years to meet its budget deficit reduction targets.
Greek officials said such an extension would require an extra 11.5 billion to 12 billion euros in funding, and that even more money might be required because of slippage in the privatization process and the deeper-than-expected recession.
Without further aid, Athens says it will run out of money by the end of next month.
The sides are trying to strike a deal by next Thursday, when EU leaders are due to meet in Brussels.
"We are close to a deal," said a finance ministry official, speaking on condition of anonymity, after a meeting between troika officials and Greek Finance Minister Yannis Stournaras.
The troika comprises the IMF, the EU's executive commission and the European Central Bank.
"We hope to have a deal by the EU summit," the official added, though it would still then have to be passed to parliament.
Comments will be moderated. Keep comments relevant to the article. Remarks containing abusive and obscene language, personal attacks of any kind or promotion will be removed and the user banned. Final decision will be at the discretion of the Taipei Times.