New tech park to boost cloud computing: Siew
Vice President Vincent Siew (蕭萬長) yesterday lauded Super Micro Computer Inc, a Taiwanese-founded US-based server system manufacturer, for boosting the development of cloud computing in the country by setting up a high-tech park in northern Taiwan.
The establishment of the park is of great significance for the local server industry, Siew said at the inauguration of the park in Taoyuan County.
The park will be an important base for developing high-end server equipment and cloud computing for Taiwan, the rest of the Asia-Pacific region and beyond, said Siew, who was accompanied at the inauguration by Super Micro Computer president Charles Liang (梁見後) and Taoyuan County Commissioner John Wu (吳志揚).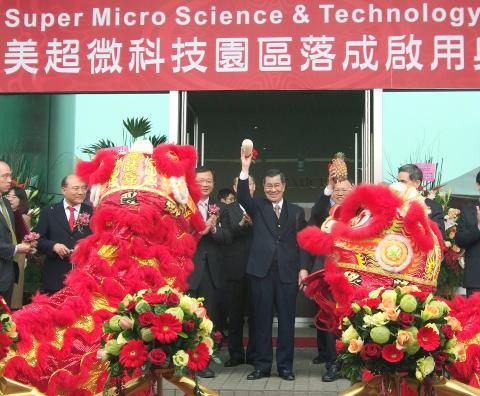 Vice President Vincent Siew, center, attends the opening of the Super Micro Science and Technology Park in Taoyuan County yesterday.
Photo: CNA
The 5.7-hectare park, construction of which started in February last year, will further the development of cloud computing by encouraging other players to enter the field, Wu said.
It would create a cluster effect and spur growth in other Taoyuan-based high-tech firms, such as the world No. 4 smartphone brand HTC Corp (宏達電), the world's largest contract notebook manufacturer Quanta Computer Inc (廣達) and IC chipmaker Inotera Memories Inc (華亞科技), Wu said.
After an initial investment of NT$3 billion (US$99 million) to develop the park into an Asian operations hub, the company is set to pump another NT$9 billion into the park over the next five years, county officials said.
The move is expected to create 3,000 jobs and generate NT$60 billion in output over the five-year period, Wu added.
Super Micro Computer is the first Taiwanese-founded company to invest in the country at the invitation of the government after achieving success overseas, county officials said.
Liang said that the company was committed to developing stronger and more energy-efficient technologies, and he thanked the government for its assistance and support.
Comments will be moderated. Keep comments relevant to the article. Remarks containing abusive and obscene language, personal attacks of any kind or promotion will be removed and the user banned. Final decision will be at the discretion of the Taipei Times.